This time last week we were full steam ahead with scrapbooking challenges and discussions… and today those challenges draw to a close. It's not too late to share your work for a chance at a prize! How about a round-up of all your options and some answers to the prizes on offer? Why certainly!
There are sixteen scrapbooking challenges. For each, create a page following the challenge and upload it to your blog or a page gallery, then share a link with the list at the end of the post. Each of the link share buttons reminds you how long is remaining to enter. If you miss the deadline, you can still share your work via the comments, but you won't be eligible for a prize.
Speaking of prizes, for each of these sixteen challenges, one winner will be randomly selected to win a prize pack of a $10 gift certificate to Two Peas in a Bucket and a class pass to your choice of Learn Something New, Love your Pictures, Love your Pages or True Stories. Each person can only win once – in the event of a duplicate drawing, we will draw another name for that prize.
Here are the sixteen scrapbooking challenges:
Challenge 01 …scraplift a page by Jaime Warren
Challenge 02 …mixing papers
Challenge 03 …mixing styles
Challenge 04 …choose your own colour adventure
Challenge 05 …inspiration points from Wilna Furstenberg
Challenge 06 …from one to another with Relly Annett-Baker
Challenge 07 …put it in a pocket
Challenge 08 …stamp just once
Challenge 09 …take your pick
Challenge 10 …something bold with Jill Sprott
Challenge 11 …two patterns
Challenge 12 …one photo twice, with Amy Heller
Challenge 13 …scrap with a free printable from Little Musings
Challenge 14 …four sections with Jen Gallacher
Challenge 15 …scrap some rubbish photos
Challenge 16 …use your scraps with Amy Tan
And there are plenty of discussion topics. From all the comments left on these posts, two will be drawn at random to win a prize box of goodies courtesy of Two Peas in a Bucket. Just join in the discussion to enter – what could be easier than talking about scrapbooking, right?
How do you store your Thickers and letter stickers?
Where do you find inspiration?
How do you use washi tape in your crafting projects?
How do you deal with imperfect digital photos?
How did you discover scrapbooking?
How do you store scrap papers and off-cuts?
How do you make a scrapbooking page kit
How do you typically create a page?
How do you sort and organise your scrapbooking paper?
Where do you scrapbook?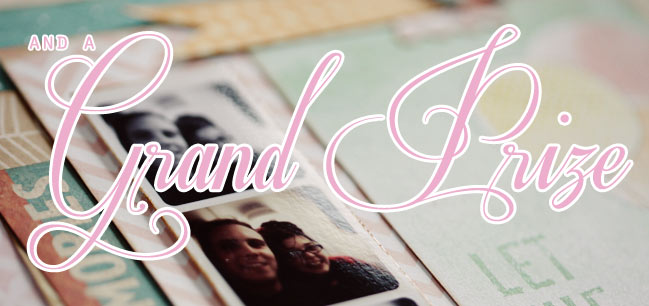 And then we have one very special Grand Prize to bring it all to a close. From all the submitted layouts and all the comments in those discussions and all the pins of those challenges or discussions… all of those are going into the hat and one winner will be chosen at random. That grand prize winner will receive a fabulous workshop pack from Two Peas: you'll get access to The Hitchhiker's Guide to Scrapbooking, The Scrapbook Stamper's Workshop, Collect and Create and the brand new workshop Sassy Scrapbooking. That's a $100 value, twenty videos, twenty chapters of scrapbooking ideas and nearly two hundred exclusive scrapbook pages. And all four workshops include permanent access and a self-paced format, so there's absolutely no rush and you can dip in and out of all the workshops as you like.
Thanks so much for all your participation in the event so far! If you have time to scrapbook or chat or pin today, it's not too late to join in. Happy crafting!
xlovesx

Read more about: online-scrapbooking-weekend
22 April 2012

Next post: Gardeners' Digest :: Scrapbooking News from the Garden Girls (April 2012)
Previous post: Scrapbooking Giveaway Day