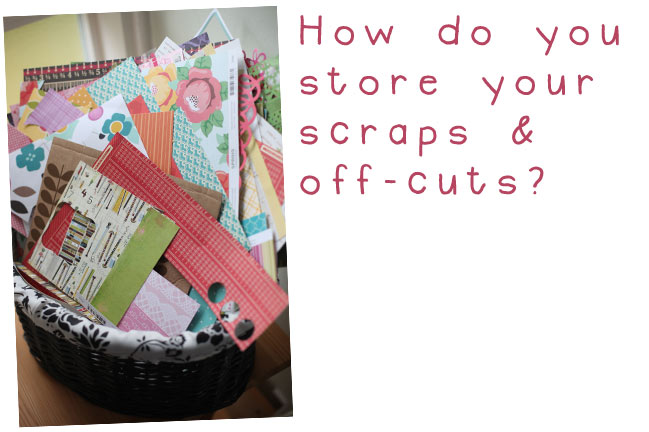 Some of the questions that come up in the comments here make me giggle. This is one of them. How do you store your paper scraps? Or rather it is usually How do you organise your paper scraps? and that makes me giggle because there is no organisation of the scraps here. They live in a basket. All mixed together. No rhyme nor reason to size, shape, colour, pattern or collection.
The basket isn't something special to scrapbooking. It was something I picked up at a department store a few years back without knowing what it would become because I had a few extra pounds on a gift card that was nearly to expire but I didn't want to spend lots more on something expensive just because I had a few extra pounds of credit. I saw baskets marked down to three to five pounds, and figured there would be something in my flat that could be stored here. At first it was the mail, but that idea was abandoned because it was too easy to just stack it up and not deal with it. Then it became magazines, but I didn't like not being able to see the spines to go straight to the issue I wanted. And then I went into crazy deadline mode on a project, which is this funny little world I enter when it hits me that I have umpteen million layouts I need to make in the next forty-eight to seventy-two hours and I better not do anything except breathe and scrapbook, and sometimes the breathing is optional. (I realise these conditions sound a little extreme, but it truly is something I do about three times a year and at that amount, it is something that makes me thrive and I do some of my favourite work in those conditions… but any more than three times a year and I think I might develop some serious issues in not being able to cope with life! Know your limits, right?) Suffice to say I am not very interested in tidying up between every single project in this sort of time frame, so I brought the basket to my table and at the end of every project, I swept all the scraps left on the table into the basket for instant clean up.
After about twenty pages and one conquered deadline, I realised this basket had all the makings for plenty of layouts and I could instantly see all sorts of colour and pattern combinations appearing that inspired me to make more things. Ever since, this basket has been my one and only storage system for paper scraps and off-cuts. Everything just gets thrown in there together and I start the majority of my pages by choosing a few things from the basket then mixing with full sheets as backgrounds and so forth.
When the basket gets too full to be able to flip through the papers easily, I take out a big section from the back and spread it all over the table. I pull out any lost favourites that I really must have and the rest goes into a bag that I donate to the hospital crafting club. Presto: basket back to useable again and bonus of kids getting to craft with plenty of pretty paper without their parents having to worry about something so trivial as buying craft supplies.
So that's my system – if you can call it that! Some scrappers have highly organised systems and that works far better for them. I've learned that if I file it away, I'm less likely to use it than if I see it there in the basket. I also find the basket is a great way to create easy page kits if I'm going to plan out an album or scrap away from home. I just dump about half the basket on the table and start making groups of papers. Each group becomes the beginnings of a page and I pop them in page protectors to be combined with whatever else is needed for each page and then it's easy to make those pages and I know I'm getting good use from all my paper scraps! It encourages me to try new colour combinations and to mix manufacturers and design styles I might not have put together otherwise.
Your turn… what do you do with your paper scraps? Do you use them? Store them? Sort them? File them? Give them away? Leave a comment and share your answer!

Read more about: online-scrapbooking-weekend
15 April 2012

Next post: Scrapbooking challenge :: take your pick
Previous post: Scrapbooking challenge :: stamp just once