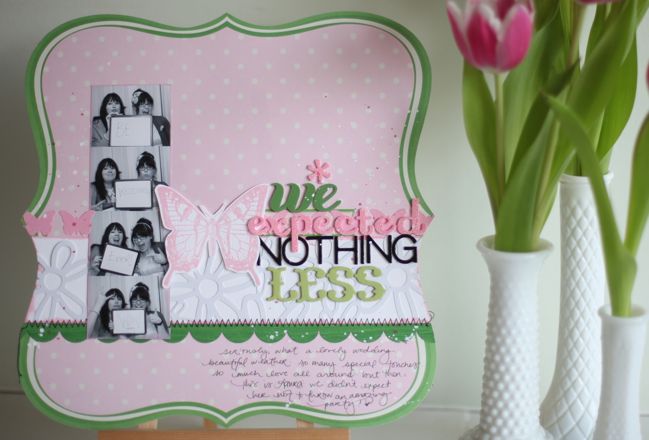 Oh stamps: you cost more than a sheet of paper, but we can use you time and again. It makes perfectly rational sense… yet why are there plenty of stamps sitting in our collections that we don't put to good use more often?
On a recent episode of the Paperclipping Roundtable, the idea of how to consider your spending on stamps (and other tools that can be used multiple times) even entered the discussion. If you buy a stamp for five pounds and use it fifty times, then you could say it only cost ten pence per use, and that's a pretty economical craft supply! (Of course that doesn't include the cost of ink or embossing powder or anything else you like… oh my, that gets a bit overwhelming very quickly!) I think we can all agree that a stamp used fifty times is a good investment. It's the stamps we buy and just use once or twice that can be more humbling. Say I buy a set of alphabet stamps for ten pounds, thinking I will start using them on all my titles thereby saving me lots in letter stickers and such. (Of course, I have already paid for enough letter stickers to spell quite a bit, but that's beside the point for now.) If I really did that, and fifty of my next hundred pages include that stamp set, then those titles were just twenty pence per page and I have the added benefit of my pages starting to have a unifying style from the repetition of those stamps.
…but what about the scenario that I come home and use those stamps promptly on those three layouts, then put them away while I'm cleaning up and the next time I scrap I go onto auto-pilot and go back to my letter stickers and eventually forget about my master plan to get my money's worth from those stamps? Using those stamps on just three layouts means each of those titles was £3.33… which is more expensive than quite a few kinds of letter stickers!
This is partly why I slimmed down my stamp collection by about half over the past two months. (The other part being I just didn't have room for so much and I needed to figure out what could go!) I still have plenty of stamps for all sorts of things, both letters and motifs, but the designs I had completely forgotten to use and wasn't falling in love with again? Those went to new homes where they could be loved rather than ignored! And now with an amount of stamps that doesn't overwhelm me or make me feel guilty, I can focus on using them on my pages in ways that work for my scrapping style. That's a win all around!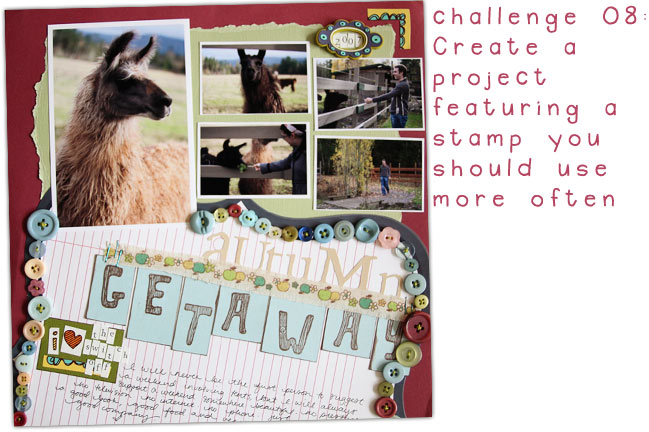 So that leads me to the next challenge: take one stamp (or one set of stamps, like an alphabet) and use it as a prominent feature on a project. If you would prefer to do something other than a scrapbook page for this challenge, that's fine! In this five ideas post, I decided to get more from a stamp by using it on more than just a 12×12 page and I've repeated many of those ideas with other stamps since then. Whatever the project, I feel a bit better about my stamp investment when I really feature the design on a page rather than hiding it away under lots of other elements, so I encourage you to highlight one design you love so your favourites show through your scrapbooking.
Have you been collecting stamps but not putting them to use as much as you would like? Check out the brand new Scrapbook Stamper's Workshop and last year's Scrapbook Stamping class for plenty of tips specifically designed to help you get the most from your stamps on scrapbook pages, and they are taught by two ladies who get way more creative with scrapbook stamping than I do!
To enter this challenge, create a new project featuring a stamped design and upload it to your blog or a page gallery. Share a link below. Entries close at the end of next weekend!

Read more about: paperclipping-roundtable
15 April 2012

Next post: How do you store your paper scraps and off-cuts?
Previous post: How did you start scrapbooking?