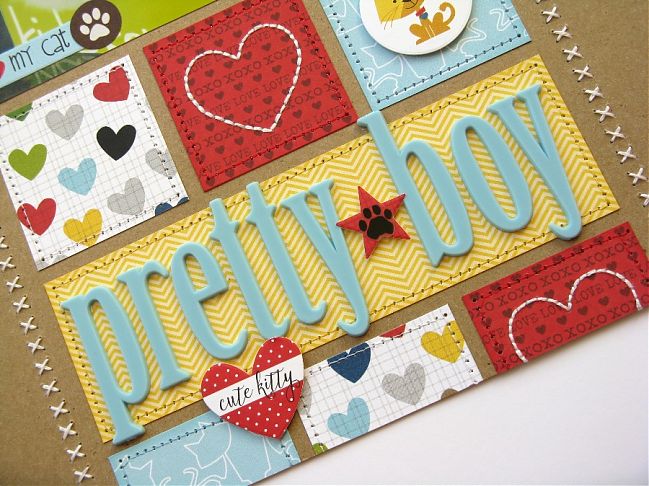 Today I'm delighted to welcome back Mendi Yoshikawa, with the first in a new series of Inspired By posts! These guest bloggers have chosen their favourite posts from the shimelle.com archives and created something new to share with you as a result. (Don't worry, I still have layouts and videos to share too, but there is room for a few guests so we can get back to a lovely balance of always having something to show you!) I hope you enjoy these new twists on something you may or may not have seen, and I'd love for you share what you're inspired to create.
Take it away, Mendi!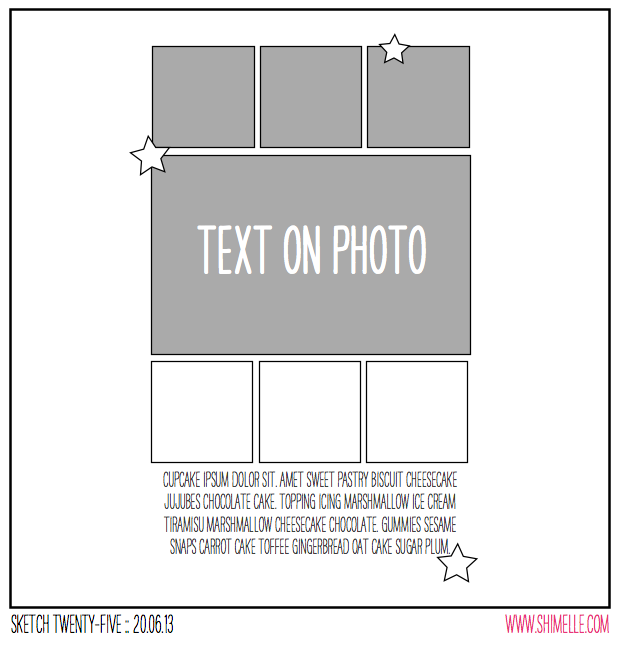 For my layout I was really inspired by Shimelle's Sketch Twenty-Five. I love the grid design with the little blocks and how they can be used for either photos or paper. As it happens, I only had one photo for this particular page so I chose to use them for some embellishments and show off more of the pretty papers that I had purchased for my page. In fact as I was working, I felt like I hadn't used quite enough of that paper so I chose to continue the grid and add another row of squares to the top and bottom which bleed off my page. I love how doing this also helped ground my page.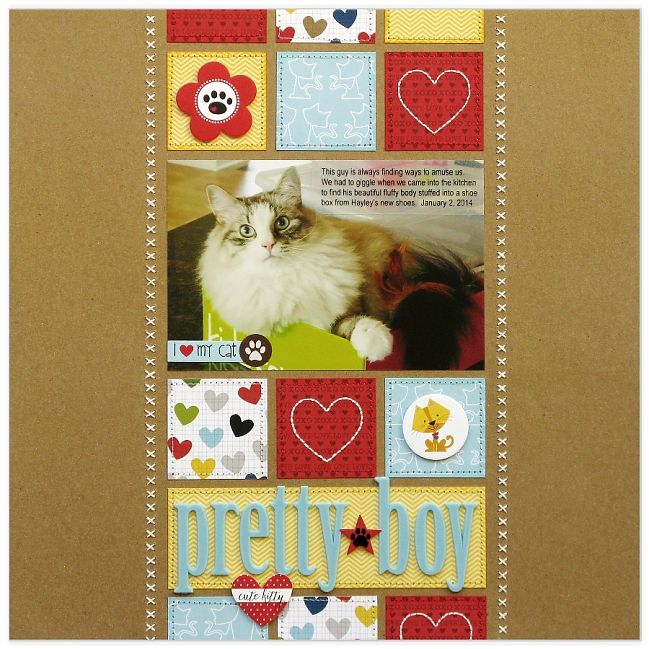 I was short on extra matching embellishments for my squares so I decided to fashion my own by punching holes around a simple heart die-cut with my paper piercer. I then took a needle and some embroidery floss to stitch my trio of hearts. When I was done I decided I might as well keep going and added the cross stitch border down each side. While it can be a bit time consuming, I was able to do all my stitching in just over an hour while I watched some TV with the family, and I love the texture it gives.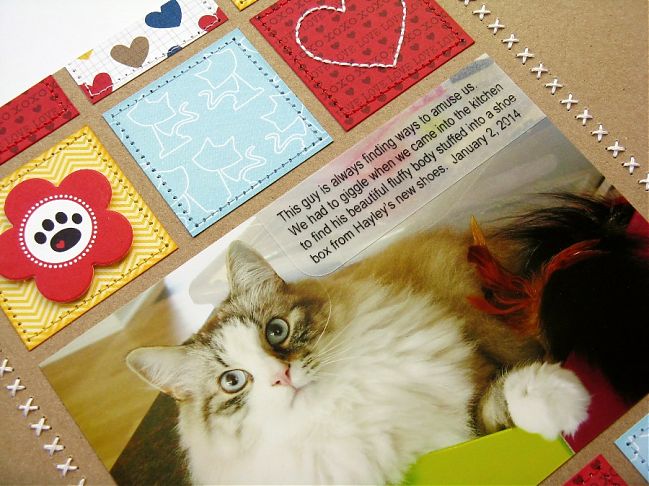 I knew I wanted to use the large pale blue letters for my title, but I didn't have quite enough room for them over the top of my photo like the sketch called for so I decided to flip the locations of the title and the journaling which worked beautifully. I would have loved to type my journaling over the top of my photo before printing it, but unfortunately my photo had already been printed beforehand so as a solution I printed my journaling on vellum and used 3M Spray Mount (US // UK). I love how this product covers the entire surface so there are no adhesive lines to hide. I hope I've inspired you to take another look at all of Shimelle's wonderful sketches. She has so many great ones to get your creative mojo going.
| | | |
| --- | --- | --- |
| Mendi Yoshikawa lives in Washington state with her husband and two girls. She has a passion for using sketches, loves linear designs and brightly colored tone-on-tone patterned papers, and has a self-described addiction to her sewing machine. You can find her at her blog, Pinterest, and see more of her work at her online gallery at Scrapbook.com | | |

Comment [18]