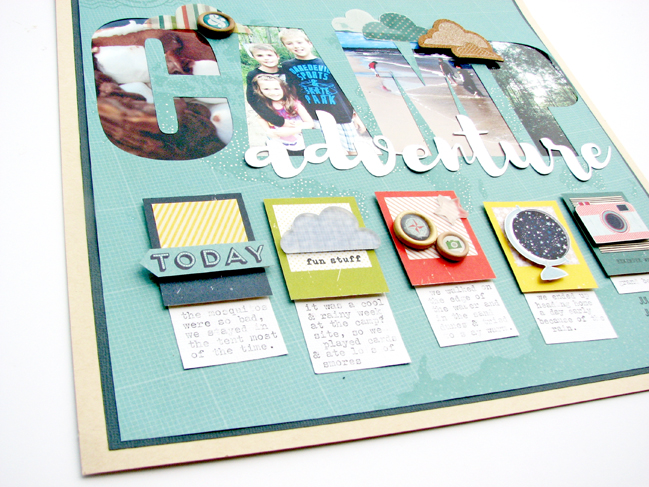 Ready to make something big? Contributing designer Nicole Nowosad joins us now for our next challenge: make a big title for your page! I love her page design – it's one I want to try myself this weekend!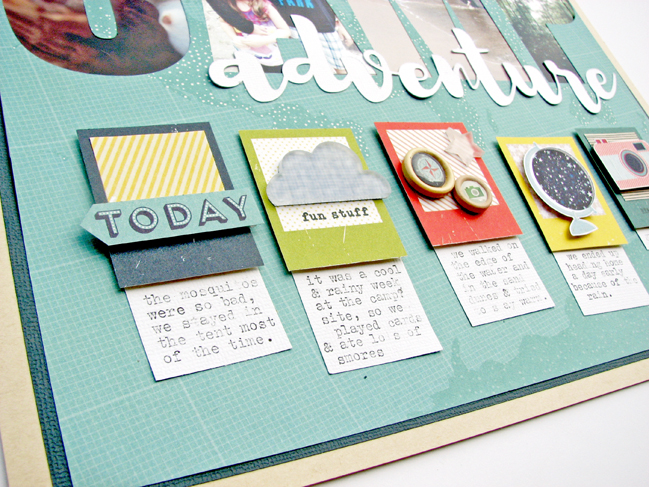 We are fortunate to have a lot of outdoor camping spots within close range of our city. We don't often take the opportunity to battle the mosquitoes and make a weekend of it. Truth is, we are more of hotel travellers! A few years ago, we made a trip out to a local camping ground and had a brief and wet weekend at the park. Although it wasn't the greatest of weekends, we still made some great memories and spent time together.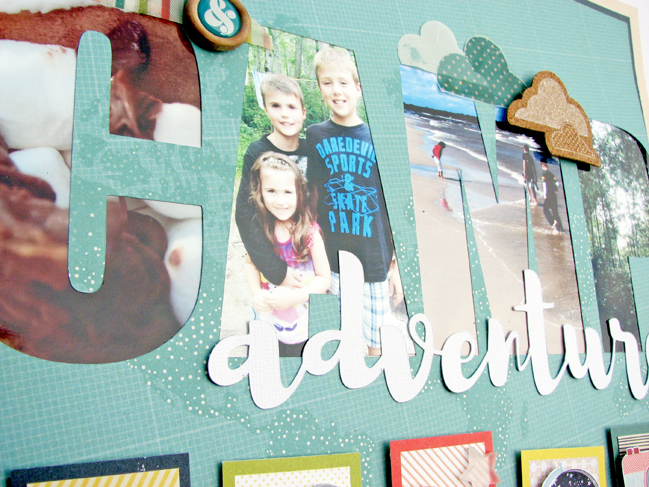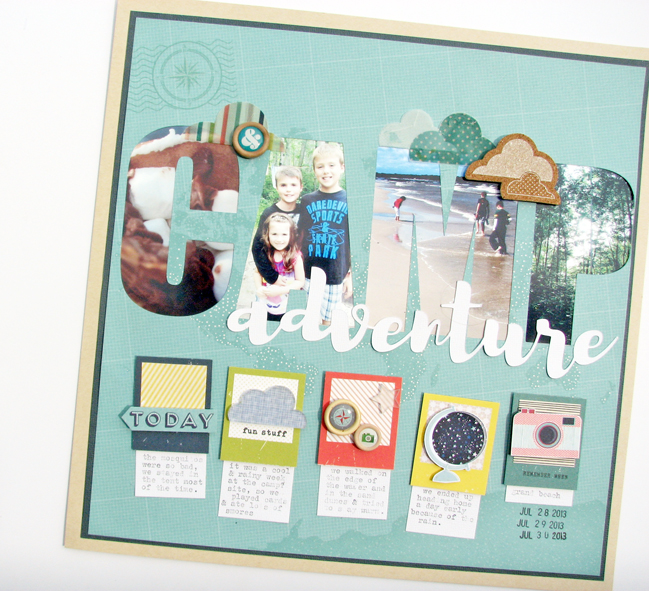 I only captured a few photos from that weekend and wanted to highlight them in a different way. The photos we are pretty busy but I didn't want to just narrow it down to one or two on the page. I decided to diecut a large title "CAMP" out of some patterned paper and then in the open spaces, added a photo behind each of the letters – one photo signifying something we remember about that trip. I love how each of the letters highlights a different photo, while also making a title for the page. It took a little time to balance out what photo would look best behind what letter, but the result something different and unique!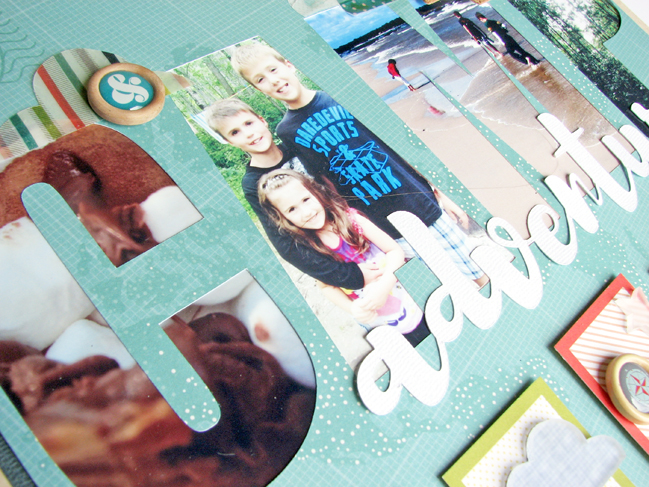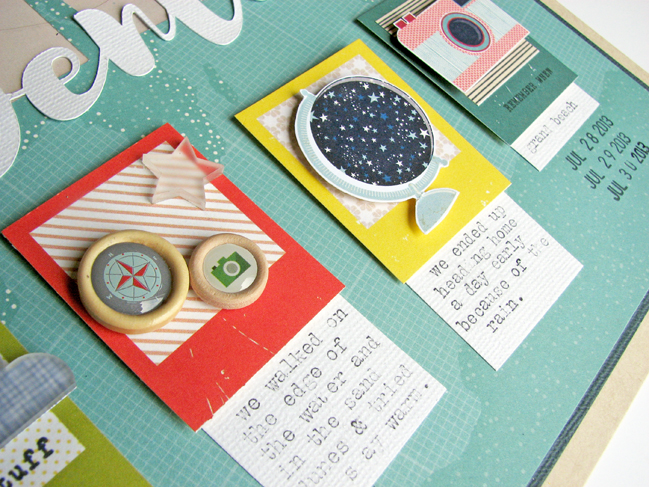 We had a few small different memories of the trip that I wanted to make sure to have included on my page, so I documented little bits of journaling beneath each the five small polaroids that I had cut from some patterned paper and embellished with more fussy cut patterned paper, wood buttons and clear shapes. It is an easy way to note a few small things about this weekend away with the kids.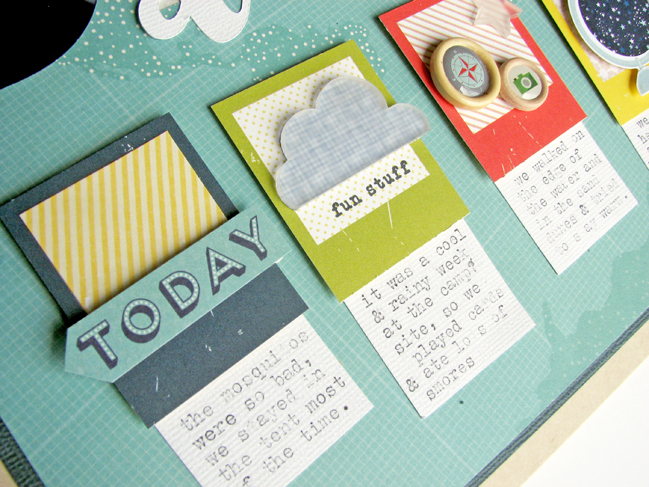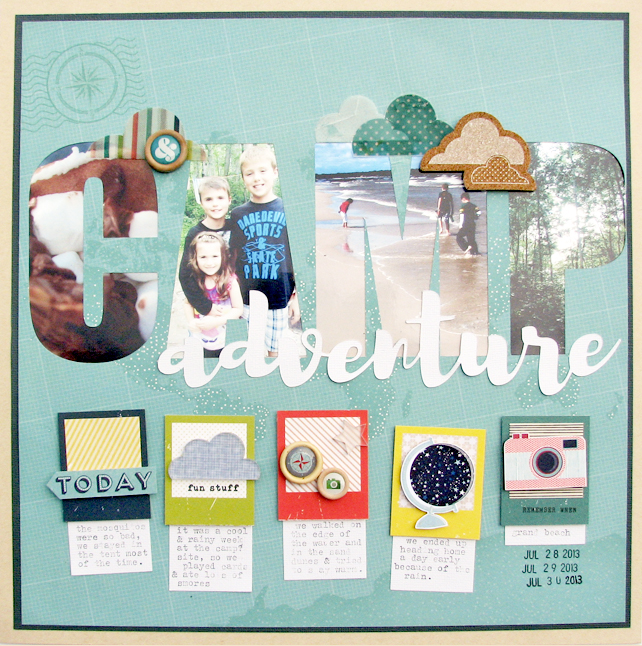 Now it's your turn – what word will you turn into a BIG title for your next page? Don't forget to share it here this weekend to get your discount on the new class!
A note about this weekend's challenges: I'm leaving all the challenges open until the end of the following weekend to allow more time to participate, but the special discount on the new class will be sent to those who upload a new project just this weekend – by the end of Sunday, 30th of October, 2016. This is for new layouts created this weekend, not archived layouts made previously. One discount applicable per person. You can upload your page to another site (blog, Instagram, Facebook, scrapbooking gallery, etc) and use the InLinkz button above to link to that OR you can upload a photo of your page directly with the same button rather than linking elsewhere. Either is fine! If you have trouble figuring out what to click, give a shout in the comments and I'll email you with help. Thanks!

Comment [5]