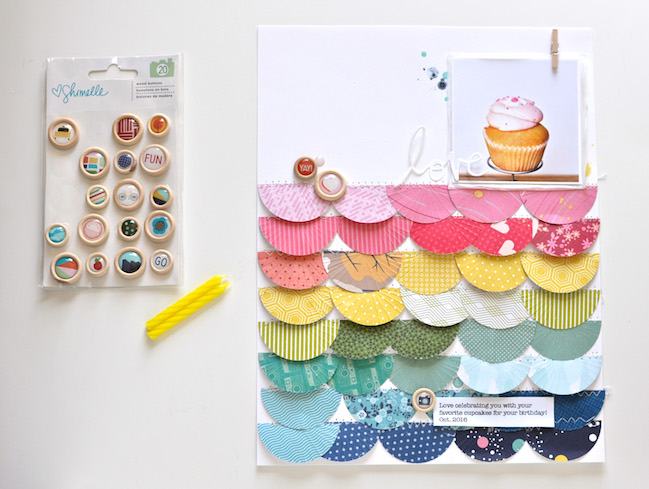 For our next challenge, contributing designer Leigh-Ann Odynski, invites you to embrace colour and pattern with layers of simple shapes. It's a great project for small scraps of paper and the end result is beautiful – I can't wait to see what you make!
It's almost time for trick or treating! How fun is that? I am sure I am not alone in loving a good sweet treat! On this scrapbook page, I wanted to feature a different kind of treat. It's one of our family's favorite birthday treats, cupcakes.
I thought about how to embrace dimension on this layout. I came up with the idea to punch circles and score them so that they resemble cupcake wrappers. In Shimelle rainbow colors of course! Just punch 2 inch circles and score them with straight lines as shown above, before cutting them in half. You can use a score mark (at 1 inch) to cut them in half.
In deciding where to place them on the layout, I tried different spots, but thought they looked most like cupcake wrappers when placed this way. Try it out and see how you can layer them up!
Starting with the bottom row, attach some of the "wrappers" with foam dots. This gives tons of dimension. The scoring also adds dimension to each half circle.
Once you have a full row, just zigzag stitch across the top to give even more texture. Continue with the rows and stitching until you have the amount you desire!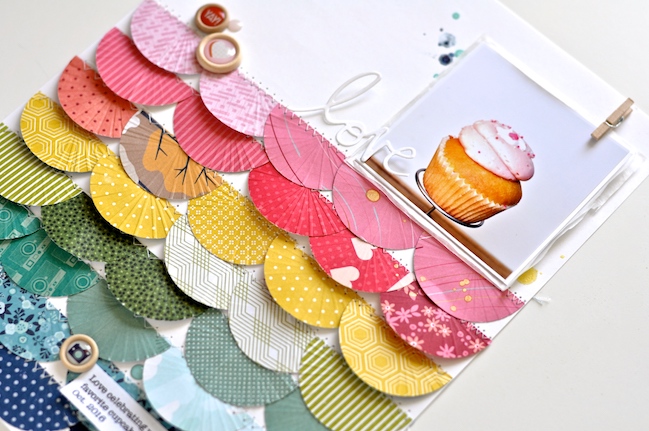 I decided to drop a few splats of Heidi Swapp Color Shine behind the photo, just for a fun icing look. I added tissue behind the photo to give more dimension and resemble bakery paper.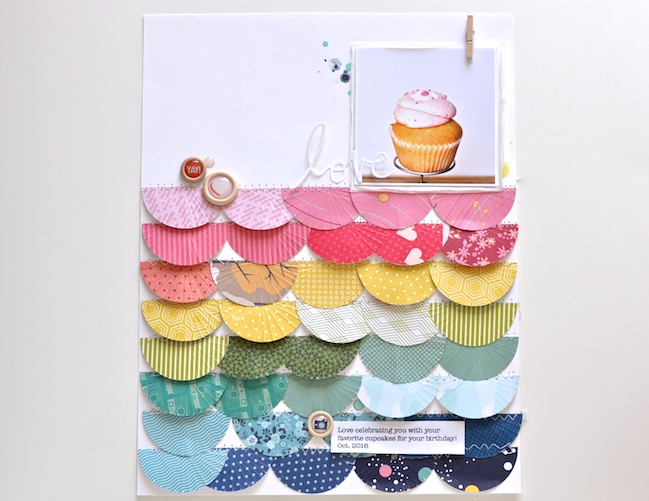 The wood buttons from the new Go Now Go collection were just perfect as a minimal embellishment, and they tie in the wood grain color from the photo.
Your turn to have a go at this challenge with plenty of layers of colour! You can also share what sweet ideas you have to embrace dimension!
A note about this weekend's challenges: I'm leaving all the challenges open until the end of the following weekend to allow more time to participate, but the special discount on the new class will be sent to those who upload a new project just this weekend – by the end of Sunday, 30th of October, 2016. This is for new layouts created this weekend, not archived layouts made previously. One discount applicable per person. You can upload your page to another site (blog, Instagram, Facebook, scrapbooking gallery, etc) and use the InLinkz button above to link to that OR you can upload a photo of your page directly with the same button rather than linking elsewhere. Either is fine! If you have trouble figuring out what to click, give a shout in the comments and I'll email you with help. Thanks!

Read more about: scrapbooking-challenges inspiration-party
29 October 2016

Next post: Challenge 05 :: Scrapbook the Outdoors
Previous post: Challenge 03 :: Scrapbook with Autumnal Colours