So it's been cold for too long and I'm getting a bit twitchy for some sunshine and green grass and fresh air that does not freeze the lungs. Since the pavement seems to be getting ore dangerous instead of less, I think it's about time to get settled at my crafting table and work on something a little bit special. And I'd love it if you would join me.
This little adventure starts today and will continue through the end of the month, right here on shimelle.com. It's not just free — you may end up with money to go shopping by the time this adventure comes to a close.
Today, I just want to introduce you to my perspective on this adventure. Your perspective may be different. That's fabulous — it's what will make this entire idea work. A few years ago I taught a workshop called The Reasons Why, with a quick presentation about why we scrapbook before we made a 6×6 minibook together. At that point, I was excited that scrapbooking was turning a corner. And now, there are changes again. So I think it's time to return to this idea, but bring it up to today's perspective.
This is the very first time I've uploaded a video to youtube. Please be kind. Yes, my accent is completely weird and neither here nor there. The sound is pretty wonky at the beginning. And yes, there are a million other little things that want to drive me crazy about this little movie, but I am embracing a sense of adventure and sharing it with you.

Music from Amiina and presentation inspiration from Lawrence Lessig and Dick Hardt. Cheers.
This is just the beginning of the adventure. This time tomorrow, stop by to see the crafty project that takes the next step. It starts like this: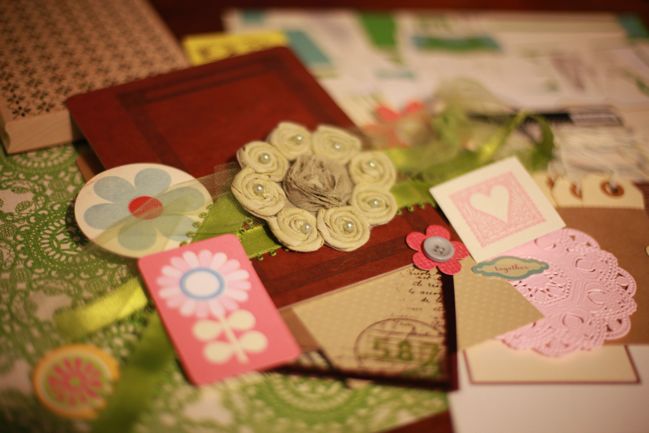 and tomorrow I'll show you what it has become. And by the time the week is out, you'll find details of how you can get involved with this creative adventure and even how you can win prizes.
For now…get thinking: I've told you a bit about why I scrapbook. What are your reasons?
xlovesx
This is Why I Scrapbook is a creative adventure for January. One participant will win a $100 shopping spree. Find the contest details here and enter to win here.

Read more about:
08 January 2010

Next post: Starting to get crafty :: Making the cover