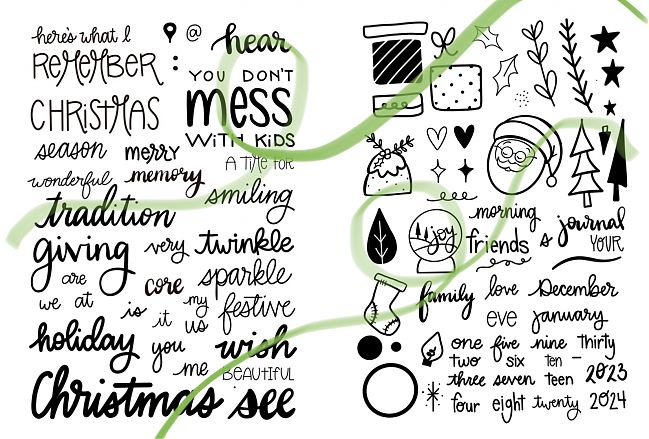 Hey hey there Christmas fans! This year's edition of the Journal your Christmas stamps are now available for preorder, which will remain open for two weeks – until Wednesday the 19th of July. I only get a very small number of extras, so if you would like a set please place a preorder. Any extras would be available in late October or early November.
This year's vibe is a multitude of words you can mix and match to fit the stories you tell over the holidays and then throughout the rest of the year. For example, I have long wished for a stamp that says 'core memory' to go with my writing on plenty of pages. With each word as its own stamp, I can caption something in my Christmas journal with 'core Christmas memory' or even 'here is my core Christmas memory' but I'll still have the 'core memory' option to use on non-Christmas pages. The words are there for a Home Alone reference – don't mess with kids at Christmas – but they aren't all stuck together to be just that sentiment. 'Merry Mess' might also be apt or 'kids at Christmas' might be a very useful caption. And then you can mix with your own stickers or letter stamps to add any words missing, so you could end up with 'Don't mess with Texas' by adding in one extra word if that's the story you need to tell!
The set is two 4×6 inch sheets of stamps, purchased as one bundle for $34 USD, including postage to anywhere in the world. The stamps are high quality photo polymer, made in the UK, and packed and posted by me here in London to you, wherever you are. (If you're in Germany and want a set, send me an email at shimelle@gmail.com because that's the only country that has been a real challenge with delivery for some reason!)
Please keep in mind the stamps may be in slightly different places on the sheets – I work with the stamp manufacturer to make the best use of the space and not leave any gaps so sometimes we just need to rearrange a bit.
If you have any questions, please send me an email (shimelle@gmail.com) any time. Keep that in mind if you move house between now and October, when your stamps will be on their way to you.