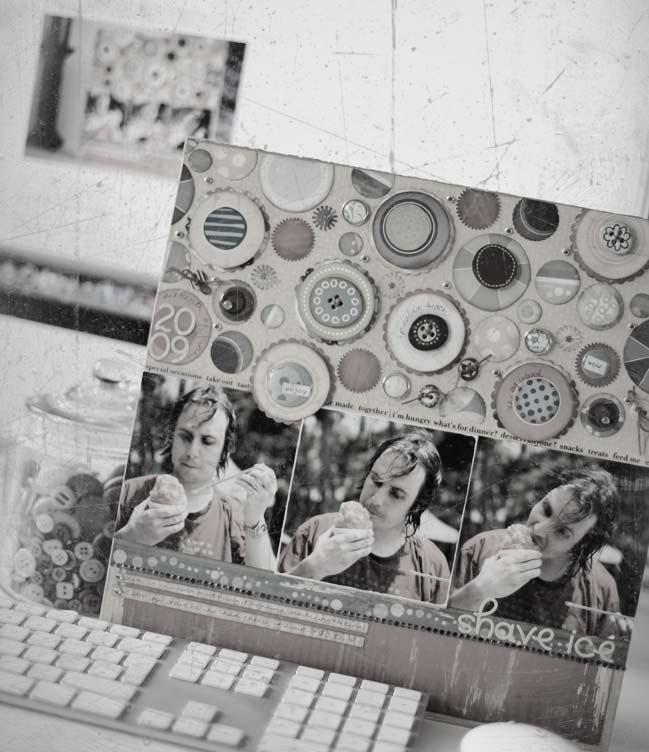 I wish I could say I absolutely, without a single doubt, one-hundred-percent loved scrapbooking. I really, really do.
The problem is that I come in somewhere squarely at almost-entirely, so very close, ninety-nine-percent love scrapbooking, because there is one thing I do not love. And that is explaining what I do for a living.
Keep in mind that 'scrapbooking' is not an understood word in this country, so 'scrapbooker' would be even crazier. And the frustration is found in exactly how simple scrapbooking can be to us: it's photos we've taken and words we've written and pretty things we've arranged to remember our lives. No matter how fabulous that seems to us, whenever I start to say that aloud, non-scrapbookers tend to look at me as if I have three heads.
But I have found my answer: the word 'scrapbooking' may not have taken off here, but the word 'blogging' certainly has. And how would you describe a blog? It's photos we've taken and words we've written and maybe the odd pretty thing we've chosen to go along with all of that. Oh my word: could they be the same thing? So when I tell people that I work in scrapbooking, which is a lot like blogging, but on paper rather than online, finally I have rid myself of three-head syndrome. Success!
Of course, the more you think about it, the more this makes sense, and indeed scrapbooking and blogging can be each others' best friends forever. As scrapbookers, we want to make time to remember the little and the big things in life. We want to take pictures. We want to write things down. And we want to decorate it up in the style of our choice. And blogging is exactly the same idea, just with a different process. That is the basic principle behind my newest online class: Blogging for Scrapbookers.
Throughout this class, we'll discuss key concepts, but we'll also blog and make scrapbook pages. The class starts with a workbook that walks you through all the technical stuff about blogging in simple steps with options to suit you. If you're new to blogging, it will help you choose the best blogging platform for your needs. If you already blog, it will take you through applying a theme, adding custom graphics and interpreting your blog stats. That workbook, Blogging Blueprints, is something you can come back to at any time if you want to change something on your blog or reference anything technical.
ETA: You can sign up for this class at any time — not just for November. More details below. There is a live run of this class starting on the 21st of March, 2011, so join us now!
Starting Monday 2nd November, 15 full colour prompts will take you through fifteen separate topics, each with a corresponding blog post and scrapbook page to make. We'll cover topics like making your blog public or private, what to blog when your day seems pretty mundane, how to tell just enough so you don't run out of stories to tell, how to get readers to leave comments, making blog posts come easily and quickly and getting others involved. The prompts are delivered straight to your inbox, Monday to Friday, and you can choose to use the prompts on a day-by-day basis or work through them at your own pace. There is absolutely no feeling like you've fallen behind in this class.
At the end of the 15 prompts, you're just getting started. The second workbook, A Year of Blogging, is a downloadable resource with a full year of blogging topics just for scrapbookers. With all those potential blog posts just waiting to be written from your perspective, you'll never have to worry about running out of things to post on your blog, whether you've chosen to start a new blog or just breathe a little more life into your existing account. The two workbooks and the 15 prompts total well over 100 pages of content.
As with all my classes, you'll have access to a private message board just for participants in the class, so you can discuss all the topics as much (or as little) as you like. It also means you'll never have to worry about starting a blog and not being able to find anyone to read it or leave a comment, because you'll instantly have a group of scrappers in the same boat. Just leave them a link and you'll have instant readers — making friends hasn't been this easy since primary school!
If you're new to my classes, I've been teaching online since 2004, blogging since 2002 and scrapbooking for more years than I care to admit. Above everything, I believe in keeping scrapbooking stress-free and fun: this is something we do because we love it, never because it has to be done. Taking a class in scrapbooking follows that same exact rule. No stress, no worry, always fun and you'll gain a new tool for driving your scrapbooking, whether you choose to keep your blog for yourself or open it to the world to read.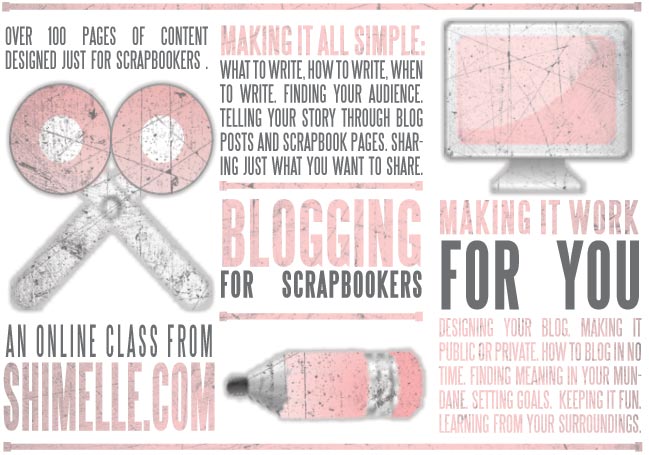 Here's the class summary:
…Blogging Blueprints Workbook A manual for starting a blog, applying custom designs, tracking your visitors and more.
…15 PDF prompts emailed straight to your inbox, Monday to Friday.
…A Year of Blogging Workbook A resource crammed with an entire year's worth of blogging topics that apply to scrapbookers, so you'll never be stuck with writer's block.
…Bonus Graphics for giving your blog a makeover.
…access to a private class forum at shimelle.com to chat and share your work
…permanent file archive so you can come back to the materials at any time
Although the original class run has finished, you can sign up at any time and get all the class materials. The only difference is that you will log in and download the materials rather than receiving them by email. Everything else is the same, including the message board, and you're welcome to email me at any time if you have questions as you're working on your blog! So go ahead and join us, no matter when you're reading this!
Ready to sign up? You can choose your currency and pay in UK pounds or US dollars by clicking the cupcake of your choice:

You can pay by credit/debit card (click on the left of the payment screen) or Paypal account (log in on the right of the payment screen). Please be sure to enter a valid email address as part of your payment so your prompts can be delivered to your inbox. Orders can take up to 24 hours to process, though we are usually quicker. If you haven't received your class registration after 24 hours, just email me and we'll make sure your registration is completed and ready for you to get started!
I hope you'll join me for a bit of blogging fun throughout November! Any questions? Leave them in the comments or shoot me an email and I'll get an answer to you straight away.
xlovesx

Read more about:
21 October 2009

Next post: More about: Blogging for Scrapbookers...and you can win!
Previous post: Learn Something New :: Finished Scrapbooks