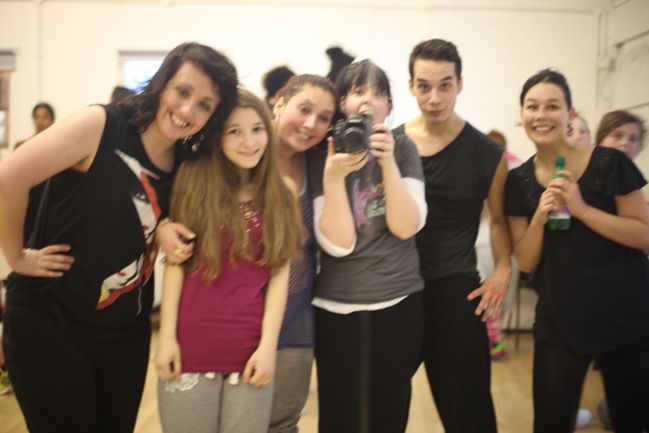 Like with so many things, there has to be a balance with scrapbooking, right? The need to be in the moment has to balance the desire to have photographs of plenty of real life events, both big and small. I will be the first to admit that this very balance creates some very imperfect photos in my collection. Pictures I could certainly compose, focus and light much better with even thirty more seconds of thought. But if it's a moment that will be gone thirty seconds later, what's the use?
And so I end up with photos like this: this is a picture from this past week taken in a total spur of the moment, straight from the camera (except for resizing) so you can see all its flaws. Like how I didn't even notice the line in the mirror join went right through my face, how the focus is not sharp (and it was taken with far too shallow depth of field to ever get all six of us in focus), how the colouring isn't great. But that's the shot I have from that particular moment: take it or leave it, right? And as a scrapbooker, the keeping is far more likely.
So my question to you this time is How do you deal with imperfect digital photos? Do you delete them except in certain circumstances? Do you try to identify them quickly and recreate the moment as much as possible? Do you try printing them small or large or editing them to look a bit better? Do you include them in pockets or somewhere less obvious than your clearest, most beautiful images? Do you keep meaning to scrapbook but just put them back in the file? Dish the dirt on your strategy and whether it works for you.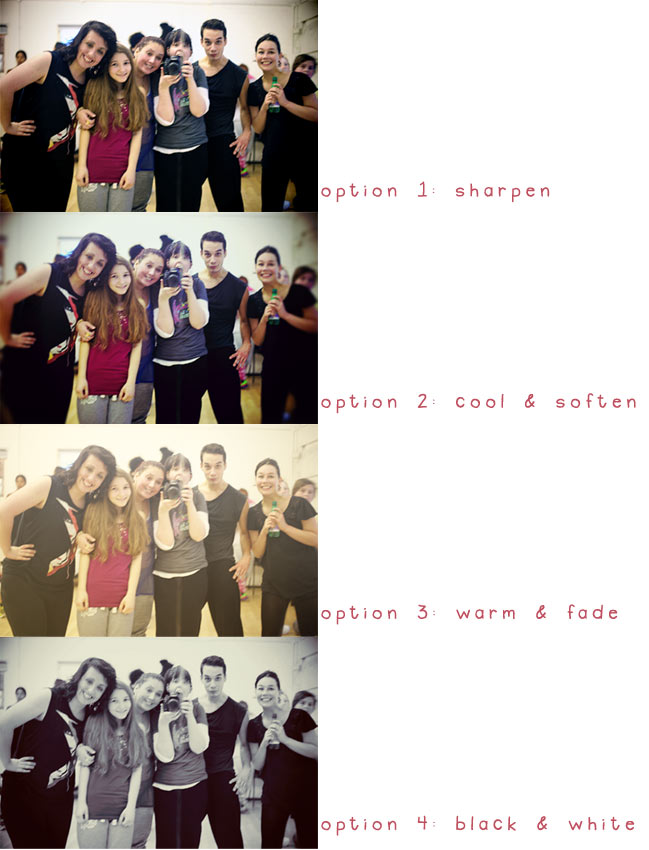 Faced with an image like this, I'm likely to turn to Photoshop and make the best out of an imperfect photo by arting it up just a bit. None of these strategies will take an out-of-focus, poorly composed photo and make it win prizes, but they do make things just a little more clear for me to remember that moment in my albums. The four options I come back to each time are to sharpen the image (to see if it's possible to crisp up something that is just barely out of focus), to cool the colours and soften the focus even more so there's an obvious look of something other than digital precision, to warm and fade the image so it mimics an analogue photo that sat on an old roll of film for far too long, or to convert the image to a black and white that captures the right feel.
After a long time using Totally Rad's separate actions for my photo editing, I switched to their RadLab system, and it is definitely my favourite way to edit images – both the everyday snaps that come out a bit rubbish and the favourite fancy shots too. (If you're looking for a system like that, I reviewed RadLab here and code 1128SHIMELLE gets you 15% off your purchase.)
I also find the printing small option works wonders for not emphasising an imperfect photo when on a scrapbook page! Easy.
Now… what are your strategies? (And if you've been editing with Picnik – have you made any decisions about what you're going to use after their site closes next week? A bit sad about that!)

Comment [64]