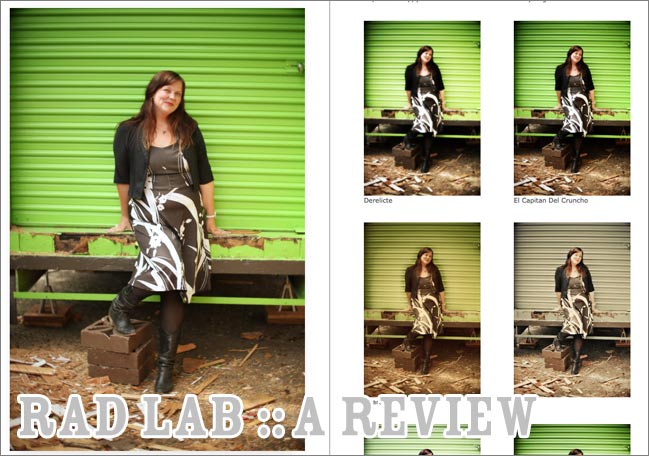 I'm not the only person who will say it, but I'll declare it right now: I love Totally Rad Actions. I just searched my email for the receipt from my first purchase and I've been using them since 2008, and I've loved them since day one. I don't use a lot of processing on my day-to-day images, but when I do want to take an image from just okay to something so very cool, Totally Rad is how I get there. But there have always been two drawbacks:
1. You pretty much have to memorise the actions to use them without spending all day either trying them or referencing a guide. Because actions are just text and the play button, so if you don't remember which action does what, there's going to be a lot of trial and error going on. As a result, I tend to use recipes that repeat the same actions frequently. While that makes their use more efficient for me, it also means there are a great many fabulous options I pretty much overlook all the time because I'm focusing on what I know.
2. It only worked with full Photoshop – CS3 or higher. So I couldn't really talk about it all that much here, when many of my readers use Photoshop Elements and I can't really give a justification to take that big step to full Photoshop if Elements does everything you want it to do.
So now Totally Rad have released a new product. It addresses both of these things.
1. It creates this completely easy-to-use interface that lets you see what each action will do to your photo before you apply it. No more needing to memorise what every action does.
2. It works in Photoshop Elements as well as full Photoshop.
It's called… RadLab.
I purchased it last week and have been using it for a week (well, five days) before reporting here as I wanted to make sure I gave it a whirl with different images. After a week of trying it, I love it and I really recommend it if you're looking for a way to develop a post-processing style without a cumbersome workflow. It's still a major purchase item – it's not something I would suggest as a spend if you only edit photos now and then. But I know some of you are further into your photography than that, so this is a good step in that case.
Here's a look at how I've been using it so far. I've been using it in Photoshop CS3, on a Mac, so if you have a different edition, the Photoshop screen may look a bit different, but the functionality is the same.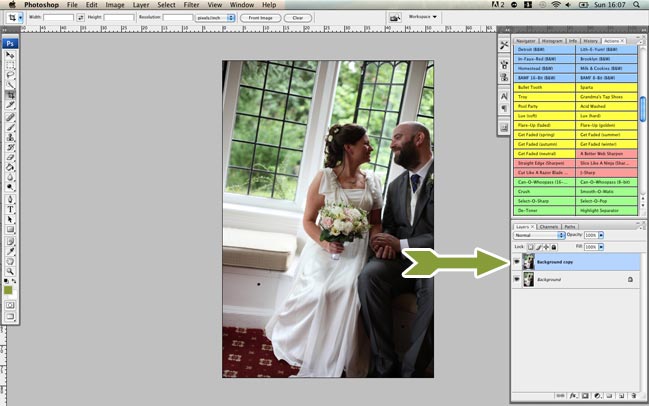 1. Open the photo and immediately duplicate the layer. This is a good measure for all photo edits, as it means you can't accidentally save over your original JPG, as you're making it a PSD image straight away. It's extra helpful with RadLab as you can later adjust all your settings on one layer – but we'll get to that in a minute. So duplicate the layer and then use the copy as the active layer.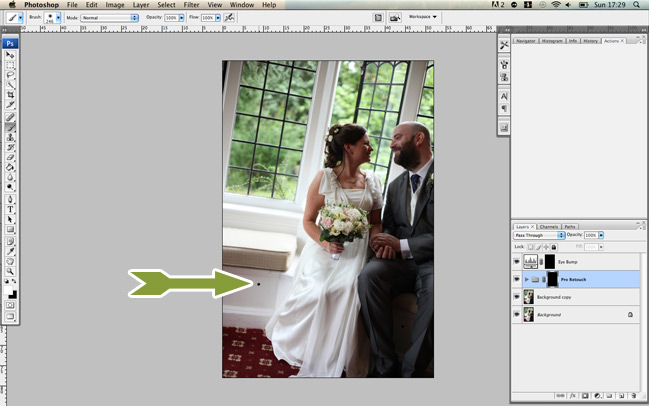 2. Make any paint-brush edits first. Paint-brush edits is a totally technical term I've coined. In truth, I call them paint-brush-y edits, but that's probably too annoying for general conversation. What I mean are the type of edits you're not applying to the entire image, but painting into certain areas, like lightening or darkening a certain part of the photo or smoothing skin. Some photos need paint-brush edits and others don't, but RadLab isn't the place to do them and it seems a lot easier to add those edits first rather than last. If you're making any changes here you definitely want to commit no matter what, go ahead and flatten all this and duplicate the background layer again so you have one clean image and the copied layer to process.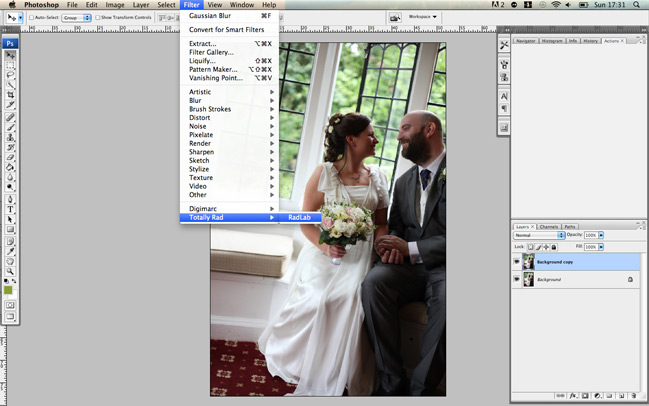 3. Now open RadLab. It's not an action in itself – it's in the filters menu. Select it there and it will launch this whole new workflow on top of your Photoshop screen. Magical.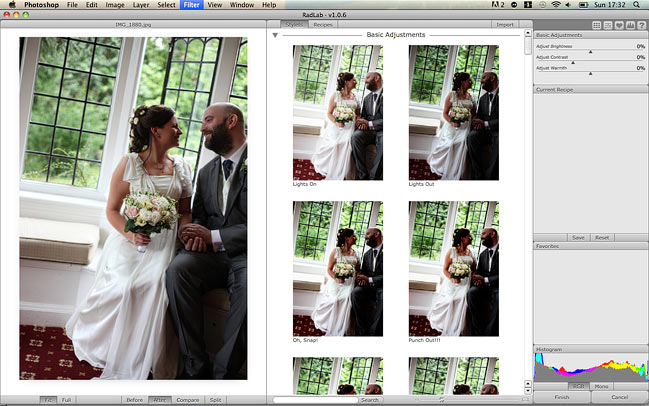 Your image appears at the far left, the potential edits appear in preview form in the middle and your editing controls are at the right. Have a look through the middle window for your different options. There are seventy-eight different effects (called stylets) you can use, but then you can mix and match them for nigh-on-unlimited final outcomes. When you see something you like, hover over it to see it previewed on the larger image. If you like it, click and it will apply the effect.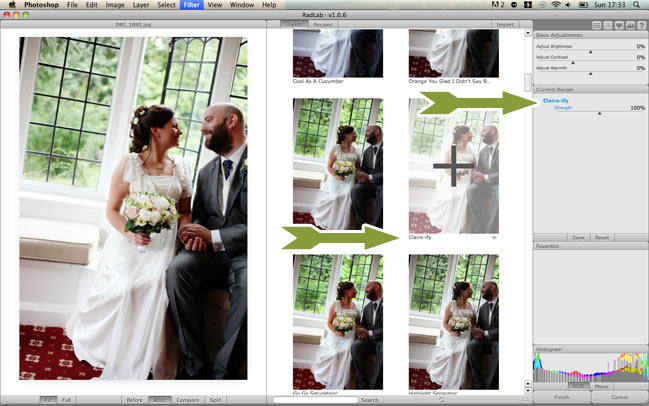 Once you've applied an effect, you can edit it at the right. Strength is the most obvious edit and works much like opacity would work with layers. Use the slider to adjust whether you want more of less of the selected effect. It's particularly handy with the vintage washes which may default to a bit more extreme than needed, but unlike opacity, you can also boost an effect to more than the default if you like.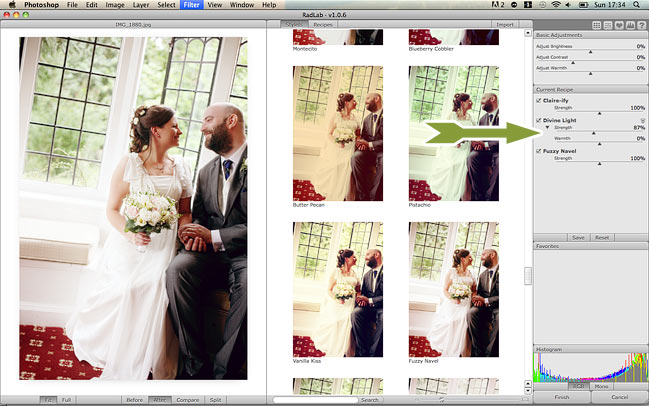 Some effects have more options, like the extra slider here for warmth. You can also click entire effects on and off (much like the layer palette) so once you've layered a few up, you can see if perhaps they aren't all necessary. At the top of that frame you'll also find overall edits for brightness, contrast and warmth, without having to leave the RadLab window.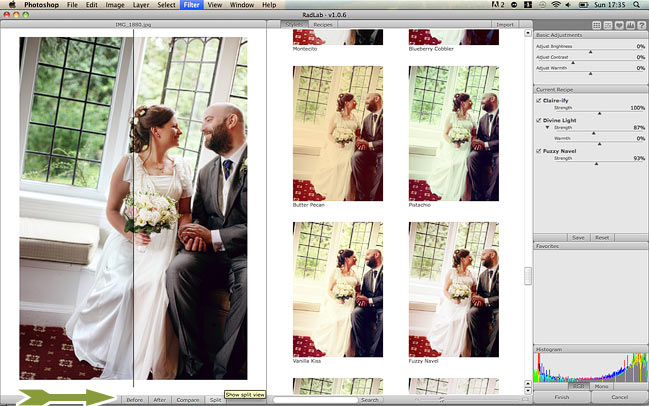 The default view of your image within RadLab is the 'after' with all the effects applied, but at the bottom of the window you can also select the before to see the original then two things that are even better: compare lets you see both the before and the after, side by side, and split applies your effects to just the right side of the image. I find it's useful to be able to see that before so I don't go so far into process-land that I lose the mood of the original image, so these tabs are much appreciated in my workflow.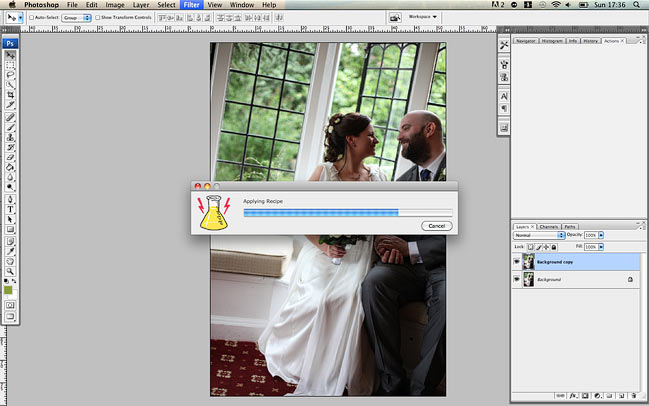 Once you're happy with all your processing in RadLab, click the Finish button at the bottom right, and you'll be taken back to your regular Photoshop window, where you can either save or continue editing.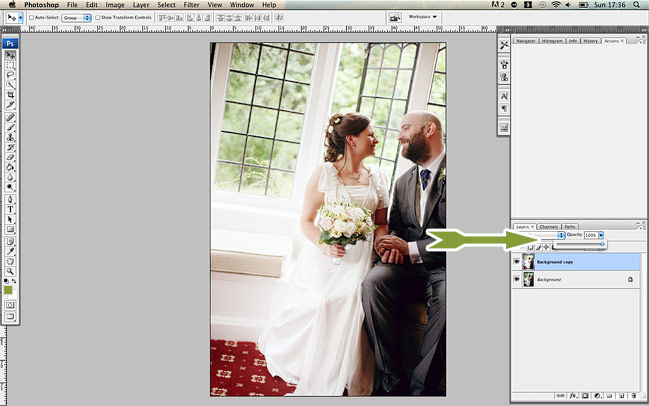 If you decide you've been too heavy-handed with the processing, all of your edits are now on one layer above your original image in the background, so the opacity slider can take the processing down a notch if needed. Then just save (or resize and save for web) as you usually would!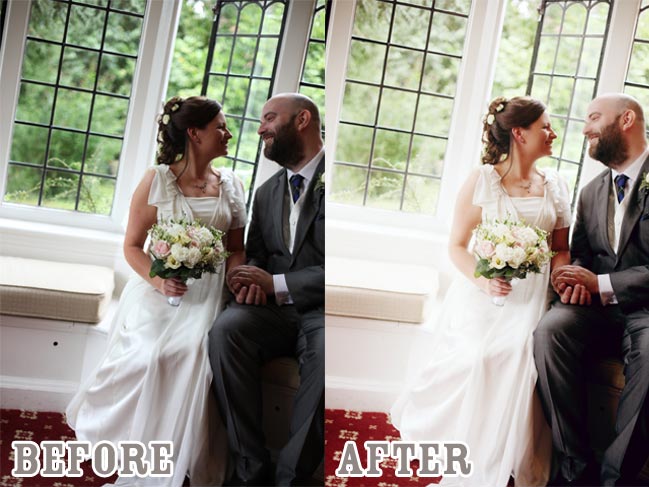 So there's the finished image using pretty much only RadLab (though I did paint out the bolt in the wood panel) and I like the after way better than the poorly exposed before image.
What I really like about RadLab:
RadLab saves your history of recent edits and lets you save your own recipes of edits, so you can apply the same look to all the photos in a session much quicker than adding all those actions to each photo manually. The first thing I did was save my four most used recipes. True, you can make actions of multiple actions without RadLab. I have a few of those but some combinations just don't seem to like working that way and they worked just fine in this setting.
Because you can save time with the saved recipes, I timed how long it took me to run the processes in the two different ways (with and without RadLab) and I estimate my editing time with RadLab is, on average, one third of what it is without RadLab. As in an hour's worth of editing now takes twenty minutes. Um, that is the definition of totally rad in my book. I wish I could make time improvements like that with pretty much everything else in my life.
The fact that everything is visual means my edits are generally better because I'm not relying on my memory of a handful of actions I use most often and forgetting other things that would be perfect for the photo. So it's faster and higher quality, which is a rarity in life.
It's ridiculously easy to install. There's no messing with settings or anything – you pretty much just click 'go' when you download it and when it's done, you open Photoshop and it's there.

A few drawbacks of RadLab:
If you have already paid for the two action sets, you are paying for several of them again. But not all of them though, as the paint-brush actions and such aren't included here, and I wouldn't want to be without some of my most-used tools, like Pro Retouch, Yin-Yang and f-zero. There are also new effects you're getting in RadLab that don't come in either action set (I'm particularly fond of the addition of a 600-style Polaroid finish and some of the less-intense warming tones) so that may help rationalise things if you're adding this on to an existing collection of Totally Rad Actions.
There is one bit of scrolling that I get wrong with the way I use my mouse, and I mean to scroll up and down through the stylets I've applied, but I accidentally scroll the strength slider for whatever stylet I'm nearest. I'm pretty sure this is just because I'm a bit weird with how I use the mouse and I don't think it would affect everyone. It might affect you on a mighty mouse or if you use multi-finger scrolling on a Mac laptop. It's not a big deal – it just makes me roll my eyes and put the slider back, but I wanted to tell you the whole truth about what I've found over the week.
As mentioned earlier, this isn't a little bargain add-on for just a few photos. It's $149, which isn't spare change. (UK readers, that's about £90 today.) It's not for everybody and I want to be totally upfront about that. But if I multiplied out the time savings I'm making, it's worth every penny.
Photoshop takes up a ton of processing power and you'll know if Photoshop crashes on you often. That really doesn't apply to everyone – it depends on your computer and how much you like to push it to the max! I haven't experienced any extra drain from running RadLab, but if you experience a lot of crashes, I would think it could get frustrating if you saved your progress less than in your usual workflow.
So there's the whole truth from me! If you want to see more detail and watch a video and see actual professional photographers use this on their photos, head over to Totally Rad for plenty more (and, of course, the option to buy it for yourself). There are definitely other tricks and tips there – this is just what I've found from a week of using RadLab and the developers know way more than I do about what it can really do.
Happy snapping – whether you're processing or not!
xlovesx

Read more about: photography
07 August 2011

Next post: Scrapbooking Giveaway Winner
Previous post: Scrapbooking giveaway day!