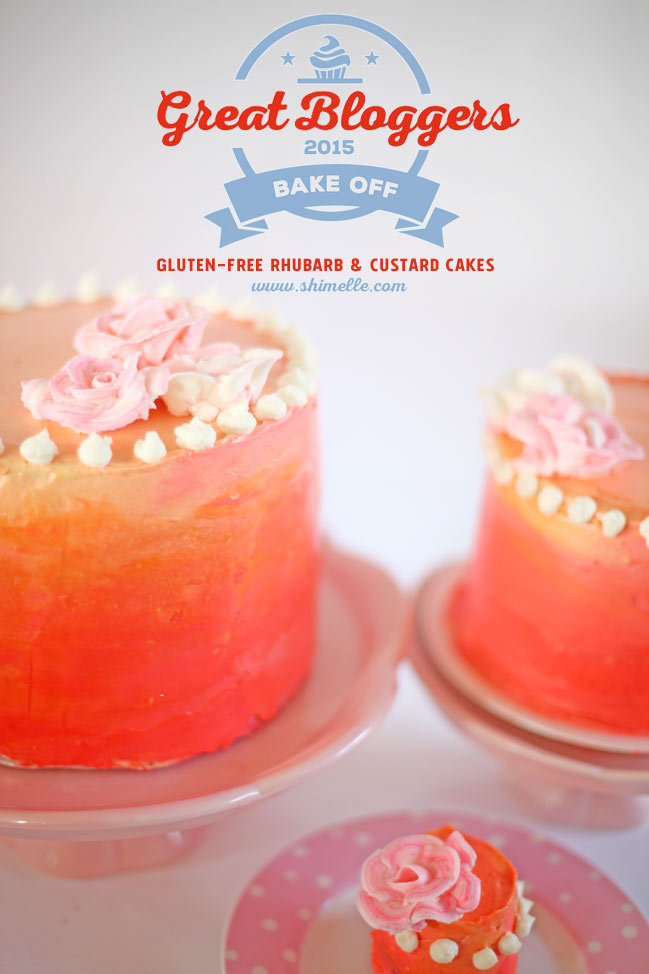 Alas, the latest series of the Great British Bake Off has come to a close, and without spoiling the results for those of you watching at a big delay abroad (some of you have reported you're watching the 2013 season at the moment!), this year my three favourites from the start were the three favourites in the final so it was a real joy to watch because I really just wanted to see them make amazing things and I didn't mind who won! There was some amazing baking in that final episode, even though the descriptions of the challenges seemed too simple for the final at first – things like iced buns and classic British cakes just seemed like day one of pastry school when earlier weeks had challenged the bakers to such complicated tasks! But seeing how it all came together, it was indeed inspiring to see personal twists on things that home bakers could make rather than just fancy patisserie, and I'm sure that's really what's at the heart of a bake off.
I desperately wanted to do all three challenges for this final edition, but there was no such luxury in my schedule. Instead I have barely made the deadline with my one completed bake: the classic British cake challenge, but taken to the rules as much as possible, with plenty of layers and three separate cakes. I'll save my plans for pumpkin iced buns and making the raspberry millefeuille technical gluten free for another day!
When the 2014 bake off started, I joined in this same blogging challenge and managed one measly post: a very messy rhubarb cake. Rhubarb is such a classic British flavour to me, rhubarb and custard even more so, and having rhubarb cake for the very first time is a delightful memory of my earliest days living in England, so it seemed perfectly framed for my take on the 'classic British cake' to be a rhubarb and custard layer cake.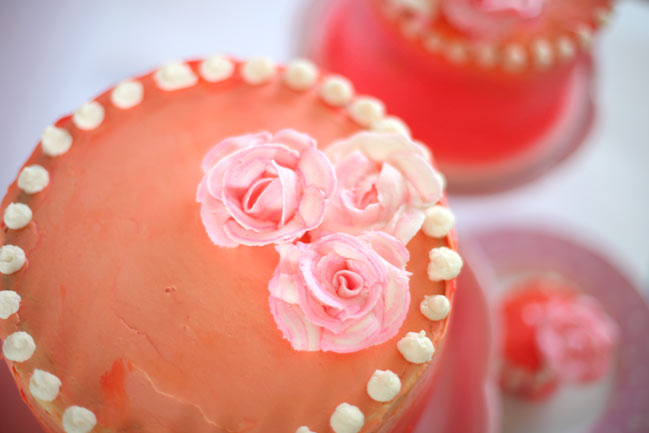 I set myself two more challenges just for good measure: use at least one new skill I have learnt while baking along with the 2015 bake off and add at least one new skill for this specific project I'm happy to report I met both of those, and they both came in the frosting process. All three cakes are covered in French buttercream, something I had never made before the mokatine challenge, but now I am in love with it. It takes more time, more ingredients, and more washing up than plain old butter, icing sugar, and vanilla, but it also tastes like a dream and has the most beautiful texture. I am sold on French buttercream in a very big way. As for new skills: I tried two things I've never done before in icing this cake and they've both been on my 'meaning to do' list for literally years, so I am giddy to have given them a crack. First was the ombre colour styling with the bottom of each cake attempting to capture that rich red stripe you get in a beautiful stalk of rhubarb, fading up to a pale peachy pink at the top, more like the shade you get after you've stewed all the rhubarb in a saucepan until it falls apart. Second was something that came from another happy memory: buttercream roses. My grandmother could make beautiful buttercream roses in her sleep and I think I may have made them with her tutelage when I was a little girl but I've never tried them in my own kitchen. A little trial and error and substituting a coffee tamper because I have two of those but I don't own a rose nail, and eventually I ended up with six passable roses to grace the trio of cakes and a little excitement that I could indeed make a flowery cake should the need ever arise.
Is it too much that one set of layer cakes could be some sort of emotional tribute to childhood afternoons in Grandma's kitchen and a very British summer tea on the Brighton seaside? Forget emotional eating: this entire process was emotional baking for me, in the very best way.
(Also, I'm really happy that I stuck to blogging something for the whole of the challenge! I managed every week of the bake off this year, even if we were all allowed a little more time for the final and I'm still right down to the wire.)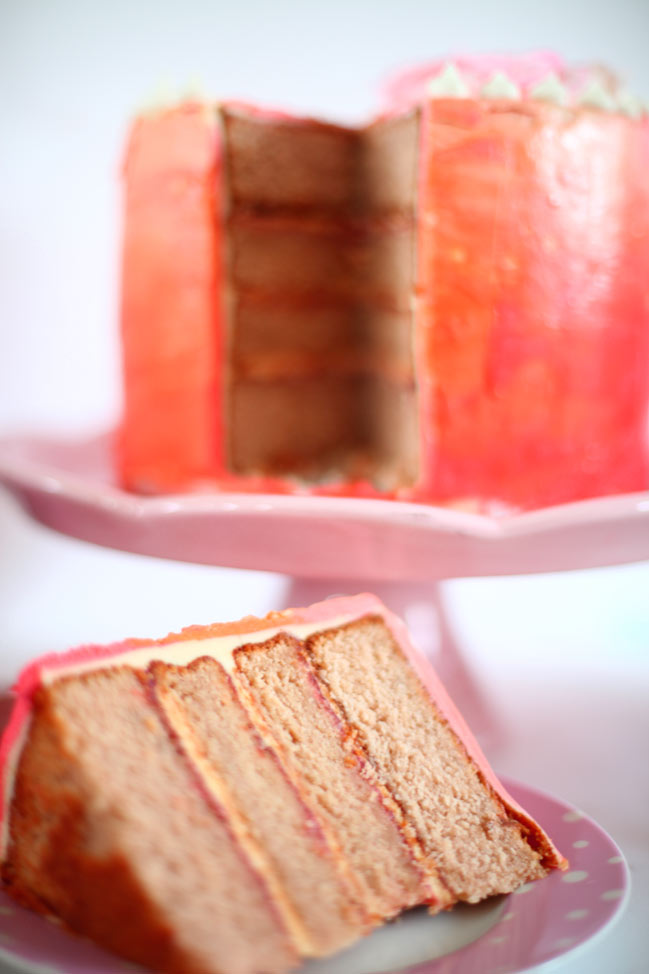 The two larger cakes (one eight-inch and one six-inch) were both four layers of rhubarb cake, with as close as I could get to that original rhubarb cake of my memory within the confines of gluten free flours. But between each layer of cake there was also a rhubarb and vanilla jam and a custard-flavoured fresh cream. (Even this made sent me back to that childhood memory, where I was always a little in awe of how 'torte-ing' a cake was a verb, slicing cakes into layers and adding the beautiful contrast of filling. Rhubarb cake and rhubarb jam doesn't have quite the same colour contrast, so I clearly didn't think that memory through entirely!) The smallest cake was the size of a jumbo muffin but with straight sides, and had just two layers.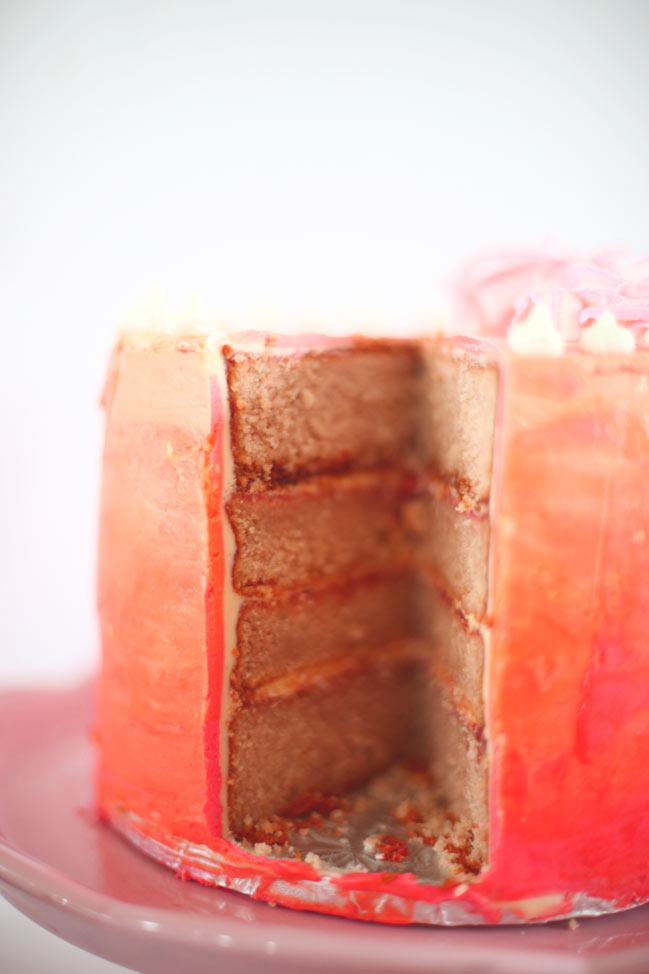 For the rhubarb cake, I made two batches to get all three cakes (plus a little left over for less formal sharing and snacking), so these amounts would make one reasonable but still big cake of about three eight-inch layers rather than enough cake to feed the entire neighbourhood. Preheat the oven to 180C. Grease and paper three eight-inch cake tins or the equivalent in another size or shape. Stew two stalks of rhubarb with 50g sugar and enough water to cover the bottom of the pan, simmering until the rhubarb is soft but not entirely falling to pieces. Set aside. Start the actual cake with 225g unsalted butter and 350g sugar and beat in the mixer until really light and fluffy. Stir in four eggs, one at a time, then add the flours: 150g oat flour, 100g sorghum flour, 50g rice flour, 25g tapioca flour, plus two teaspoons of baking powder, 200ml milk, 2 tablespoons plain yoghurt, 1.5 teaspoons vanilla extract, and 1 teaspoon almond extract. Mix all that until it's nice and even then fold in the cooked rhubarb. Distribute the batter into the pans and bake at 180C until golden (with a hint of pink!) and a toothpick comes out clean – this was just shy of thirty minutes in my oven.
For the rhubarb vanilla jam, I stewed two stalks of rhubarb, chopped into small pieces, in a saucepan with 200g sugar, the seeds of one vanilla pod, and enough water to cover the bottom of the pan. Just heat it until it simmers then leave it for what seems like ages, bubbling away on a low heat. The longer it simmers, the thicker it gets, so if they had to make it on the actual Bake Off, it would probably be a twenty minute job, but I let it go for about an hour and it was gloriously thick like a proper jam rather than a sauce. The other thing I'm not sure how they do on the show: cool it enough in time! The next time I make this, I will double the jam recipe so we can have it on mundane things like crumpets because there just needs to be more rhubarb jam in my life and basically anything that involves scraping a vanilla pod into the recipe is going to get a double thumbs up from me.
For the custard-flavoured whipped cream, I could have made actual custard. In fact, I want to try this another time in a tea cake and bake in a layer of classic custard made with a million egg yolks. But I couldn't make it work with the weight of a layer cake, so instead I looked to that other classic way of making custard in Britain: Bird's custard powder! Using the kind that comes in the bigger jar that you have to add sugar to (not the instant one in the sachet), I started with two tablespoons of custard powder, two tablespoons of sugar, and two tablespoons of whipping cream and mixed those three into a paste, then added the remainder of the whipping cream – a 250ml pot in total – and blitzed it with the electric whisk until it was thick and gorgeously fluffy. I might also double this recipe next time, because all three residents of this house declared we could eat this from a spoon. On second thought, maybe double this one isn't really a safe move.
For the French buttercream, I followed this recipe, then divided the results into three bowls to get the gradient of pink to rhubarb red with gel food colouring. I actually did a crumb coat with just 'normal' buttercream because it suited the contents of my refrigerator, but I can't see any reason why it wouldn't be possible to crumb coat with the French buttercream, as long as you made plenty. I must admit I often skip the crumb coat step if I'm doing something with a texture like ruffles or stars on cake, but I think I will put my hand on my heart now and say I will always crumb coat a cake I want to have smooth sides. It made a huge difference. As this was my very first attempt at ombre, my cake looks nothing like the expert example, but this post was my starting point for tips. Maybe one day mine will look that pretty!
With the Quidditch cake and the Mokatines both convincing me it's not possible to actual complete a bake off challenge in the time given to the bakers in the tent, I'm convinced this one was more effort (if possibly slightly less washing up) but it was an effort of the loveliest kind. Baking to a memory is something I'm really starting to enjoy, tweaking a recipe until it's as close as possible to what I remember – which may or may not be accurate, of course. I found all sorts of things came back to me while making this cake, and I could sit here and discuss the weather on the day I ate that rhubarb cake and indeed the dress the waitress was wearing in the cafe (it was amazing and featured a flamingo, of all things). It brought back the magic of my gran making buttercream roses on the tip of my fingers for me to eat, a bit like Amelie eats raspberries. Scraping vanilla pods with the back of a spoon seems to flood my mind with more sensory memory than measuring out teaspoons from a bottle of extract, so perhaps this is the way forward with connecting a love of baking with all the memory keeping I ordinarily share in this space. However it all came together, this epic amount of rhubarb-infused everything is just the right place for this year's bake off to come to an end in my kitchen. Until next year, then!

Comment [16]