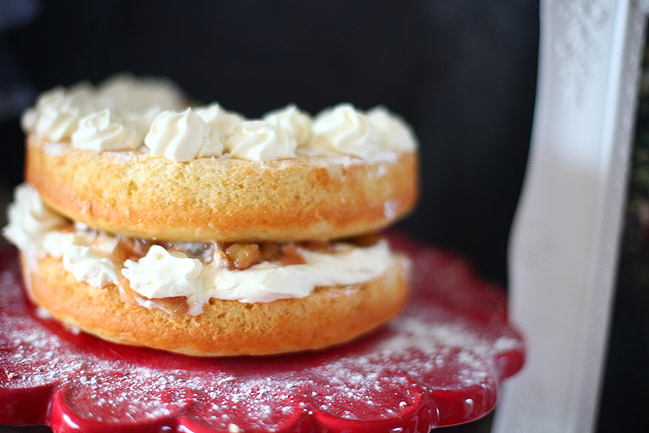 For those outside this lovely country, I'm not sure I can entirely explain the phenomenon that happens here right now, known as the Great British Bake Off. It's simple enough: a weekly television programme where they pitch a tent in the countryside, fill it with pastel Kitchenaid mixers, ovens, and a selection of the nation's baking enthusiasts, and whittle them down to a winner week by week. That part is easy to explain, but the social impact is more difficult. This show becomes such the topic of discussion that it takes serious effort to avoid spoilers if you're not watching on a Wednesday night and want to keep it a surprise. Plus it makes everyone want to bake.
It might just seem like 'everyone' to me, because I haven't been baking much for the last few months and along with the rest of the things I'm not doing at the moment, there is a part of me that wants to do those things. Not all the time, not anything near as much as I was, but just a little. That makes sense, right? It's like a create a dream to-do list in my head for all the things I'm going to do during nap time and then I'm lucky if nap time lasts more than twenty minutes. When nap time is over, the list disappears from my mind and I'm completely happy for it to do so. But there are quite a few things on that list of dreams, and they include baking.
Aside from learning I can't pack everything into one nap, I've also learned to let go of my perfectionism a little bit for things that don't matter. Like how I would normally spend more time on the icing than on the cake itself, just because I enjoy the process of getting to that perfectly covered final result. That just isn't going to happen right now. So I've decided to embrace messy baking: baking that would get a severe scolding from the experts on the Great British Bake Off, but still tastes fabulous enough to make it worth that little window of time that could go to anything else on the list.
To help me along on this little quest, I've been inspired by my friend Leanne who participated in the Great Bloggers' Bake Off last year, baking along with the challenges from the programme. She's participating again this year and I'm going to try to keep up, though of course I have completed the first challenge a day two days late. Right now, a day two days feels like a big victory!
The first week's theme was cake – right up my street! My messy contribution is a Rhubarb Amaretto layer cake.
Cake ingredients:
225g unsalted butter
375g sugar (I use caster sugar and through spent vanilla pods in the canister, but I promise regular granulated sugar works too)
4 eggs
325g plain flour
1.5 tsp baking powder
200ml milk
2 tablespoons sour cream (if you don't have any in the fridge, don't go get it specially. Up the milk a little bit – say 225ml in total – and all will be fine.)
1 tsp vanilla extract
1 tablespoon amaretto (use almond extract if you don't cook with alcohol)
Preheat oven to 180c and grease and/or line three 8" rounds or the equivalent.
Beat butter and sugar together with a mixer for absolutely ages. This is something that really bothers me about a lot of cakes sold in London: not mixing the butter and sugar for at least a few minutes really chafes the texture of a cake. It is worth the five minutes, I promise.
After that, it's just a case of adding the ingredients and mixing together. Past that initial five minutes, you don't need to over mix but you do want the consistency to be even.
Pour batter into the pans and bake for 25 minutes. If a toothpick comes out clean, they are done. Add a bit of time if needed, but don't wait for it to brown as it's quite a light-coloured cake and will dry out before it browns much. Turn out onto a wire rack.
Filling ingredients:
Two or three lengths of rhubarb
Sugar
Amaretto
Whipping cream (double cream will also work fine)
I realise none of those have measurements and that's because it's all down to taste. I promise it's easy.
Wash the rhubarb and remove any tough skin or ends. Chop into small pieces. Place in a saucepan.
Add a bit of water to the saucepan – about half the depth of the rhubarb – and sugar. I start with a tablespoon of sugar and once the rhubarb starts to break down, I taste it to see if it needs more. I find it really varies with the rhubarb. And possibly the extent of my sweet tooth on the day. Add amaretto (or almond extract) to taste as well. Simmer until the rhubarb starts to fall apart and the liquid has reduced to form a texture a bit runnier than preserves. Remove from heat and allow to cool.
Meanwhile whisk the whipping cream with sugar and amaretto until you have your freshly whipped cream. If all that amaretto is sounding too much, make the whipped cream with vanilla extract instead. Both work. I may have tried. Or if the amaretto isn't sounding like nearly enough at all, cut a layer of marzipan for each cake to boost the almond factor.
Once both cake and rhubarb are cooled, assemble by spooning cream and rhubarb between the layers and on top of the cake, and dust with icing sugar. I find the recipe makes enough for a three layer cake but that's far too much for us to have here without guests, so I either give away or freeze the third cake so it's not a waste.
And then because I managed to put it together while still holding a baby, I embrace the messy look of it all and try to decide which is more exciting right now: making it or eating it. It's possibly a draw.



Great Bloggers Bake Off is organised by Jenny at Mummy Mishaps. See more bloggers' cakes in on her blog.
Please no spoilers from the actual show in the comments, for those who watch later than the original broadcast! Thanks.





Read more about:
13 August 2014

Next post: It's Bake-Off Season! Gluten-Free Black Forest Brownies
Previous post: Sunday Sweets :: New York Cupcakes