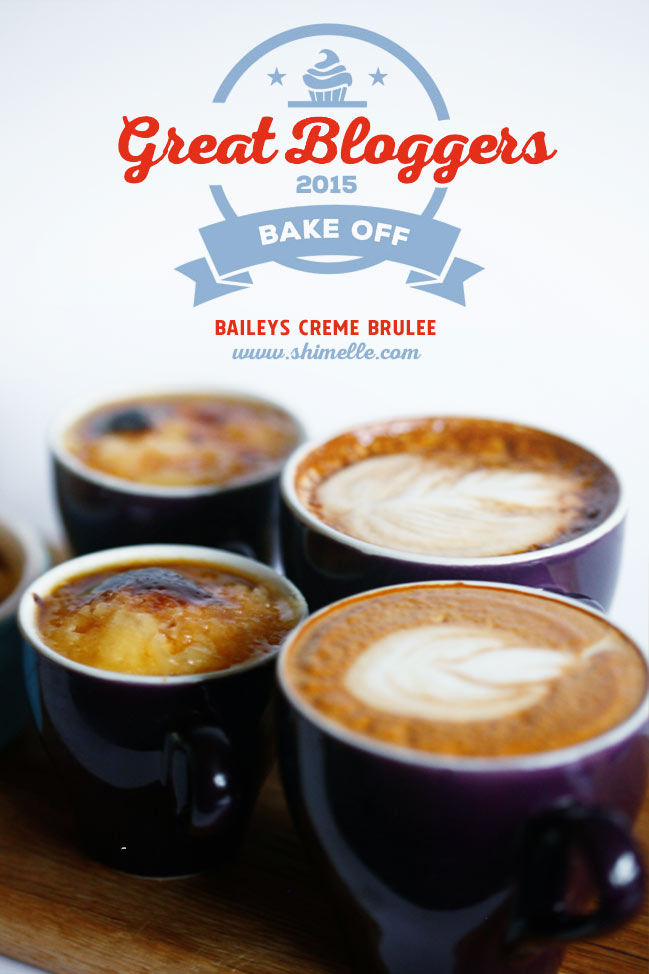 Four weeks into the Great British Bake Off and we're presented with Dessert Week: the first round challenge to put a signature spin on crème brûlée, a technical challenge of the meringue madness that is apparently Spanish Windtorte, and a showstopper challenge of cheesecake, cheesecake, and more cheesecake. Crème brûlée came at an apt time on the calendar, because The Boy and I have a habit of making family announcements over crème brûlée, like when were at a big fancy Christmas meal with all of his family, only for the dessert to come out with a positively terrible crème brûlée that left everyone with nothing else to say, so we decided it was as a good of time as any to tell them we were getting married. It seemed so perfect to make crème brûlée for our seventh anniversary this weekend. I may have missed out a bit of logic though: that announcement and the ensuing long-standing joke all came from a truly terrible creme brûlée. Ahem.
I also decided this week I would save time by just following a recipe for once. I haven't made this dish from scratch before, so it didn't seem the right sort of thing to do lots of experimenting to come up with my own signature version. Just pick one that seems like it should be legit, and go. When big companies publish recipes on pages that look all beautiful and well-branded, surely the recipe would be pretty trust-worthy, right? Ahem. Baileys, I am looking at you and your beautiful and well-branded recipe page.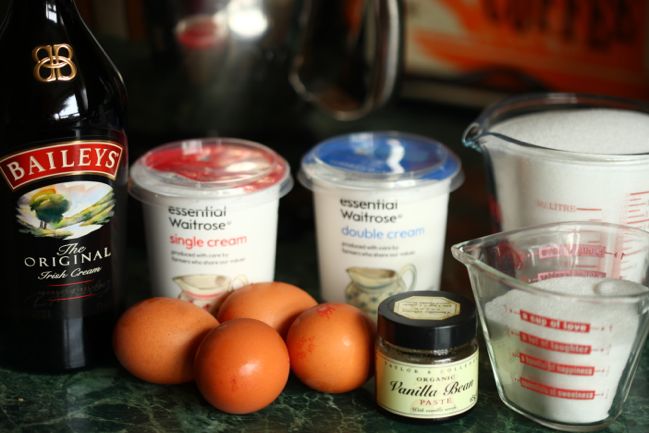 According to their recipe – presented in both written and video formats – the recipe made six servings and required 4 eggs (1 whole + 3 yolks), 300ml each of single and double cream, vanilla, Baileys, and a mere 750g of sugar. I went ahead and measured out the 750g of sugar for this photo at the start, just so we could all have a laugh at how you could make this recipe but would need to call ahead to your dentist before preheating the oven to the denoted 160C. Double checked to make sure the 750g was indeed the same in both the printed recipe and the video. Yep. And double checked the 750g was all to go into the custard and not a total measurement including the caramel topping too. No, that was listed separately. And double checked we were definitely talking Celsius and not Fahrenheit, since the 160 seemed high after watching the Bake Off episode. Yep, definitely 160C. Oven heating, cream and vanilla warming in a saucepan, eggs and sugar whisking in a bowl, and so on.
It made so, so much custard. I put the regular ramekins away and pulled out six juice tumblers. I thought maybe the people at Baileys Canada just really loved this and thought the portion size should be massive. Except even when I had filled six juice tumblers, I still had enough to fill five regular ramekins too. Oh well, dessert for all!
Into a roasting tin, tumblers and ramekins sitting in boiling water, and into the oven… and a few minutes later, this happened: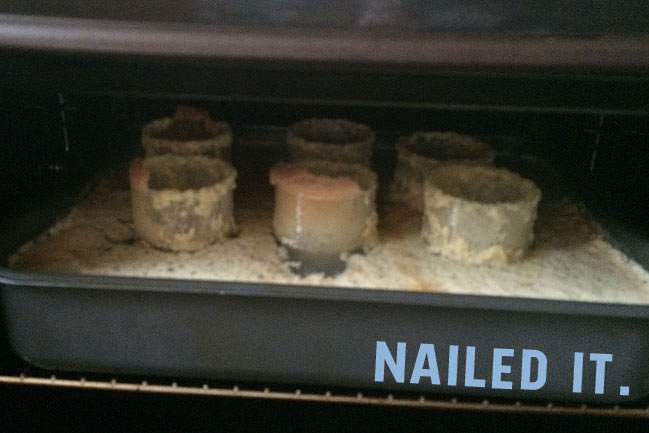 We both sat there staring at this mess, wishing we had something to announce over our very own truly terrible crème brûlée. The only thing we could think of announcing was 'thank goodness we are going out for dinner tomorrow'!
We pulled up a few more classic crème brûlée recipes. We went to the shops for more cream. We managed to whip up a simple three serving success with significantly less sugar, and have come to the conclusion that the 0 on the end of 750 grams of sugar has appeared from absolute imagination, as 75g would have been enough to make it super sweet. C'est la vie: at least it didn't use up the entire bottle of Baileys?
Now I have a much better understanding for why the signature challenge seemed to truly be a challenge to many of the Bake Off participants this week! At least we managed to have something nice in the end… now excuse me while I clean up this nightmare of a kitchen mess.



Great Bloggers Bake Off is organised by Jenny at Mummy Mishaps. See more bloggers' breads this week at participating blog, Utterly Scrummy.
Please no spoilers from the actual show in the comments, for those who watch later than the original broadcast! Thanks.





Read more about:
31 August 2015

Next post: Apple Raspberry Honey Cake, inspired by the Bake Off
Previous post: Gluten-Free Coca-Cola Soda Bread - inspired by the Bake Off