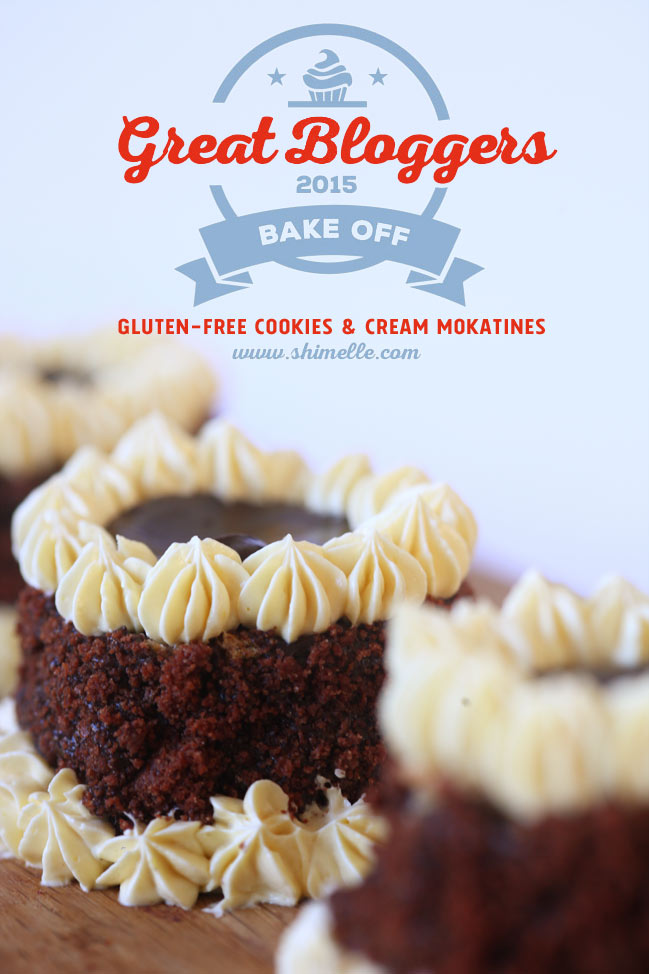 After last week's Quidditch Cake, this week's bake off brings such excitement! The Quidditch Cake won the honour of Star Baker and Tesco sent me a £20 gift card toward this week's bake: patisserie week! I've often heard it mentioned in terms of hunting or farming or something that if you want to eat meat, you should be comfortable killing your dinner. I don't eat meat so that entire concept just makes me queasy really. But I'm all about adopting this idea as a new motto when it comes to patisserie. I will make patisserie bakes once a year just to go through the magnitude of the entire dish to then have full respect every time I go into a diabetic coma while looking at a glass cabinet of fancy pastries. (Maison Bertaux, I am looking at you.) This bake required more dishes than I actually own, to the point that I had to wash my mixing bowl three times in the middle of all this, but I'm getting ahead of myself.
Patisserie week was the quarter final and filled with three time-consuming challenges in the tent: a signature challenge of two kinds of cream horns, a technical challenge called mokatines, and a showstopper that involved eclairs stood on their ends and layered until they resembled either a nun or a dalek. Seriously. I nearly went for the nun/dalek option, because every year I watch patisserie week and note scornfully that I have never actually made 'creme pat' as they are so fond of saying, and surely I should learn to do this. But I couldn't get over the fact that the nun that remained standing was coating in so much molten-sugar-glue that it just didn't seem like it would be fun to actually eat. And that technical challenge was mocha flavoured. Coffee and chocolate and cake IN THE SAME BITE. I should never have doubted that this was the way forward. After trying to follow Mary Berry's recipe for the technical last week and deciding she was a bit out of her tree with the estimation of preparation, I thought I'd take her recipe as more of a starting point and make it my own this week. Well, my own, with a big helping of inspiration from Flavourtown. London has a lot of cupcake bakeries and I have tried pretty much all of them. The only one I love without question is Flavourtown. Giving up my nigh-on weekly treat of a Flavourtown cupcake has been very sad and I have stood there on multiple occasions asking myself if maybe I wouldn't mind a few days of hives for the glory of that cupcake. (Oh how I hope this is a temporary sensitivity I can grow out of, because I think I might need to just wear long sleeves and a ski mask if it's going to go on forever. My will power is wearing thin.) They have flavours I dream about, and one of my absolute favourites was a cupcake that combined an Oreo cake with a chocolate ganache centre, and a coffee buttercream. Completely over the top. Completely amazing. Surely I could take that idea and apply it to those dainty little Mary Berry Mokatines? This was the plan, at any rate.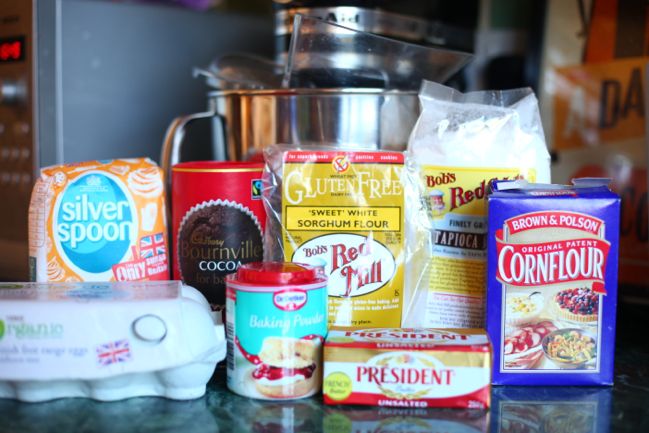 This is a complicated plan when it requires gluten-free Oreos, basically, which is not a thing we have here. Google tells me they exist in some part of the world, but not here. I read a few recipes and most of them depended on that lovely replacement potato starch, which I can't eat either. I guessed at some flours I had and came up with a rough draft of my own Oreo recipe. It just seemed to take a million ingredients, and I hadn't really started with the actual mokatines yet. Oh well.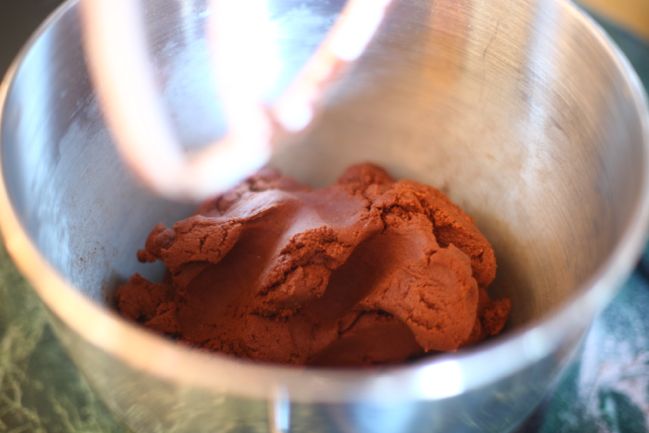 These were made with 75g sorghum flour, 95g tapioca flour, 45g corn flour, 50g cocoa powder, 1/2 teaspoon baking powder, 190g sugar, and a pinch of salt stirred in the mixing bowl, then 115g butter, 1 egg, and 2 tablespoons of cream added and mixed until it came together like a pastry dough, then wrapped in cling film and chilled for a few hours.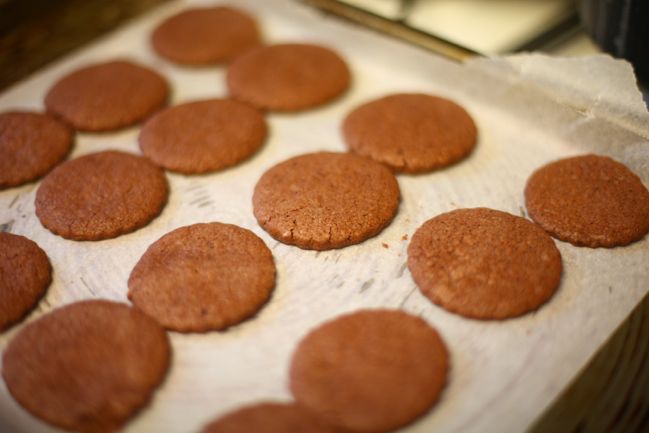 Then rolled out and chopped with a cookie cutter and baked for ten minutes at 180C, and moved to a wire rack to cool.
I think I may tweak this recipe over time. Straight out of the oven, they taste a little too much of the tapioca and I'd like the cocoa flavour to be more overwhelming like a real Oreo. The next day, they were a bit softer than an Oreo too, rather than crispy. But they aren't greasy like a real Oreo, which I presume is because these are made with butter and Oreos are made with shortening… and I think I'm okay with having just the flavour and not the grease! I'm liking these, but I think they can be made perfect with a few tiny changes.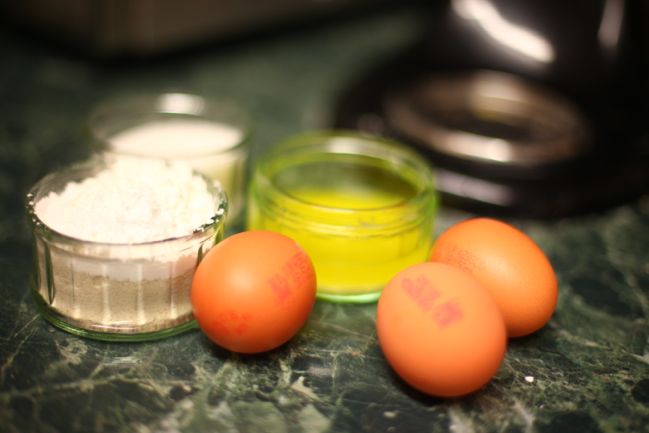 Then time for the genoise sponge to get the actual mokatines started. This takes far fewer ingredients than the chocolate cookies! I liked that this week's episode let us know a bit about how their technical instructions are written, and apparently it just said 'make a genoise sponge'. I think I might have given up right then. I wish they would publish the recipe as they give it to the bakers and then also post the full version. It seems they do neither really, as the whole point of a genoise sponge (as they told us several times in the narration of the episode) is that there is no chemical raising agent – no baking powder or the like – it all has to come from the whipping of the eggs. Then I pull up the recipe on the BBC website and it lists self-raising flour as an ingredient. Well, that's not exactly right then, is it?
I used 40g butter, 3 eggs, 75g sugar, 35g sorghum flour, 20g tapioca flour, and a tablespoon of cornflour, basically following the Mary Berry recipe but no self-raising flours involved. Much egg whipping involved. Many bowls involved. And following my belief that YouTube can provide instructions for pretty much anything, I followed this video for tips…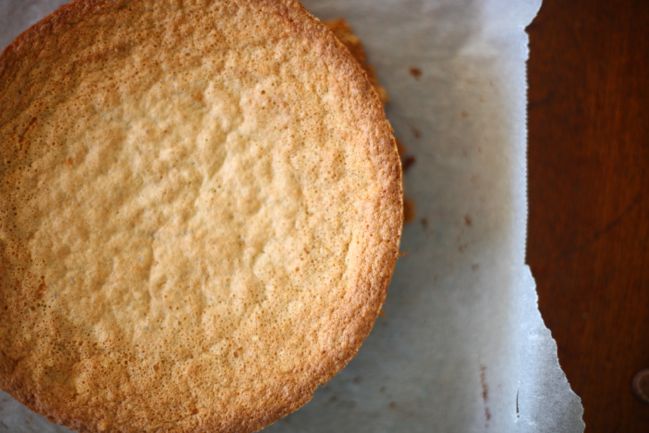 And it worked!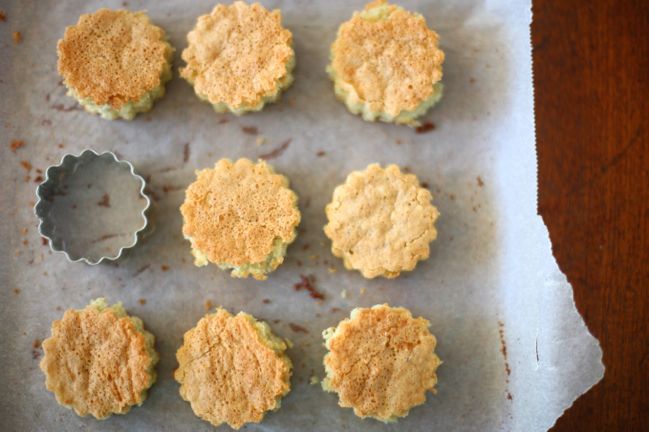 What I didn't have was the specified seven inch square tin, so I used an eight inch round tin, and a pastry cutter to make round cakes. I considered buying a new tin, but the cupboard with the baking tins is already one where you have to kind of push it all into place and let go at the very last second as you latch the door closed. I really shouldn't buy a new tin for my once-a-year dip into patisserie, I suppose.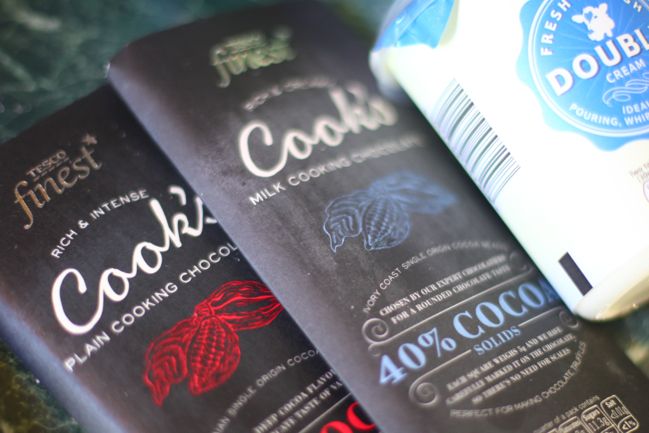 Time to make the first of three frostings that make this all come together. I suppose I have only myself to blame, because Mary Berry doesn't use chocolate ganache. She uses a combination of apricot jam and fondant. The woman is obsessed with apricot jam, from what I can tell. It's her version of edible glue, and it is in so many recipes. But I don't actually like the taste of apricot jam. Nor the taste of fondant really. But you know what looks great on the top of a cake AND has the adhesive qualities of apricot jam? Chocolate ganache. There is no room in my life for apricot jam where there could be chocolate ganache.
100g of double cream, 100g of 85% dark chocolate, and 100g of 40% milk chocolate melted together made a pretty good amount for these cakes, and into the fridge it went for more bowls and more frosting.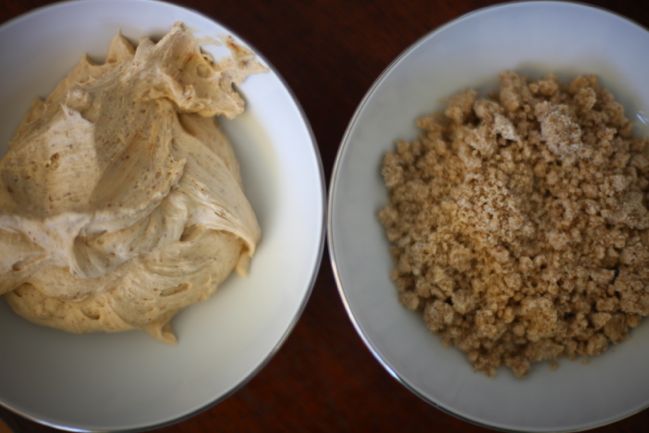 I tried to follow Mary Berry's recipe for the coffee buttercream. In fact, I followed it twice. One of these bowls is the second attempt at that recipe and the other is a coffee buttercream I've made so many times I could make it in my sleep. I couldn't get the instant coffee to dissolve in the butter no matter what, and it just came out a terrible mess and went in the bin. Yet another reason I would have been kicked out of the tent by this point. But making a buttercream with butter, icing sugar, vanilla, milk, and a tiny bit of concentrated espresso? That worked, and I can say with experience that it tastes very nice on a homemade Oreo.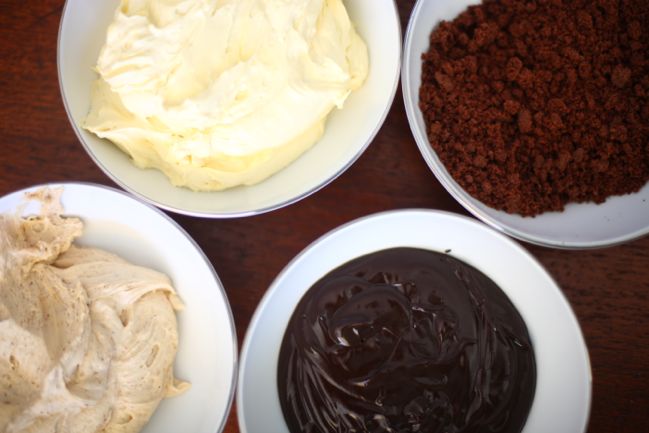 This post is getting ridiculously long, much like the process of making these tiny cakes. Suffice to say the crème beurre au moka, or coffee-flavoured French buttercream, basically, is really really good. Once again, YouTube delivered all the secrets I needed.
So that is three bowls of different frostings plus a bowl of crushed faux Oreos, ready to turn that light little sponge into something completely and totally over the top.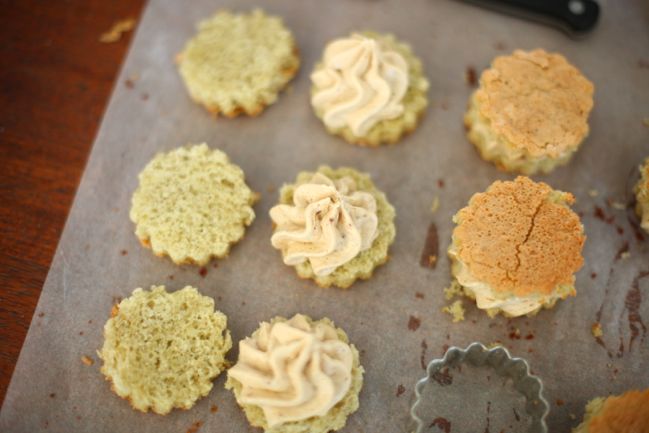 Delicate sponge rounds cut into layers! Centres piped with delicate coffee buttercream!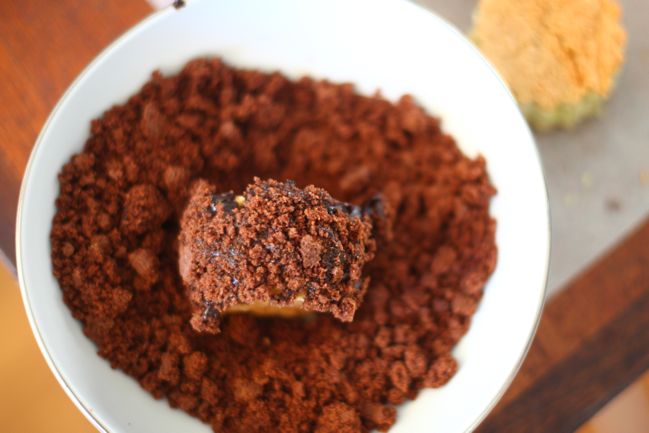 Then came the part where they ceased being delicate in any fashion because they were coated in ganache and rolled in cookie crumbs.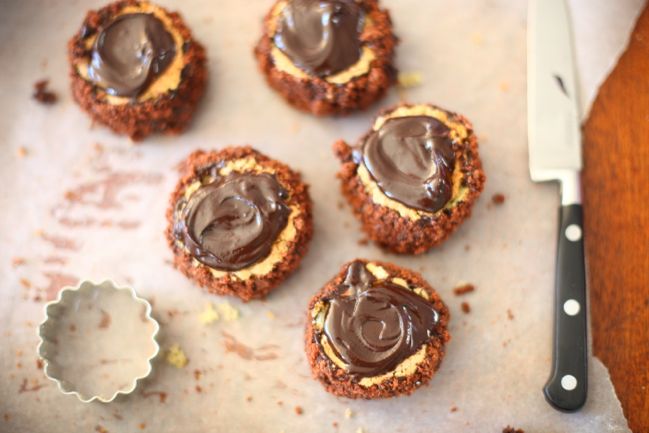 Delicate is overrated.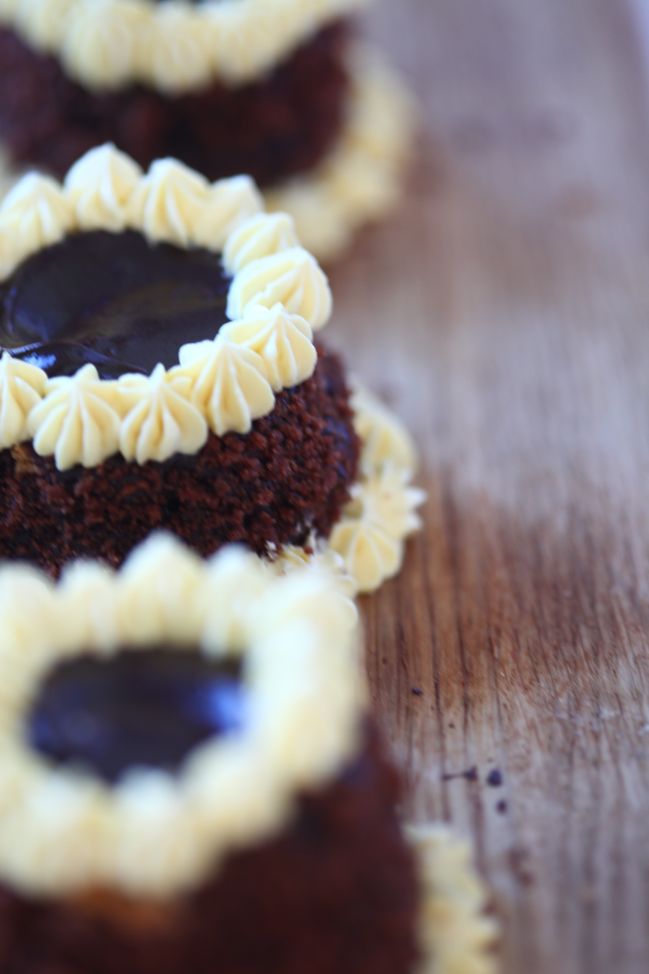 French buttercream piped around the edges, and they are finally complete!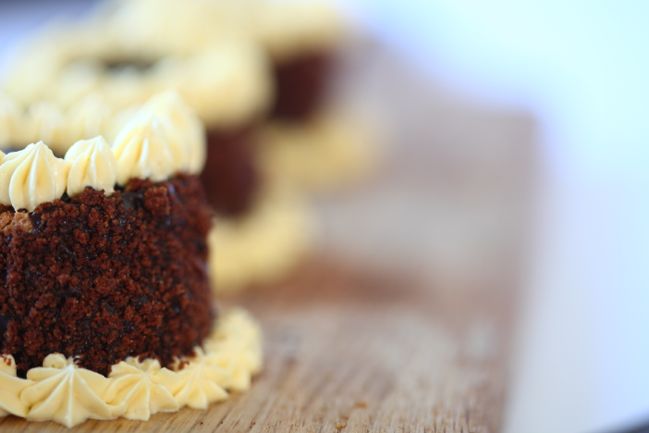 It took two days and every bowl I own to make eight tiny cakes. Once a year is enough for patisserie week, I think.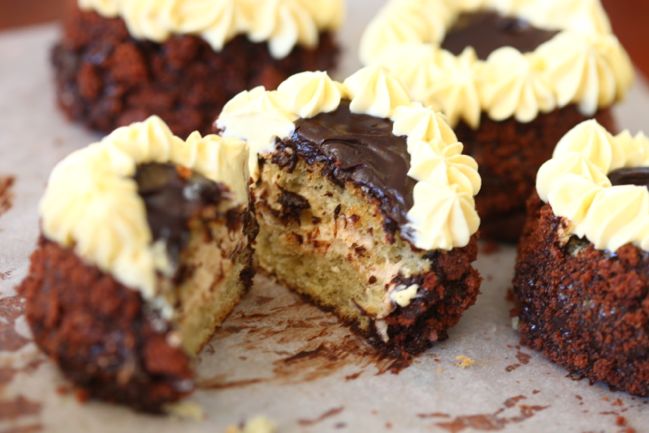 But it won't take two days for them to disappear. Cookies and coffee cream and chocolate and cake. It's all my food dreams in one. Happy (yet dangerous!) times.



Great Bloggers Bake Off is organised by Jenny at Mummy Mishaps. See more bloggers' bakes this week at participating blog, Bluebird Sunshine. Special thanks this week to Tesco, who sent me a gift card, and have a big section of baking recipes on their RealFood site.
Please no spoilers from the actual show in the comments, for those who watch later than the original broadcast! Thanks.





Read more about:
28 September 2015

Next post: Gluten-Free Chocolate Peppermint Tart - Inspired by the Bake Off
Previous post: Quidditch Cake, or How the Bake Off is for Muggles