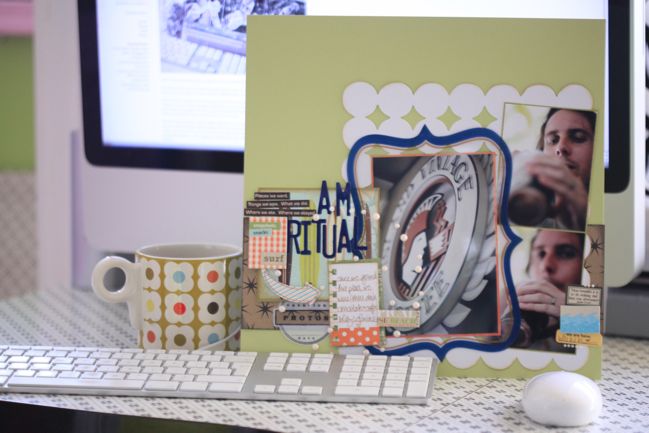 It's just a few more days until day one of Blogging for Scrapbookers, a new online scrapbooking class here at shimelle.com. This week, the class forum has already been abuzz with everyone getting excited. I love that we have a great mix of long-time bloggers, those dusting off old semi-abandoned blogs with new intentions and brand new bloggers joining us to see how this system can rejuvenate the way they document their stories for scrapbook pages to come.
The class starts with Blogging Blueprints, a step-by-step workbook for starting your blog, how to post, change the look of the blog and all sorts of other bells and whistles. This is available now, as soon as you sign up, and I was so absolutely thrilled to hear that is has already helped several people get past any technical roadblocks to blogging. Comments like this made me absolutely giddy:
"Last year I bought "Blogging For Dummies". I read the whole thing; and it got me as far as choosing a blogger template. I can't believe that this one workbook has got me the rest of the way so easily." – Sian
(And that book retails for £5 more than the class…and we haven't even started with the class prompts yet! So definitely happy that you don't need to invest in any extras, even for the technical stuff!)
A few people have asked how much time would be needed for this class. Each of the 15 prompts has three options for what to do: one option for when you have little to no time at all, a second option for when you have a bit of time and a third option for when you feel like devoting an hour or more. And of course, you could do the five minute option during the course, the fifteen minute option next month and the hour option when you had a bit of a break, so you'll end up with material you can use how you want, when you want, and no shortage of ideas.
Anyway, I am very excited as there is so much to come, including the scrapbook pages we'll be making along the way. And you could be joining us!
Leave a comment below to be entered for a chance to win a free place on the class! Entries close Sunday, 6pm London time. Winner will be posted by Monday morning.
And of course, it's not too late to join us! Find all the class details and sign up here. If you win the free place, I'll refund your registration or you can invite a friend to take the free spot, so you have nothing to lose!
Don't forget to comment to enter!
xlovesx

Read more about:
29 October 2009

Next post: Blogging for Scrapbookers has started - here's the winner!
Previous post: A new online scrapbooking class :: Blogging for Scrapbookers