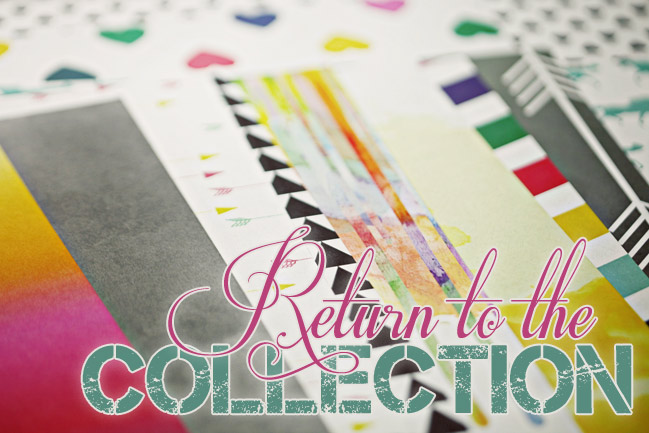 In 2012, I taught one of the sessions for True Scrap 3, and my contribution was a forty minute video workshop entitled The Perfect Collection. The idea was to take a collection pack of patterned papers and use it until it was all gone, creating a stack of layouts that stretched that paper investment to lots of scrapbooking! That workshop remains available, but it is time to return to that idea with something new.
Return to the Collection is a new workshop here at shimelle.com. Unlike many of my workshops which are PDF based but with some accompanying videos, this one is video accompanied by notes. Those of you who prefer to watch will find plenty of new material here – none of the video in this workshop has been shared in any other class nor on the blog – it is all exclusive to the workshop. There are also some printable notes to help (and so you can have still shots of the completed layouts) but these notes support the PDFs rather than the other way around.
Return to the Collection showcases six layouts from start to finish, using one collection pack – Wild & Free from Glitz Design – but instead of the limited embellishment focus of The Perfect Collection, this time the pages feature a more embellished style and a range of techniques.
…Examples include both single and double page layouts and a variety of numbers and sizes of the photographs. My pages are all 12×12 (making a 24×12 double page) but you could adapt the ideas to other page sizes if you prefer.
…Techniques and design ideas are easily adapted to the collection of your choice. You're welcome to follow along with Wild & Free, but my aim is to give you the confidence to use these tips with the papers you love.
…The design process for each layout includes building and embellishing, with all of that explained on video, including my reasons behind each choice. I do not teach in a 'glue this here and stamp that there' fashion, and always value the 'why' more than the 'do' in sharing my scrapbooking process.
…The page designs can be used together for a cohesive series of pages or separately across a variety of photos and albums – whatever suits your needs best!
Return to the Collection will go live after CHA (and indeed a few days after CHA so I am not trying to attempt something complicated while still jet lagged!) but you can sign up now with an early bird discount. When the class is live, you will have access to everything all at once – it's not a daily email class. Like all shimelle.com classes, you'll have permanent access to all the materials so there is no rush to work through the videos. You can view them any time you like.
Return to the Collection will be live on Monday the 20th of January 2014. From then, it will be the full price of £12 Sterling or $18 US Dollars. Before then, you can sign up with an early bird discount making the price £10 Sterling or $15 US Dollars. Just keep in mind, you are paying for the class to go live on that date – signing up early doesn't mean you'll sign into the class materials today, just to be clear. (But I know a few of you have been holding on to discount codes that expire at the end of 2013. I will extend them until the end of Sunday 5th of January 2014, but that is a firm deadline. Thanks!)
ADDED 20th January 2014: Class registration is closed from today until Sunday. It will reopen on Sunday 26th January and remain open after that. This week is early birds only. Thank you!
Choose your currency and click to sign up for the class. You can pay by credit/debit card or by logging into your PayPal account. The email address on the payment is where your registration will be sent. If that email address is not correct (or if you want to give the class to a friend as a gift), then leave a note in the 'notes to seller' section with the correct email address. If you accidentally forget that step or have any other problems, email me. You'll receive a PayPal email receipt when your payment has been made, then class materials on the 20th!
Questions and Answers
Do I need to take The Perfect Collection first?
No, it's not a requirement. There are a few references in the dialogue of the class, but they are simple enough to understand without having taken the class. If you prefer more embellished styles, The Perfect Collection may not be the best class for you – it is more aimed at stretching a collection page to many layouts without having to sacrifice colour and pattern. But of course you are welcome to take both! The Perfect Collection is still available here.
Do I have to have the same collection pack for the workshop to make sense?
No, not at all. The papers are all referenced with explanations and descriptions that make it easy to apply the same tips to any paper collection of your choice.
What other supplies are you using in this workshop?
For the embellishment, you'll see many little things from different manufacturers and collections. The idea is to start with a collection pack of papers, but not to feel you have to then buy every pack of embellishments in the line. Instead, pick from your existing stash to find frames, die-cuts, stickers, brads, and stamps to create unique combinations. You don't need to use the same exact products as in the video. For example, there is a fabric-covered brad by Cosmo Cricket in the sneak peek image above. You wouldn't need that pack of brads specifically. You might have fabric-covered brads in your stash, and if so it's easy to select one that will work. If not, that's still fine – use a plain or epoxy brad. No brads? No problem – substitute an item that is of a similar shape and size – like a button or a maybe a flair badge. And all that sort of substitution is covered in the class materials too. This way you are free to use what you love and what you have on hand, while at the same time learning to embellish on your own so you can add as much or as little as you like without needing to keep looking back at a reference point once you have the hang of it. That's the goal!
Any other questions, please feel free to ask in the comments and I'll do my best to answer. Thanks so much!

Read more about: classes
31 December 2013

Next post: 2014: A Year of...
Previous post: Looking back at 2013: A year of sharing work from inspiring scrapbookers