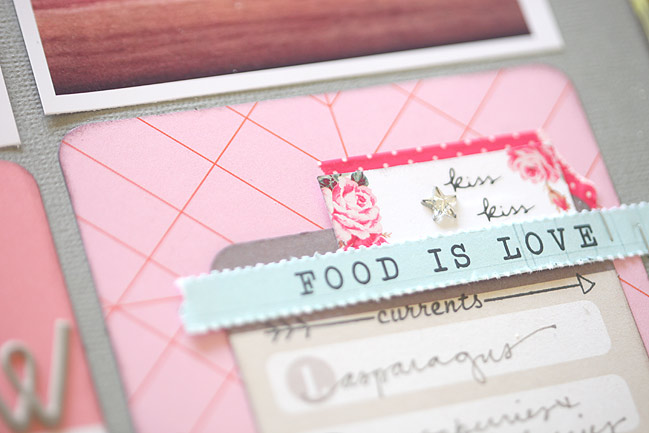 I've been working my way through those two Studio Calico kits and inevitably I got to a point where I just have less stuff left on my desk than what I would normally pile onto a layout. I'm not the heaviest embellisher in the entire world, but I like my pages with 'stuff' and I always get to the same decision point: do I continue to use just the kit and end up with a page that is significantly different in style, or do I supplement the kit with supplies from my own stash to create a page more in line with everything else I've been making. Surely this is a pretty common conundrum if you're using most of your kit supplies, so I posted an 'in progress' shot of this layout on Instagram and asked which option you might tend to take. The vast majority said they would add in more stash.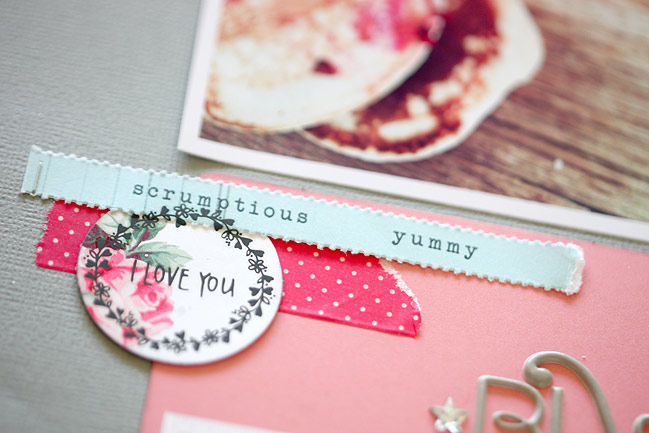 And that makes sense, and was definitely where I was headed because the more I looked at the sparse version of the layout, the more it felt unfinished to me. And it makes more sense when I step back and look at how many supplies I have waiting to go onto pages… there is no need to keep things sparse unless that is a design decision! It seems a little overwhelming now to know that there were so many years when I was scrapbooking with so very few supplies because they were hard to source and my budget was almost nothing, and then I went and did that thing I always said not to do about shopping when I wasn't scrapping and I'm surrounded by supplies. Like to the level that I pretty much wish I could host a crop at my house and tell people just to bring their photos, scissors, and adhesive and I will provide the rest because we need to work our way through this stuff. I don't do well with an overwhelm of supplies and would prefer to get pretty things on pages in albums and scale back on the rest of what is waiting! …that was a really long-winded way to say it was really obvious at that point that I should go with the 'add more stash' option.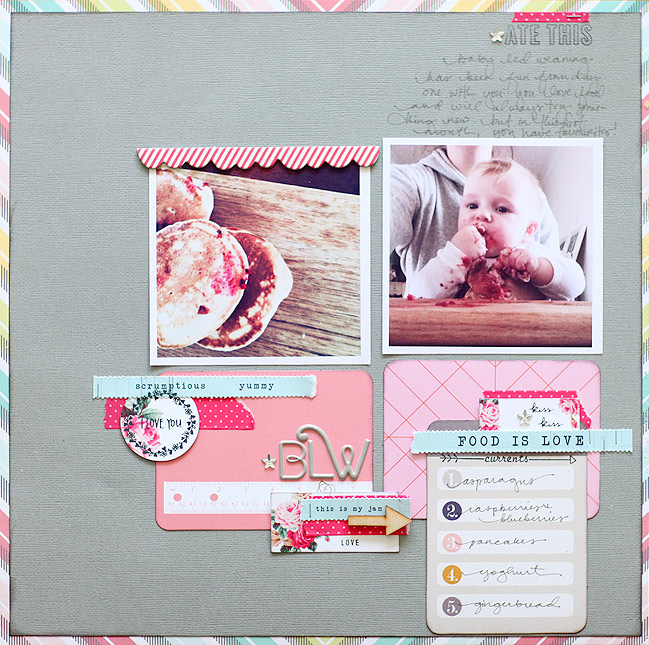 I knew I wanted a grey and pink colour scheme for this page, inspired by raspberries and grey sweatshirts. This was the first time I had actually cooked something for Wonder Boy, rather than steaming some carrots and broccoli, so it was a monumental occasion in my mind, but also a very messy one and I knew we would both be covered in raspberry pink by the end, so this old grey sweatshirt became my uniform for those first few weeks of messy meals and he had a few plain vests with raspberry evidence on the ends of the sleeves, no matter how many times they were washed. This time of year was quite bleary and grey as well so all those shades of grey and the one colourful punch of magenta really stuck in my mind, so I knew from the beginning that's where I would take this page in terms of colour. I started with those pink cards from the Project Life kit, plus the card that would work well for journaling a list of first favourite foods, and the food-themed sentiments from that tear-apart sheet, all on grey cardstock. The letter stickers and wooden arrow were from the kit too, but then I added the floral tags, some black rub-ons, silver gems, washi tape, and a chipboard border. That seemed to bring things more in line with my style but it all still seemed a bit sparse and I'm sure that's because it's on solid cardstock rather than patterned paper, so I cut the background down and added the whole thing to an older sheet of Dear Lizzy paper for just a bit more happy colour. The 'Ate This' stamp is from an older Studio Calico kit, I believe, and I have a similar one in a Kelly Purkey set too.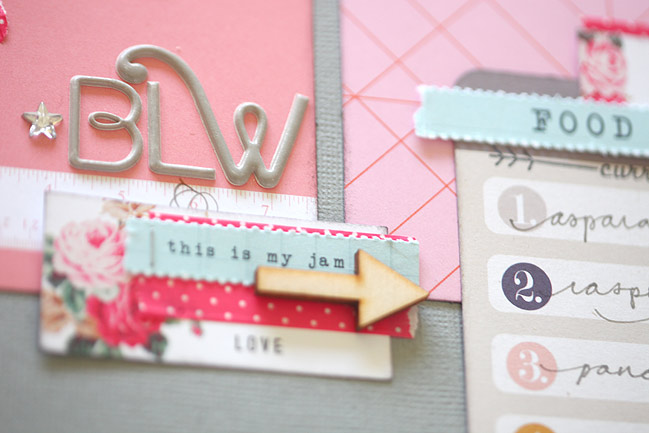 I realise 'this is my jam' isn't really a food-related sentiment. Except when the This is My Jam website was starting up, someone sent me an invite when it was in beta and there wasn't a lot of information in the email invitation. I hadn't made the leap that it was about music at all, and thought it was going to be a website where people shared pictures of what they were making, like crafts and jam. As in jam in a jar to eat with tea and toast. It turns out I was really wrong about the website, but it has made me forever associate that phrase with food. I'd still join a website with pictures of jam, to be fair.
And there are one million websites to read about parenting decisions so I don't have any plans to talk about it here, other than to say 'BLW' is short for Baby-Led Weaning, which is what worked really well for us with Wonder Boy so far. He loves food and it has been a huge joy! But I don't want to say anything further really, for fear I jinx myself and end up with a picky toddler who gives me sleepless nights for wanting to only eat choc ice and chips. Since these photos, he has found a few more complex favourite foods, but he is still a big fan of pancakes and asparagus. Not together, necessarily, but I can't think that I've ever tried.

Comment [12]