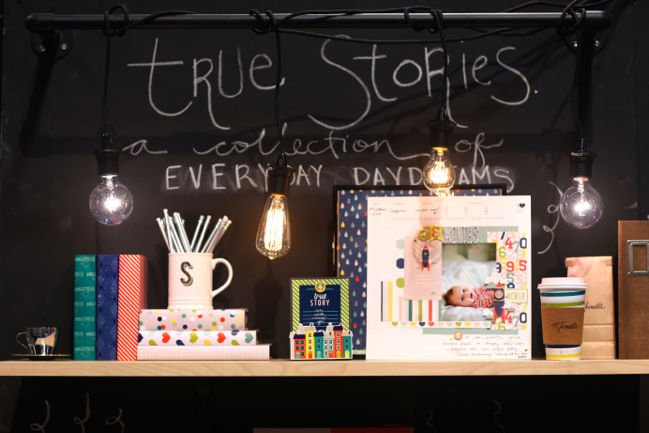 Somehow I am writing from London again, after the CHA adventure in California and time at the American Crafts office in Utah. No one in this house is on the right time zone and while the laundry is now more clean than not, what needs to be folded and put away is suddenly reaching modern art proportions. Seems as good a time as any to ignore that and show you my little corner of CHA 2015 – the annual trade show for the craft and hobby industry.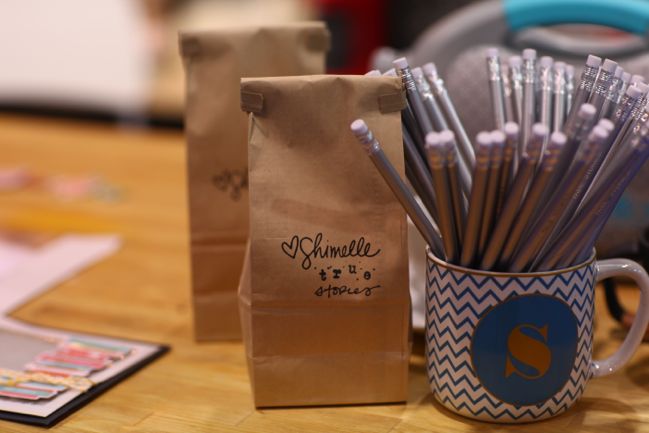 We show new lines at the show, so most things on the floor won't be available in stores for a month or so. True Stories ships in April. In the mean time, we try to set the tone so shop owners can imagine how the product will connect with their customer base. Much of the inspiration for this collection came from libraries and coffee shops, so we gave away a True Stories blend of whole bean coffee as well as silver True Stories pencils.
But I know you probably would rather see the products.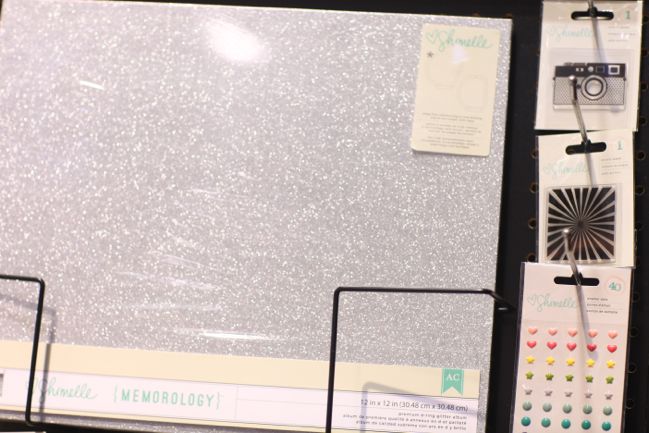 We did gold in the first collection, and although that trend is still going strong, I was ready for silver. We added a silver glitter album, and like the gold version, the glitter doesn't fall off or crack or feel gritty. Smooth and sparkly! On the right you'll see the stamps – two single stamps that retail for a dollar: a camera and a starburst. The starburst is just the right size to add a background to a small embellishment, like a flair badge, a button, or some layered punched pieces. There are also tiny enamel dots, in a mix of circles, hearts, and stars.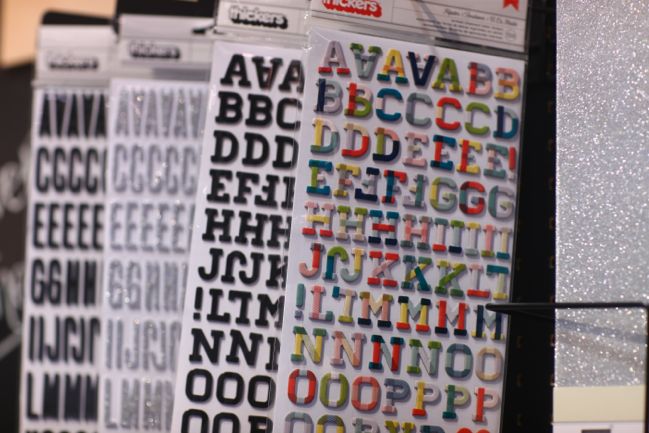 Four new Thickers! The Fitzgerald font (formerly in gold) returns in silver glitter and black foam, and we added a new style called Hipster, available in plain black chipboard or a multicolour pattern. There is a 12×12 paper with large monograms to match the coloured version, which you can cut apart or grab a coordinating cut file to cut out the whole sheet with the Silhouette Cameo.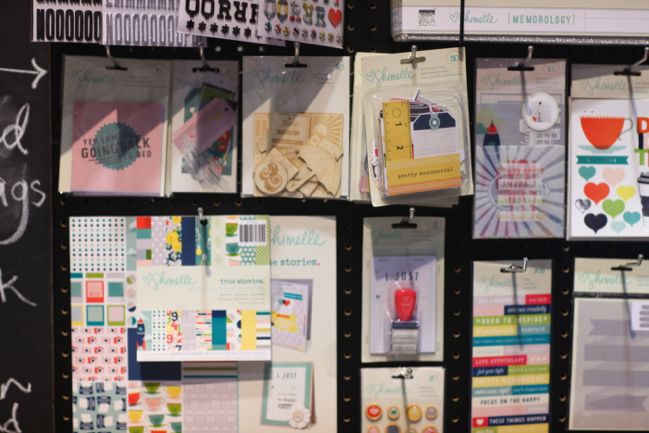 Starting on the left, the embellishments begin with the 4×4 card pack (more about that in the earlier post), a tag set based on a vintage design that allows you to select the right vellum phrase and pop it onto the patterned background of your choice. The small wood veneer set includes rainclouds and several text pieces. The die-cut pack includes the pink plastic radio I carried on the school bus in the fourth grade. The photo overlays are a mix of 4×4 and 4×6, with some in white, some silver foil, and some in colour. Below that you can see the 6×6 and 12×12 paper pads. The paper weight is heavier in the 12×12 pad now, but it doesn't include the specialty papers (more on that coming up). The roller stamp comes with a 3×4 tear-off notepad that says 'I just want to…' and the stamp has all different phrases of things you might want to do, so you can finish the statement and lead into your writing. And the small sticker sheet is the same format as before – new words and phrases on the front and an alpha on the back – it's white on teal and navy tiles.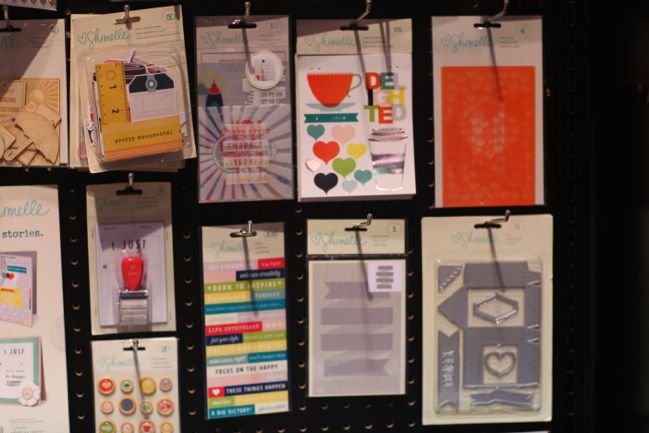 The sticker book looks like our standard format, but the stickers themselves are specially designed for layering. We've measured the pieces so they will balance beautifully in clusters, a bit like nesting dolls. There are stencils for mist or ink in a four pack: a tea cup, a large heart, background filled with small hearts, and a banner. The banner shows up again in the embossing folder. The die set has six shapes: the largest makes a tiny bag that can work for gifts, cards, or inside a page protector. Then there are two small folding banners (one says 'lovely', the other has no text), plus a photo corner, heart, and label for layering. At the bottom of this frame, you can see the wooden buttons shown earlier.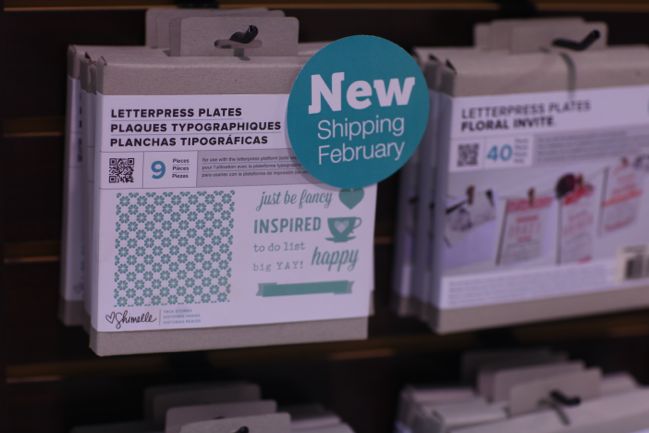 While we're discussing tools, I have a couple that fall under the WeR brand to coordinate, and one is this set of letterpress plates. So excited to give these a try. (I know that says February, but the full release is April.) There is also a set of six card making embossing folders, but I don't have a photo – they are small greetings and motifs, about two inches high.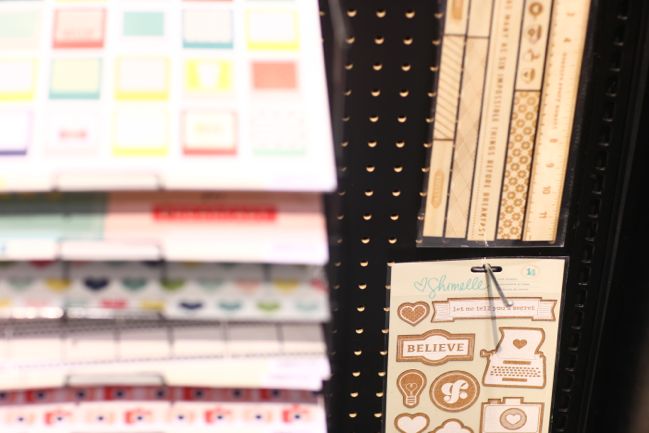 Back to embellishments, there are two larger sets: those wood veneer borders and rulers we discussed earlier and a new set of cork stickers.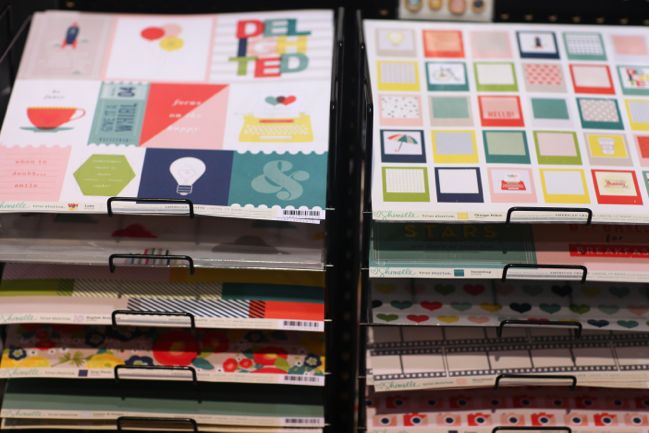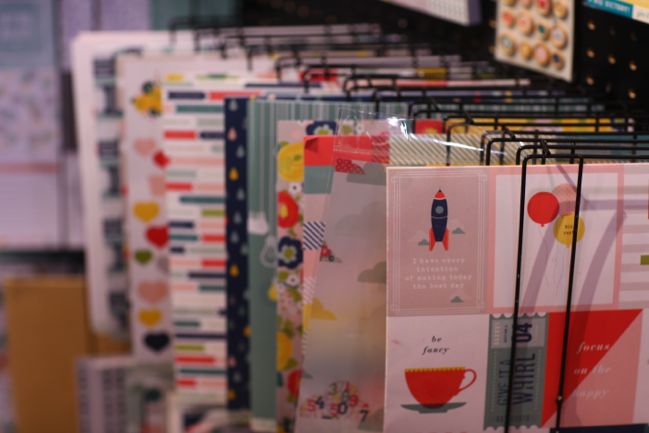 And of course there is paper! Lots of colour and a mix of patterns – cut-apart sheets, florals, lightbulbs, rockets, and coffee cups to have in or take away. There are six specialty papers. Three have silver glitter: raindrops on navy, film negatives on white, and a turquoise and navy diagonal stripe. Two are a colourful print on vellum: patterned rainclouds and small hearts. The last one is a perforated sheet with designs you can punch out and fold to make dimensional embellishments in moments.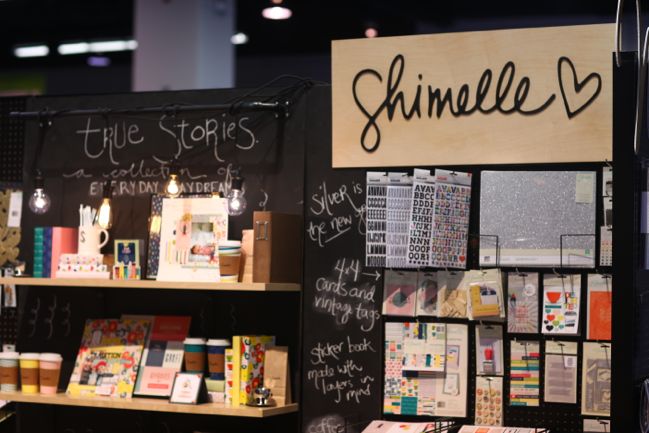 That's a quick look at everything! I know that's a lot at a glance, but part of my time at the AC office right after the show was filming a full series of videos showing these products in action (like this), so by the time April is here and True Stories ships to stores, there will be plenty of examples of each product.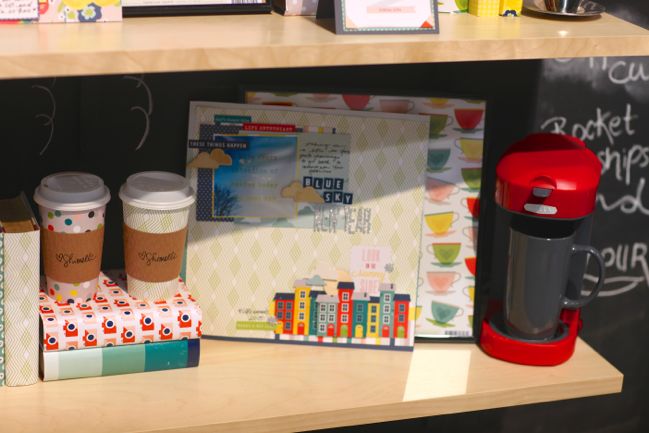 But for now, there are a few layouts I made at the show – those houses are one of the punch-out-and-fold pieces from the perforated paper.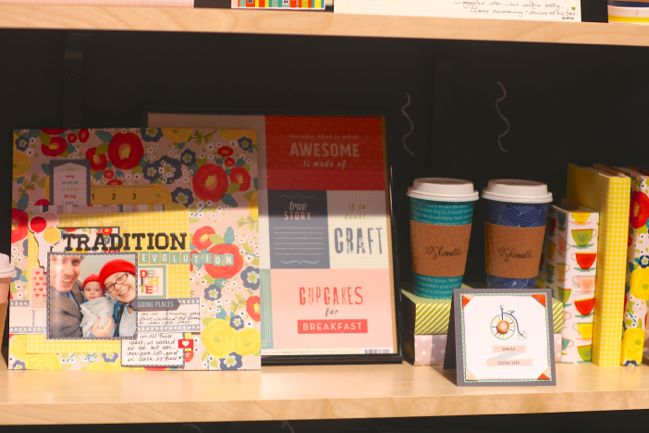 And those small letter stickers are the teal from the back of the small sticker sheet.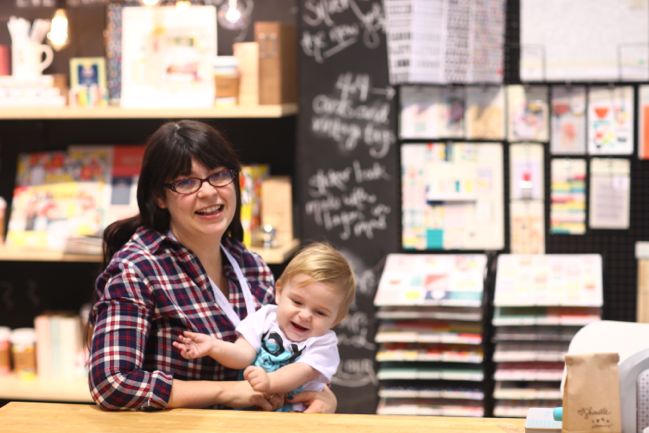 And just for good measure, some love from Wonder Boy! (We didn't go match-matchy on the very last day. The others… perhaps.)
It was definitely a bit different staying put rather than walking the floor, but so lovely to meet faces from shops that have stocked the first collection (and the second, I hope!) as well as see familiar faces from the designer side of the industry. For more comment on the show as a whole, you're better off listening to the CHA edition of the Paperclipping Roundtable.

Comment [36]