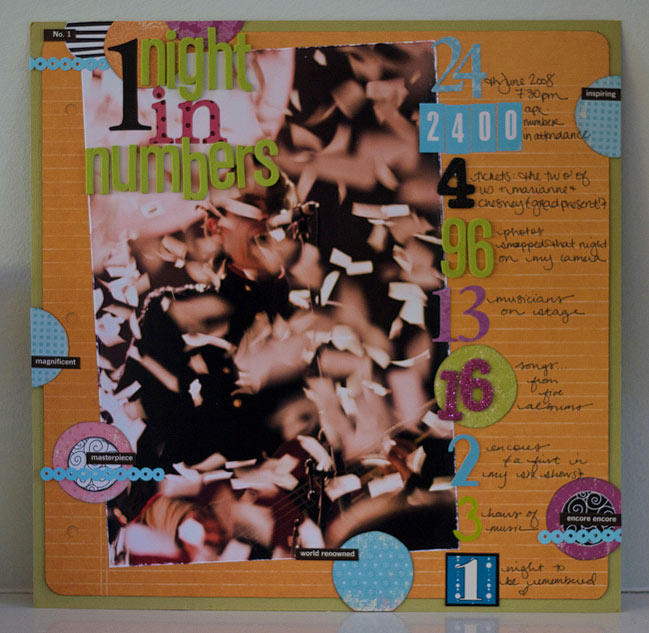 This page is a bit of a blast from the past! It's a design I've been meaning to come back to lately in terms of birthdays, as a certain small person in this household has one of those coming up later this week! I'd love to take this idea of journaling by numbers and instead of documenting just one evening, document a longer time frame, like possibly two whole years of milestones on one page. Could that fit? And more importantly: could I use a massive stack of number stickers?
This week I challenge you this week to scrapbook with numbers. Create a new scrapbook page that highlights numbers as a significant part of the design, be it in the patterned paper, the title, the journaling, or the shapes on the page. Everything else is completely up to you, so you can take your inspiration in any direction you like! To get you started on this week's challenge, take a look at these examples from contributing designer Heather Leopard and guest artist Chris Robertson.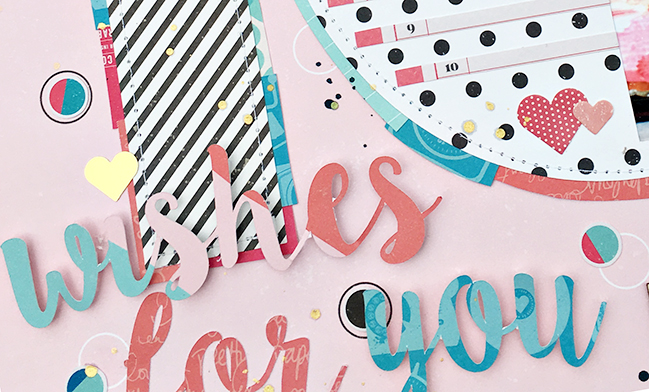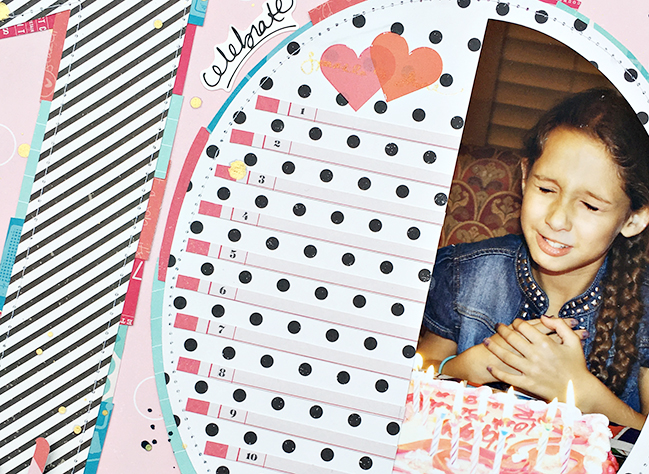 It's a big deal when it comes to turning double digits so I decided to go big with this layout. I have a couple of goals with this page: 1. document how my little girl still makes wishes even though she was turning 10 and 2. include a space to include either 10 things she's into or a space for me to write my thoughts, wishes and feelings for this little girl.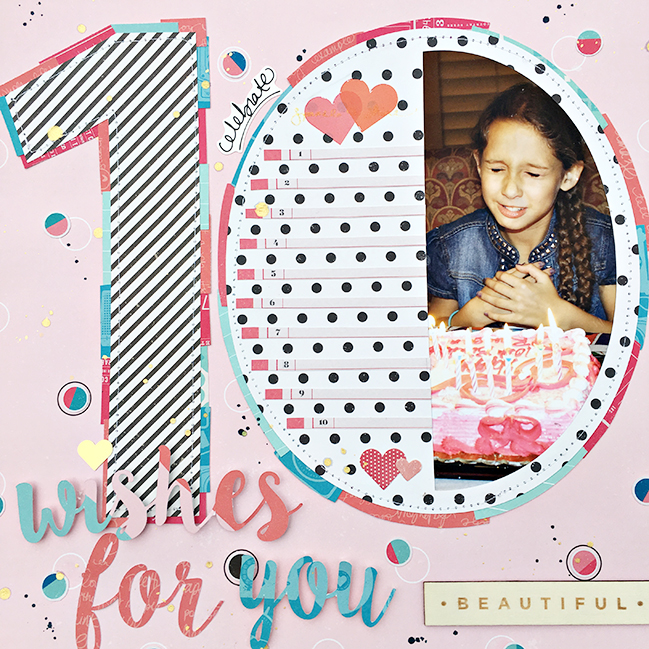 _Using my Silhouette software, I mocked up the size and placement of the numbers and words to make sure that I could get the numbers as large as possible. I used a font that has the middle of the "0" cut out but you could also cut your photo and place it on top. I then cut little strips of paper and added them to the outside edge, overlapping here and there. Once that was all complete, I stitched them to the paper. The next step was to cut the title and add confetti, using pattern paper circles and mist. Last but not least, I added journaling strips to the section of the "0" that is opposite the photo. Now I just have to decide if I write my wished for her or if I quiz her about her wishes and dreams for her future. You can see more photos of this process on my blog
- Heather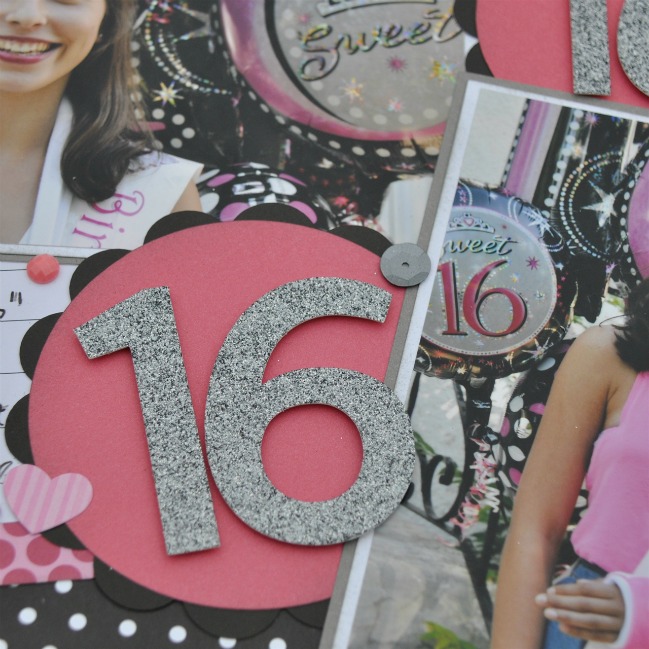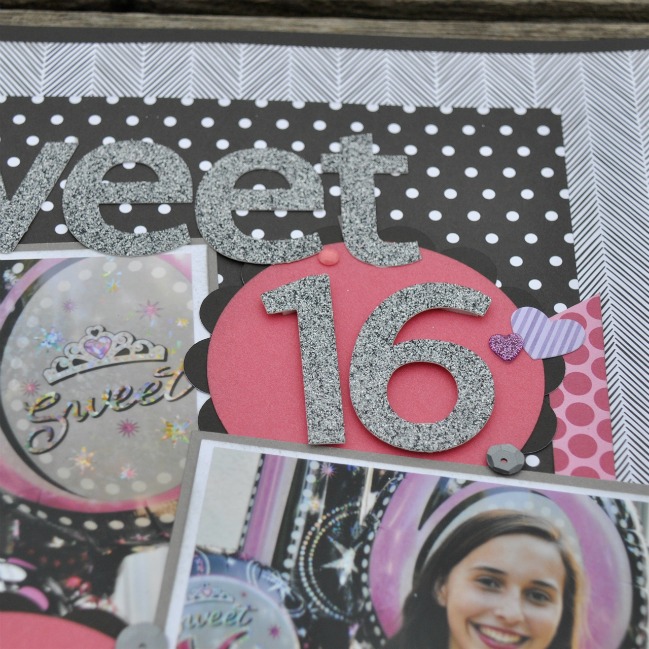 Birthdays are so much fun to scrapbook! I love the fact that all my glittery numbers reinforce the milestone birthday that my daughter was celebrating at the time. When I started to work on this page I wanted each of the special number clusters to resemble the colorful balloons we had for this super fun celebration.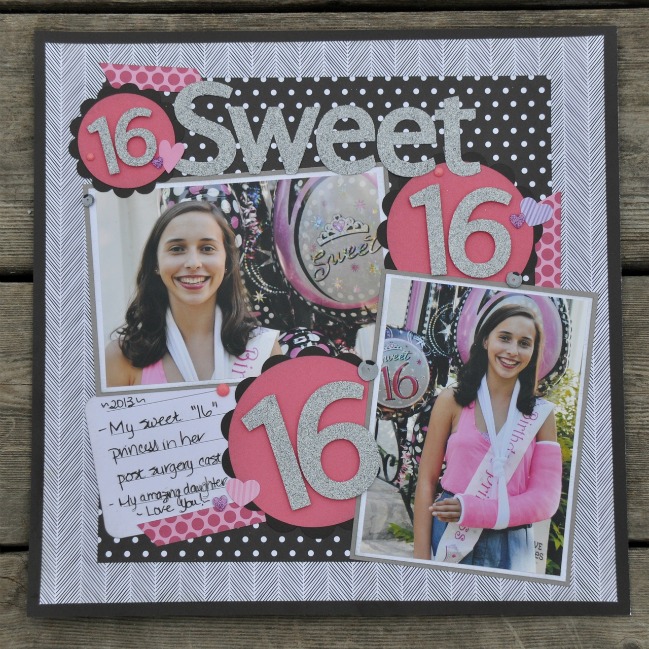 The balloons were a great sparky addition to the day so I thought the glittery numbers would always remind me of that. All the supplies used to create the layout are from Close to My Heart.
- Chris
You have a week to complete the challenge and share a link – but of course you're welcome to set your own time schedule. Whatever keeps you happy and creative!
If you're looking for the new class information, that will be posted here later today. Thanks!
Today's Guest Artist: Chris Robertson loves, her family, photography, and paper crafting. You can find more from Chris on Instagram, Pinterest, and her blog.

Comment [3]