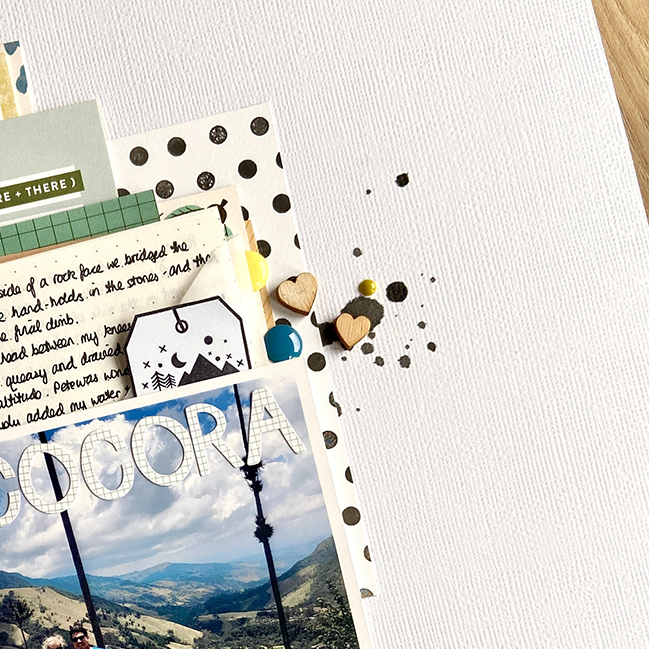 Today I'm delighted to share a beautiful project from newlywed Kirsty, who is out and about seeing the world on her honeymoon as we speak! Kirsty has been around this corner of the internet for many years and made beautiful Christmas journals and scrapbook pages in a variety of classes, and I have loved seeing her style evolve over the years. Always lovely and always filled with storytelling! I hope you enjoy Kirsty's work too. -Shimelle
When I'm scrapbooking, I love taking inspiration from my favourite designers, and Shimelle's layouts are always an absolute go-to. Even though, in some ways, our styles are quite different, I feel like our philosophies are very much in line, especially when it comes to sharing stories and journalling. And when it comes to layers!
Before making this page, I was looking at layouts I had saved on Instagram, and I was struck by the layouts by Shimelle that had been my favourites: I had mostly saved layouts with lots of layering, single photos and lots of beautiful clusters and confetti sprinkles that make Shimelle's layouts so recognisable.
I scrapbook because I want to record and share my memories: big, rambling unedited memories where my story is often lifted straight from a journal entry with tangents and waffle and everything good thing. I like to think these digressions and meanderings are where my thoughts and feelings and personality lies. I almost always start with a story, pull some photos to match it and then pull supplies to complement the photo, and in making this page, my process was no different. I decided to document a day we spent hiking in Colombia, exploring the incredible palms in the Valle de Corcora. Travel scrapbooking is my absolute favourite; spending time with such wonderful memories is a real form of escapism and joy.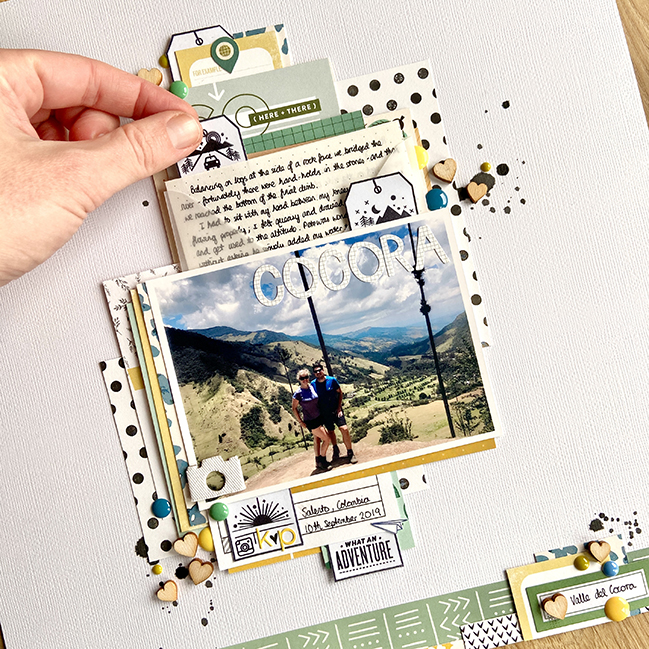 I had a few strands of inspiration to get me started: the first, as I mentioned, was my journaling which I pulled from my travel journal. I printed the photo which goes with the story of this day and then I cast my eye back over the layouts I'd saved to jump start my creative process.
This layout will sit in an album (or series of albums) I'm working on about our backpacking trip around the world. We spent seven months exploring and I kept a travel journal of all our experiences and took millions of pictures. As I document our adventures in a scrapbook, it's lovely to have my story already written, and I've been pulling out my favourite moments and sections of my diary to drop into scrapbook layouts. As my journaling was all written in the moment, I can make pages about these experiences for a long time to come without worrying about forgetting the details which are important to me.
To give the album coherent and add a bit of flow, I'm doing each layout on a white cardstock background and including an envelope with my journaling somewhere on the page. With these elements already decided, I pulled a whole variety of 3×4 journaling cards in colours which complemented my photo – I don't work by collection, instead preferring to go on colour and design. Mixing manufacturers can creat so many wonderful new colour palettes and vibes! I set to work shuffling the cards about and arranging them into a slightly messy stack behind my photo. I play around with them, adjusting angles, testing different colours against each other, framing my picture in different ways and once I have an arrangement I like, that's what I stick together.
This is actually most of my page done: I included my envelope of journaling in my layering so that the story can be pulled out to be read, my photo is the top layer in my stack of cards and the white background is my frame for everything. Time for final details: a phase I really love!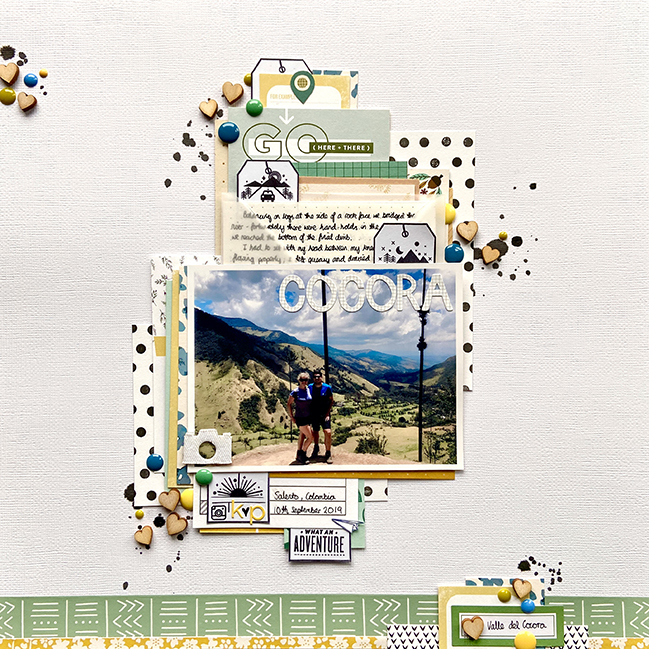 I added my title and a few little clusters of embellishment to frame my design. I using travel themed stamps, so I made myself some little stamped tags, and I added some elements which I repeat on all my travel pages: a camera, a plane, our initials and a geotag. Having watched Shimelle for literally years, I have long since adopted her system of placing embellishment clusters and repeating elements to help your eye move around the page. It's an absolute go-to technique for me! Finally, add enamel dots. There are few things in life which cannot be improved by added enamel dots. Enamel dots are life.
With the date and location added, that's my page complete; I love getting travel pages into my album, adding more to the story and building up this beautiful record of our adventures. I have got plenty of extra photos from this day spent hiking in Colombia so my next aim will be to create a pocket page to sit alongside this one so that I can include all my favourite pictures from this experience.
If you'd like to give this idea a try, you can use any 3×4 cards you have, or even trip down bigger sheets of paper into 3×4 blocks. It can be really freeing to do this with a few papers and play around with different orders of patterns and colour in a stack of layers. As a handy tip, I'd suggested keeping your layers close together and any angles small. This helps to create a sense of detail and intricacy. Pulling patterns and colours which mimic textures and tones from your photos will ensure it all looks cohesive.
| | | |
| --- | --- | --- |
| Kirsty Mansell lives in London and has been scrapbooking for the past 15 years. A maths teacher by day, she uses any school holiday she can to travel and explore the world. She loves to make the most of life, and is currently planning and crafting for her wedding alongside leading her Girlguiding unit, drinking tea and, of course, scrapbooking about her adventures. Story is at the heart of her layouts and she enjoys finding creative ways to include journaling on her pages, making the writing a key element of the design. Kirsty is never happier than when using layers and clustering little details to complete a layout in her signature style, and she shares all her work over on Instagram. | | |

Read more about: tutorials
20 September 2022

Next post: Countdown Discounts: Two Classes for $20
Previous post: Get ready for Journal your Christmas - Supply Lists and Stamp Preorder!