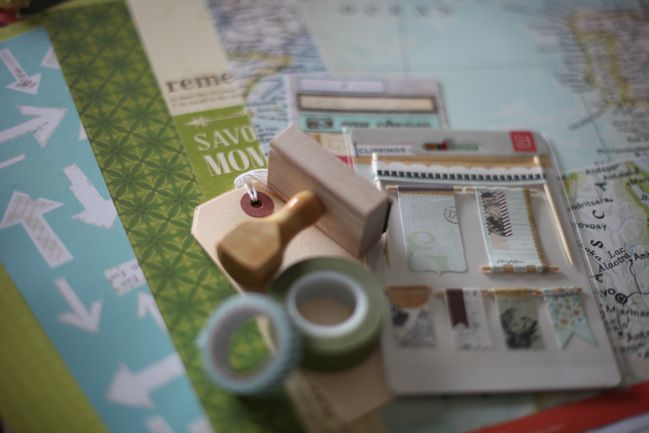 Our travel day is getting closer and closer and with that comes another countdown special! This time it's a bundle of three classics: True Stories, Pretty Paper Party, and Scrapbook Remix!
True Stories is all about scrapbook journaling. It covers 15 different strategies for telling your stories on your pages.
Pretty Paper Party is a love letter to paper and includes plenty of patterns and lots of layers. It's a mix of PDF lessons with pages from a range of talented scrapbookers and videos from me sharing the tips while making pages.
Scrapbook Remix celebrates mixing collections and designs. It also includes contributions from special guests in the PDF files plus eight process videos to show how the pieces all come together.
All three of these classes come from my Garden Girl days and as such feature patterned papers and embellishments from collections and even companies that are no longer on the shelves, but all the ideas can certainly be translated to currently available supplies, or you might have an older stash and it's absolutely okay to get those older papers out and craft with them now!
At normal price, this set of three classes would cost $58 USD, but for 24 hours only, you can pick up the set of three for just $30. Everything includes permanent access, so you don't need to rush through them and can go in any order.
SORRY! This offer has expired!
If you have taken online classes with me before, you can sign into your account at http://www.shimelle.com/forum to see which classes you have taken. All of my classes include permanent access, so you can go back to anything you've taken even ten years ago and access all the PDFs and videos. (If you don't remember your username and/or password, send me an email!)
If you've never taken an online class here, welcome! The countdown discounts will be a great time to create a line up of resources to walk you through many aspects of this craft! I don't offer sales very often, and for the next week, the offers will change every 24 hours. But it's important to know this is not an automatic, automated purchase. You'll get a Paypal receipt email pretty much instantly, and then you'll get an email from me with your login details once I've processed your registration. This is usually within 24 hours, and that should certainly be the case from now until next Thursday evening. If you do not hear from me within 48 hours, then something is going astray so please email me and let me know. Thank you!
Whether you're new or not, if you choose to pay from your Paypal account and the email address you use on Paypal is not where you want me to send your class messages, please email me so I can update that for you. Be sure to include both email addresses in your note so I can link up your payment to the correct address for your class account. Thanks!

Read more about:
17 October 2022

Next post: Countdown Discounts: 42 video lessons to keep you scrapping!
Previous post: Countdown Discounts: Sketches for Everything!