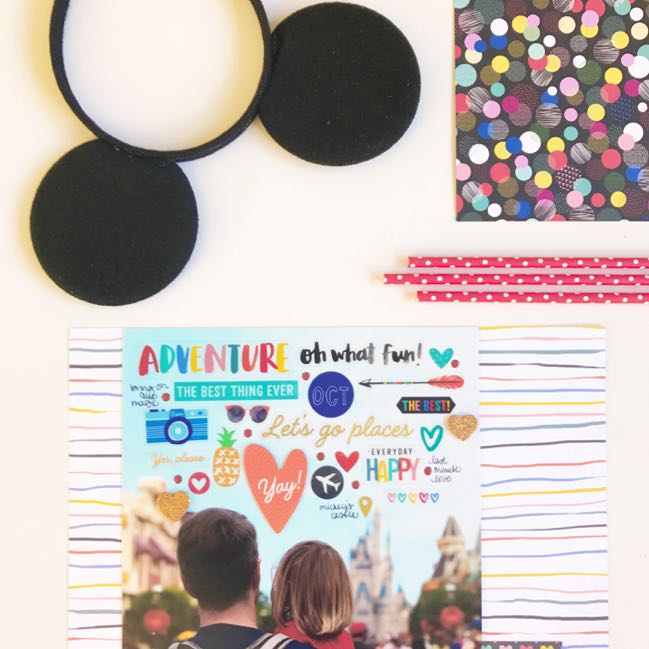 It doesn't matter how often you create pages or how many years you've been scrapbooking, certain events are just extra special. It might be a wedding album or a baby album or a special travel adventure, but these special times bring up all the emotions for scrapbookers: so excited to scrapbook these photos; so nervous about getting it just right.
Of course, that's exactly what happened when I came back from very special holiday to Disney World last October. So, so excited and absolutely bursting with stories and in love with so many photos. I wanted to get all the feelings from my heart and all the moments from my head and get them on paper in a way that captured it all with exactly the right… everything. Which is maybe just a little, tiny bit intimidating. Where on earth could I start?
But I caught my breath, approached things with a balance of practicality, order, and creative spontaneity, and recorded the entire thing from start to finish to share with you. It's my most magical scrapbook ever.
In this class, you'll receive colour PDFs with all the layouts in my scrapbook, sketches for those layouts and some variations thereof, and notes on design, journaling, and photography. And then there are the videos. More videos than I've ever assembled for a class! That includes a video on photo and printing organisation, album planning, then all the process videos for every layout in the class. Even if you have no interest in ever scrapbooking a theme park trip in your entire life, you'll have a library of more than forty brand new page videos that are only available in this class. The layouts include single pages, double pages, and pocket pages. There are small photos, 4×6 photos, and large photos. There are pages with one photo and pages with many photos. I use a varied range of supplies throughout the album and share different techniques so every single page and video has its own unique focus. (I agree, forty pages of the same supplies would be pretty uninspiring viewing, and not nearly as fun for me to make either!)
In case you are a Disney fan and are planning a trip in the future, the class materials also include my top tips that I call 'Disney for Scrapbookers', including how and where to get super scrappable photos, where I fuel my Disney inspiration when I'm thousands of miles from the parks, and quick habits for during your trip that can make the process of making your album later all that more magical and enjoyable.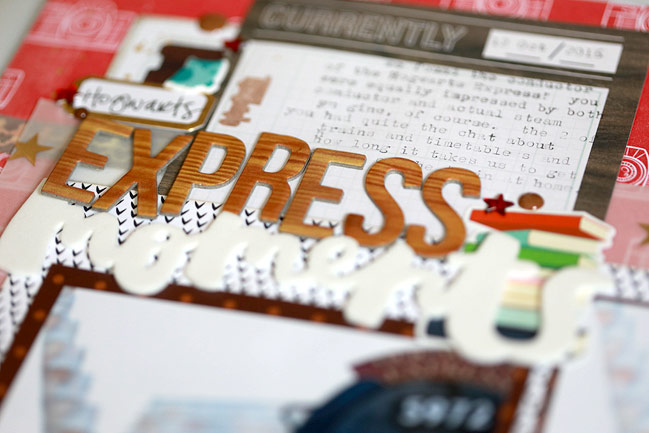 My album includes pages from our travel to Florida, the four main Disney parks (Magic Kingdom, Epcot, Hollywood Studios, and Animal Kingdom), the two main Universal Parks (largely the Wizarding World of Harry Potter but also a few other snippets like Dr Seuss and Jurassic Park), and our hotel (we stayed at Port Orleans Riverside), covering about twelve days with lots of detail. But nothing in the class is so specific that you need to have the same experience and memories. Everything is based on tailoring the inspiration to what will suit you, and that may be a theme park trip that becomes a theme park album like mine, or it could be another type of holiday or intimidating event to scrapbook, or you could use the inspiration from each page for completely unrelated photos you're scrapping in a variety of albums. There's no wrong way to participate!
All my classes include permanent access to the class materials and access to a private message board to chat and share what you've made.
Class starts Wednesday the 16th of August and runs through the end of September, but there is absolutely no need to keep to that specific schedule. The materials can (and should!) be viewed at your own pace and you can return to them at any time. You can choose your preferred currency: $30 US dollars or £23 British pounds. If neither of those is your home currency, you can check exchange rates at XE and use either button. It will automatically convert to your own currency and you do not need to do anything special. You can pay by credit or debit card or from a Paypal account.
Although the class does not begin until the 16th, when your class registration is processed (within 24 hours of payment), you'll find a resource in the classroom to keep you entertained while you wait: there is a section with all the Disney and Harry Potter related videos I've published in the past, including not just the few from this trip but also many pages from previous trips to Disneyland in California and the Warner Brothers Harry Potter Studio Tour.
(For those who also do Learn Something New each September, the two will overlap. While I wouldn't overlap two classes featuring full size pages, I keep Learn Something New very small and true to its original aim of no more than ten minutes per day, so in this case the schedule feels fine.)
If you have any questions at any time, don't hesitate to send me an email.
I can't wait to see you in class. Or should I say see ya real soon!

Read more about: classes
02 August 2017

Next post: A happy rainbow of scrapbooking
Previous post: An archive of the first few Friday Live videos