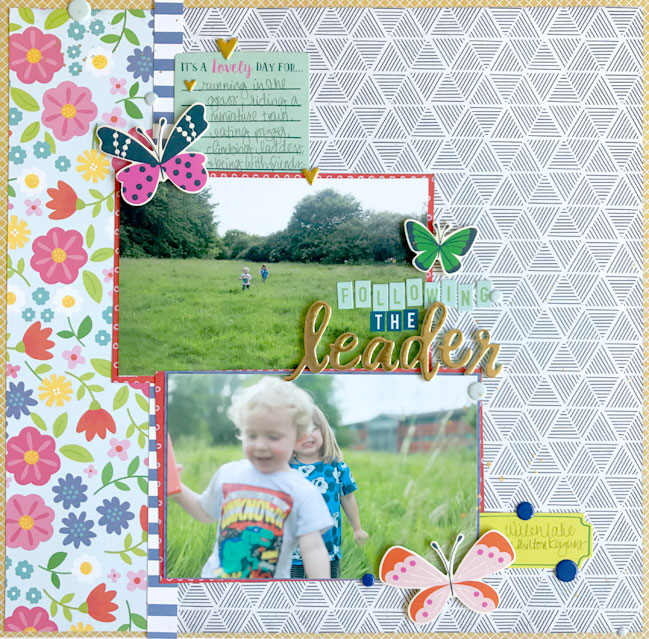 In June, I started a little something that has become a new habit: Friday Facebook Live. On a Friday afternoon (well, it's afternoon for me!) I create a page with very little planning and plenty of live discussion with those watching on Facebook. It's a little different to how I share videos in classes and on YouTube – it's very rough around the edges, there is absolutely no editing, and I don't set out with a clear mission of where I'm going. I change my mind, I take suggestions from the audience, and I answer questions so we sometimes go on big tangents all while I'm cutting and sticking. It's perfectly Facebook in its unpolished and chatty nature, so I don't want to move it anywhere else. However, Facebook is a little difficult in terms of searching back to find older posts, with its love of all things right-this-second. It seems high time to make an archive here. I will post each one in its own post going forward, but for the sake of being complete, here's everything that has come so far.
Did I mention Friday Live is not a polished presentation? It's so unpolished that it took me a couple weeks to figure out how to see the comments as they were coming in live and in the very first week, the video is sideways. SIDEWAYS. So you would need to watch on a phone or a tablet and turn the screen, basically. If you want to see that very first one, knowing that it's sideways, you can find that here. It's the layout above, by the way.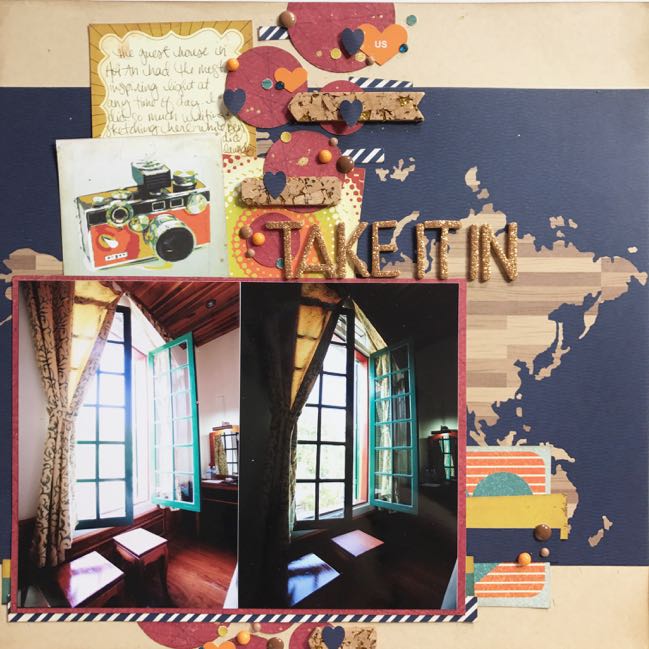 Then I learned how to broadcast in landscape and things got better. Phew.
This was a blast back to my backpacking albums, where everything starts with a sheet of kraft cardstock. It fell on the 'page with no people' day of the June scrapbooking photo challenge. That map paper is still one of my favourite things in the Go Now Go collection.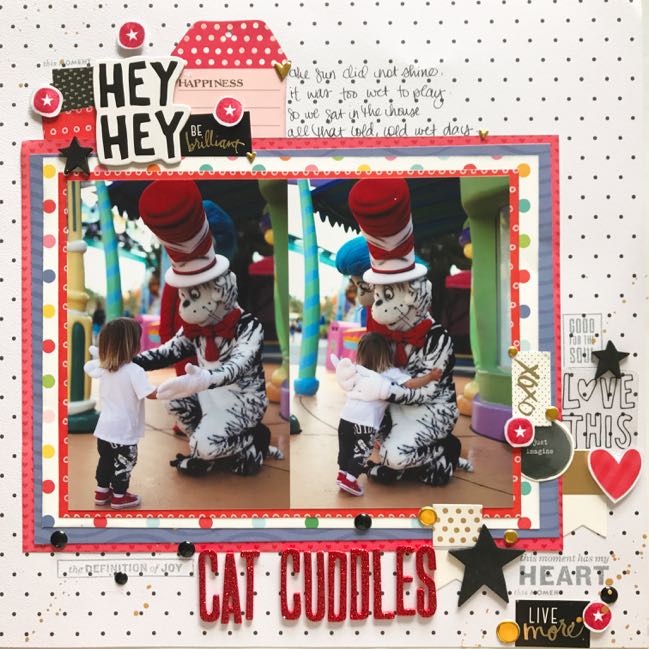 Then we had a day of everyone running to find their copy of Cat in the Hat, which multiple people were able to do, and I didn't find ours until the next day. (It was under his pillow.)
The facing page that I mention in this video is a layout that you'll see in the upcoming class, just in case you need more Cat in the Hat cuteness in your life.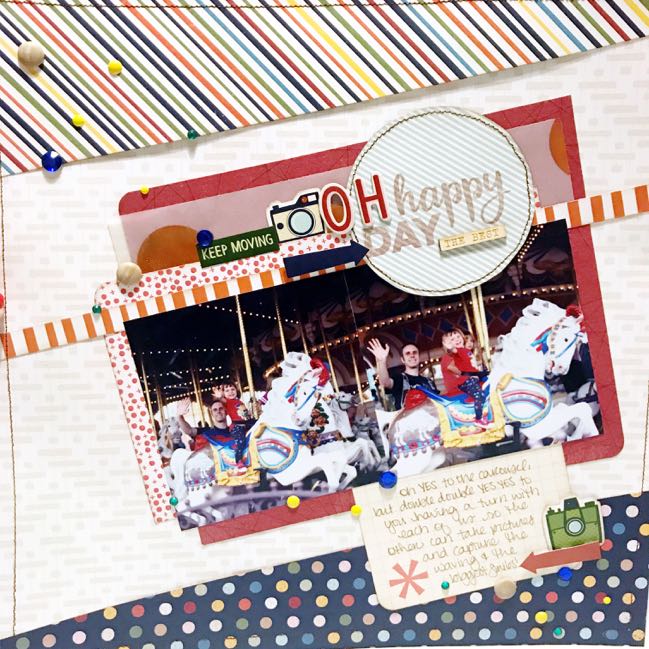 Then I used a sketch while we discussed Disney Princesses. As you do.
I was most excited to use the Elle's Studio Title Builder stamp and embellishment set on this page. You can find the pin board where I collect useful scrapbook page sketches here.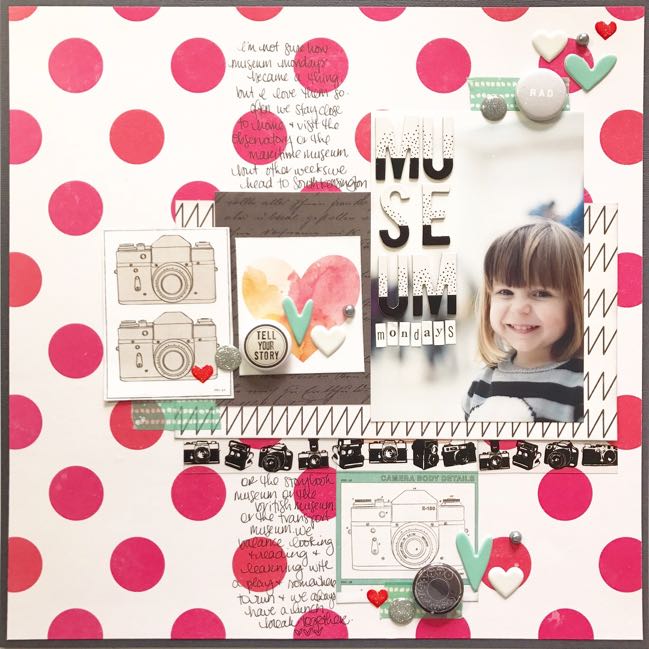 Then there was the day when I dropped the entire bowl of flair badges on the floor. That was dramatic and in no way a pain in the neck to tidy up later.
I love that camera paper from Maggie Holmes so much I bought three sheets. I might need more.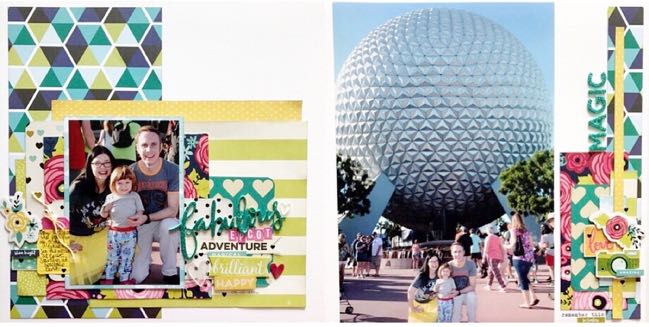 Then there was a day when I made a double page layout! On white cardstock! WHAT IS THE WORLD COMING TO, I ASK YOU?!
This was the first time I used a little something from the new Glitter Girl collection too, so that was extra fun. I didn't get to finish the full layout in the video time but it got me back on track for scrapping.
And that brings us up to date! I've added a new tag so you can find all the Friday Live posts in one place too, in case you're ever feeling the need to binge on overly enthusiastic chatting about pretty much anything while I cut and stick paper to other paper in (hopefully!) an aesthetically pleasing manner. Thanks for watching!
Of course, you can join in with Friday Live actually Live on Facebook. I'm currently scheduling this for 3:45pm UK time on Fridays but it IS schedule to change (like I know already I will have to pick a new time this week) so I try to announce the time as soon as I can, especially if it's a change of time. But you can always watch later!

Read more about: scrapbooking-videos friday-live
01 August 2017

Next post: A Most Magical Scrapbook: My New Online Class
Previous post: I promise you can scrap these papers without pink