Once upon a time, nine years ago, I recorded this video, which remains one of my most viewed scrapbook pages ever.
It started a wave of other scrappers giving that same sketch their own interpretation and each version posted made me smile. Over and over again. Because they took that same beginning and made it their very own. It all started with a sketch! I think it's time to revisit that idea on a much grander scale, so I've put together a new (and much overdue) class on just that: a bundle of brand new sketches, interpreted and reinterpreted through scrapbooking process videos, with an armload of tips you can take away to use with these sketches, other sketches you've pinned, or sketches you've drawn yourself.
It's called Start with a Sketch and it starts one week from today: the 17th of March 2020!
$30 US Dollars
£23 UK Pounds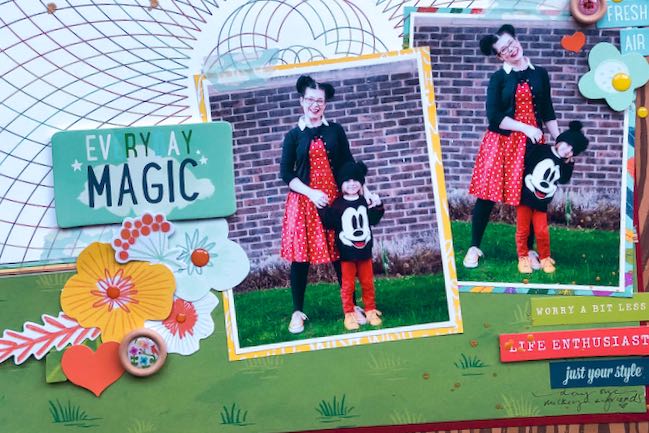 Start with a Sketch includes…
15 scrapbook page sketches, each with 3 interpretations. All shown in video. That's 45 scrapbook process videos.
The first interpretation is always the truest to the sketch and the simplest in terms of gathering supplies. No fancy techniques. No mixed media. No cut files. Just strong design, pattern, and colour tips to make your photos and stories the star of every sketch.
The second and third interpretations, however, give that sketch wings. You'll see mixed media added to a sketch that doesn't have anything that obvious to start. Turn a single page sketch into a double page layout. Change the number, orientation, or size of the photos on the sketch. Add a statement with a cut file, large sticker, or ephemera piece.
In addition, there's a variety of story topics represented throughout. Each sketch has at least one layout with just grown ups in the photos. At least one will be kid photos. Some travel, some things closer to home. Some newer photos, some older photos. Some single photo pages, some pages with two photos, some pages with several more. All the photos can be printed on a 4×6 printer, as the sketches use 4×6, 4×4, and 3×4 photo sizes as a rule (I would print two 3×4 images on a single 4×6, and there's a quick video to demonstrate that in the class resources if it's new for you).
The schedule works like this:
Registration opens today (Tuesday the 10th of March)
Tomorrow (Wednesday the 11th) existing students from Level Up will receive a bonus set of three videos – a sketch and its three interpretations. That set is just for Level Up students and is not part of the 20 sketch count above.
Thursday the Start with a Sketch forum will open! Once you sign in, you'll find some class materials ready to help you prepare and get the most from the class. That includes a printable with all 20 sketches and notes on what photos, paper collections, tools, and other supplies I used for each video, should you wish to have a plan and work along with me in real time. Of course I encourage you to use what you have and what you love, so don't feel you need to go get what I've used! But if you already have it, you might not hurt to get it ready, right?
The first video will appear the following Tuesday, the 17th, and from there the schedule is basically video, video, video, day off, and repeat. So a week from today, you'll see Sketch one, video one, then Wednesday is video two, Thursday is video three. Friday there's no video and Saturday we go again starting with the second sketch. That means class finishes in the middle of May. But you have permanent access to all the class materials and there are absolutely no deadlines, no late marks, no 'keeping up' pressures in my classes. Go at your pace, dip in and out as it suits you, and come back to the materials whenever you're stuck. In fact, that's a big part of my aim with this class: giving you a resource you can return to when you're creatively blocked and so desperately want to get back to making things you love. I hope this will be something you'll find useful for many years to come!
$30 US Dollars
£23 UK Pounds
(You will be taken to PayPal's secure website, where you may pay by credit/debit card or a PayPal balance.)
Once you sign up, you will receive a PayPal receipt email confirming your completed payment. The forums will open Thursday, and when that happens you will also receive an email from me welcoming you to class. If you have taken a class here previously and don't remember your login details, or you just have any questions about any of this process, please email me.
A topical note that I probably should have been including in my classes since the very beginning: I'm healthy, my family is healthy, but people get ill, things happen. If I were to get sick or someone in my family were to get sick, it is very possible that I might run a little behind and we'll adjust as we go. But hey, it's an online class, so we can all participate even if we are quarantined. I just feel like maybe I should have always made it clear that if something runs behind schedule for something like illness, that's all it will be – a little bit behind schedule. But I have done and will continue to do all I can to prevent that happening, and I wish you and your family all the same health and safety. Thanks for your understanding!

Read more about:
10 March 2020

Next post: We can Scrap a Rainbow - a new online scrapbooking class now open for registration!
Previous post: It's not too late to Learn Something New!