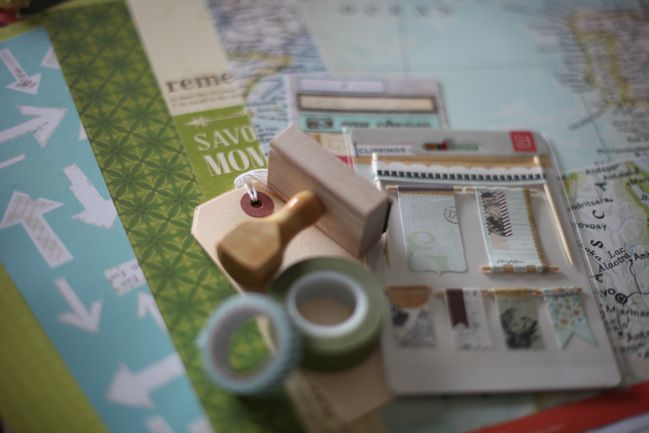 I have one small problem with paper: I fall in love far too easily. One collection catches my eye and I swoon. But the next week something else looks beautiful, and another. Soon my must-have list of paper collections makes me look a little fickle in which designs I really adore! The truth is I love a mix of patterns more than any one single collection in all my stash. With one collection, I get one look. Sure, I can dress it up with rhinestones or keep it casual with straight lines and so forth, but it's still instantly identifiable as that one collection. Mixing those collections creates infinite looks! Infinite? I'm thinking you could keep moving things around and mixing more patterns in for ever if you really wanted to do such a thing so yes, I'll go with infinite.
The key is in the mixing and the remixing: first finding a pattern that goes well with something else, then reinventing it by mixing it with a different selection and so on. That means you get unique looks even before you start thinking about photo sizes, titles and all of that stuff that comes into the design of every scrapbook page. And thus is born a little something I call Scrapbook Remix.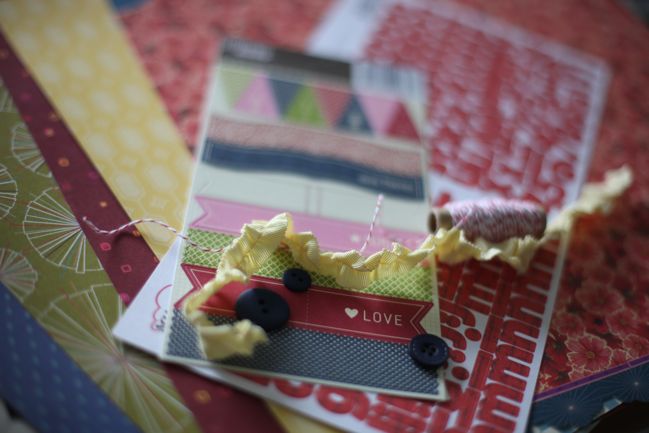 Scrapbook Remix is an online scrapbooking class that shares the secrets to mixing patterned papers of all kinds and then creating a range of pages with this combinations. We'll talk colour, pattern, scale, size, technique and more. The class includes both PDF and video prompts: a total of twenty full-colour PDFs and eight videos over four weeks. In each PDF prompt, we start with a different paper collection, then analyse it and remix it with other papers and embellishments to create four or more different looks. The video prompts include a mix theory discussion (showing exactly why some patterns do and do not work well together) and the step-by-step process for creating specific scrapbook pages. All the featured layouts are brand new (I do show a few existing layouts as examples in the theory discussion, but just to illustrate a point here and there). So if you did the numbers just then, that's more than eighty never-before-seen scrapbook pages! You'll see plenty of my work but also that of some of my favourite scrappers who have joined me as Remix Guest Artists. That way you'll be sure to see a variety of styles, including single pages and double, single photos up to many, small photos up to enlargements and all sorts of embellishment.
Scrapbook Remix starts Monday the 22nd of October 2012 and runs for four weeks. You can sign up at any time (I do not close registration on my classes) but signing up by the end of the 21st means you get to participate in the live run of the class, which gives you the most benefit of chatting with others doing the same project at the same time. I know this class with be exciting on the board as everyone puts the ideas to work with their own collection and posts their own patterned paper remix looks! But there is also a bonus video that will only be available to those who sign up by the end of the 21st. So that might make a difference to you whether you want to sign up now or later!
Scrapbook Remix includes
✂Twenty full colour PDF prompts emailed straight to your inbox
✂Eight corresponding videos you can watch online
✂Private class forum for all participants to chat and share their work
✂Permanent access to all class materials
✂A few other surprises along the way
One thing that's quite important to know: just because each prompt starts with a specific paper collection does not mean you need to have that specific collection on hand. Scrapbook Remix helps you look at any collection and identify key factors about those papers so you can take what you learn here and apply it to any papers you have at home. You do not need to buy any new stash to follow this class and in fact, it's quite useful as a means of using more of what you have already collected: new or old, full sheets or scraps. You'll see all of that represented in the prompts and challenges throughout the four weeks. The twenty collections that start each Remix prompt also represent a range of manufacturers, styles and ages – so you might be surprised at just how much you do have on hand! But you can certainly use this information with any stash, and it needed be a giant stack of paper by any means.
Scrapbook Remix is £18 (British Pounds Sterling) or $25 (US Dollars). You can choose either currency, and if neither of those is your local currency, just pick the one you prefer and the system will automatically convert it when you make your purchase. You can check exchange rates at xe.com to see if one is more beneficial than the other. Click the button of your choice to sign up!

You can pay your class registration by credit/debit card or Paypal account, and both options are shown on the screen that follows. Please be sure to enter a valid email address as part of your payment so your prompts can be delivered to your inbox. If you would like to gift the class to a friend, please provide her email address. (You can email it to me if you like.) Class registrations are processed by an actual person (me!) and can take up to 24 hours, though it's usually faster. If you don't receive a welcome message in that time, please let me know by
email
.
I'm proud to donate £1 of every class registration to the Plan Girls' Fund, which supports girls in developing nations, provided education, improving living conditions and passionately working to break the cycle of poverty and gender discrimination.
I really hope you can join me for some remixed tunes scrapbook pages and become a patterned paper dj princess! Can't wait to see you in class.
xlovesx

Read more about: classes
09 October 2012

Next post: 10 things to do with pumpkin
Previous post: On being a London Ambassador