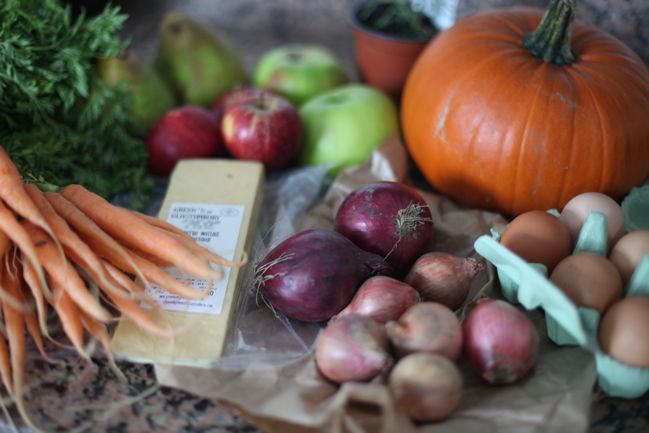 Our neighbourhood has a farmers' market every Sunday, from 10am to 2pm, and there are two appropriate strategies: go early and get the best selection or go late and get the best bargains. Seeing as I got all this for ten pounds this past Sunday, you can guess which strategy I managed. But the most exciting part: there are pumpkins galore! Just small sugar and pie pumpkins, which is perfect for me. And it's the tenth… so I bring you ten things to do with pumpkin. Because 10 Things is a whole thing we do on the tenth, you know.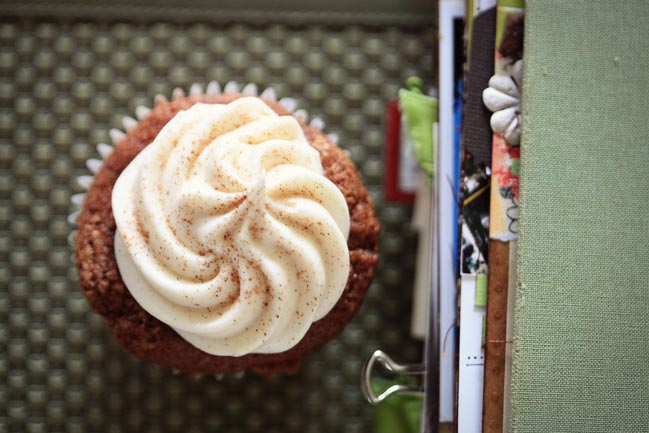 Pumpkin cupcakes, of course. I usually make this recipe several times each autumn. When things start to feel a bit more holidayish, I Christmas them up a bit with brandy butter, using this recipe, which predates the day I learned how to take a halfway decent picture of a cupcake. Or anything else for that matter. Another alternative is to make a batch of vanilla cake batter, then halve it – so you have half vanilla cakes and half still as batter. Mix in pumpkin, brown sugar and a bit of flour to get the texture back to what it was originally. Perfect for two flavours when you don't want twice as many cakes.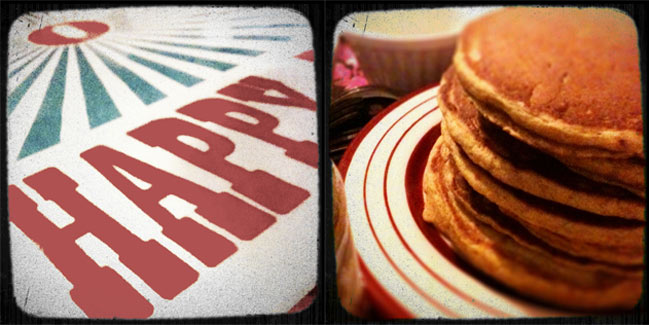 Pumpkin pancakes are a bit of a special thing in our house, made by The Boy for special occasion days. He says Martha's is your friend and I say whatever recipe he uses, it's lovely.
Strangely enough, I wrote another very pumpkiny post nearly five years ago, when we had first moved to this neighbourhood and were fashioning furniture out of moving boxes. At the core of that post was the classic idea of Pumpkin pie. I stand by the belief that there are few things nicer at the end of an autumn day.
It's been years since I made Hunky Dory Pumpkin cake, but I'm thinking this year might be a good chance for its return. It's here from the exceedingly early days of this blog. I do still like the expression Hunky Dory. It is also my favourite of all David Bowie albums, and you can argue the merits of Ziggy Stardust all you want, I will not change my mind.
Pumpkin cinnamon rolls are my next project. I haven't made them yet, but I have just enough pumpkin puree in my fridge to make these with the recipe at Smitten Kitchen. They look divine and every recipe I've tried from SK has turned out brilliantly. I have high hopes. And I need to ask The Boy to pick up more cinnamon on the way home.
Pumpkin scones I have made several times but somehow never photographed! Clearly I need to make them again… and somehow remember to take a picture before eating every last crumb. Find the recipe here from lovely scrapbooker (and 10 Things participant!) Sharyn Carlson.
Pumpkin pasta because lest you think pumpkin is only for indulgent, sweet things, it can certainly be savoury too. Simple, unfussy food. Just mix up a bowl of pumpkin puree with other flavours you like – pine nuts, herbs (basil, sage, rosemary and thyme all complement but offer different options), a tiny bit of honey if you like your savoury foods a bit sweet, chili if you like them with some kick – then layer with pasta. You can make it as a lasagna with pasta sheets and plenty of cheese or you can make your own ravioli with fresh pasta folded into parcels. Cook as usual then drizzle with balsamic vinegar or glaze. Fabulous with something fresh and green on the side too.
Pumpkin and blue cheese pie requires you to like blue cheese, of course, and also be able to come to grips with the idea of a pumpkin pie that is not for dessert. Line a pie dish with a basic pastry (this- works and is very simple). For the filling, mix pumpkin puree with gorgonzola cheese (I go with twice as much pumpkin than cheese by weight) and a bit of double cream in a saucepan, plus some thyme or other herbs if you prefer. Stir until all the cheese is melted and just bring to a simmer, then pop that in the pie dish and bake until the top browns and the pastry is cooked. I've made it with and without pastry on top. And once I made it with that crumbly, dry kind of gorgonzola? That didn't work as well.
Pumpkin coffee, which is now a UK thing suddenly as Starbucks finally decided Britain was ready for the Pumpkin Spice Latte. The manager in our local Starbucks says expect their supplies to only last three to four weeks and they won't be getting any more. So whether you want to avoid Starbucks or you develop an addiction, making pumpkin coffee at home is the solution. Mix pumpkin puree with brown sugar, cinnamon, ginger, nutmeg and a tiny bit of ground cloves and a few drops of vanilla extract. Mix that up and heat with milk, then add to coffee or espresso. I am rather fonder of this being actual pumpkin and not sickly sweet like the syrup, but you know I won't tell anyone if you like it sweet and heap plenty of brown sugar or maple syrup in it. Your secret is completely safe.
Pumpkin milkshakes are so lovely, they make me tempted to book a flight to New York just to hang out at Shake Shack all autumn long. But that's a bit extreme, even I will admit. So instead, take good vanilla ice cream and blend with pumpkin puree, the usual spices (cinnamon, ginger, nutmeg and clove – in that order from most to least) and a bit of milk. Blitz and top with whipped cream. (Or you can make it with actual pumpkin pie, like this, but I have one problem with that amazing idea: it requires having leftover pumpkin pie. Yeah… that really doesn't happen in my world.
And there you go: a total pumpkin overdose. How very on trend. And now… I really need to get away from the computer. I'm suddenly very hungry!

Read more about: 10-things
10 October 2012

Next post: International Day of the Girl
Previous post: Scrapbook Remix :: A New Online Scrapbooking Class