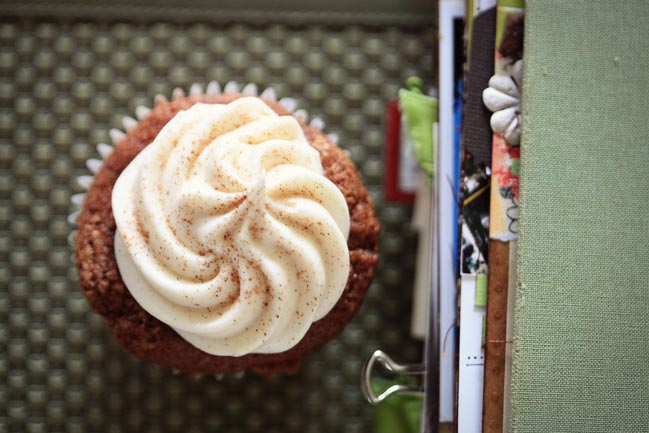 It is autumn and there are pumpkins and in short, this means I could quite happily just stay in my kitchen and bake and bake and occasionally move to the dining table to eat. Somehow I have managed to prevent that level of obsession, but I have already made these twice this season and I am sure there will be a few more times when they seem highly appropriate.
Here's the recipe so you can share my pumpkin obsession.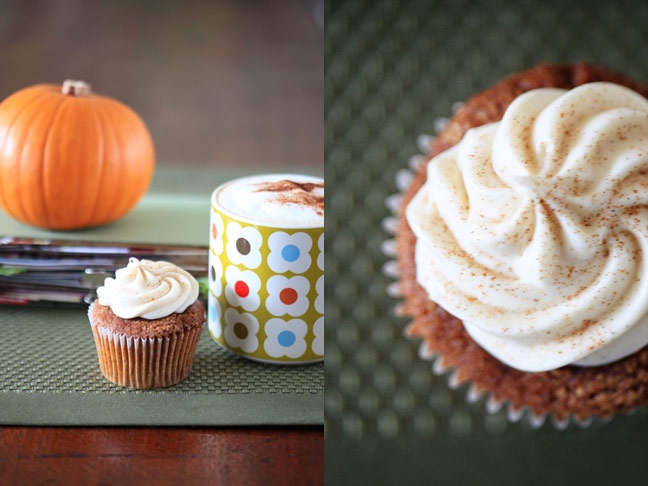 Pumpkin Cupcakes
(makes apx 24 standard sized cakes)
115g / 1 US stick unsalted butter, at room temperature
200g / 1 cup dark brown sugar
60g / 1/3 cup caster sugar
2 large eggs
1.5 teaspoons vanilla extract
200g / 2 cups plain (all-purpose) flour
2 teaspoons baking powder
1/2 teaspoon bicarbonate (baking) soda
2 teaspoons ground cinnamon
1 teaspoon ground ginger
1/2 teaspoon ground nutmeg
1/4 teaspoon ground cloves
pinch of salt
120mL / 1/2 cup milk
270g / 1.5 cups pumpkin puree (fresh or tinned)
To make fresh pumpkin puree, start with a small pumpkin. Cut a few vents into the top and place on a foil-lined roasting tray. Roast the entire pumpkin for an hour or two (depending on the size of the pumpkin) at a low to medium heat — no more than 120C/250F. Let cool until it is easy to touch. Cut a hole in the top to make a lid, like a jack-o-lantern. Remove the guts and seeds. With those insides gone, you are left with the wall or flesh of the pumpkin — you want the wall but no skin. Many recipes will tell you to shred the flesh, but roasting it first makes shredding unnecessary — just make sure the skin is gone then puree in a blender, food processor, mixer or with a potato ricer.
Preheat the oven to 180C/360F. Line a cupcake tray with paper liners.
In a mixing bowl, mix the butter at a high speed until creamy and without any lumps. Add sugars and beat until fluffy.
Add eggs and vanilla and mix at a slower speed until the consistency is even.
Add the dry ingredients and the milk in alternation until all incorporated. Add pumpkin and mix until even and relatively light.
Fill cupcake cases halfway for flat-topped cupcakes, two-thirds full for domed cupcakes. Bake for 18 – 22 minutes, or until a toothpick comes out clean.
Remove immediately from the pan and cool on a wire rack for best results.
When cool, ice with cinnamon cream cheese icing and finish with more cinnamon on top.
Because it's autumn, and that means there is rarely such a thing as too much cinnamon.
xlovesx
PS: If you share my disdain that there is no such thing as a pumpkin spice latte from the UK coffee chains, know that this is the stuff you need to make them at home. It may be habit-forming. I may be evidence of this. Just so you know.

Read more about:
11 October 2009

Next post: Sunday Sweets :: New York Cupcakes
Previous post: Sunday with Scrapbook Inspirations