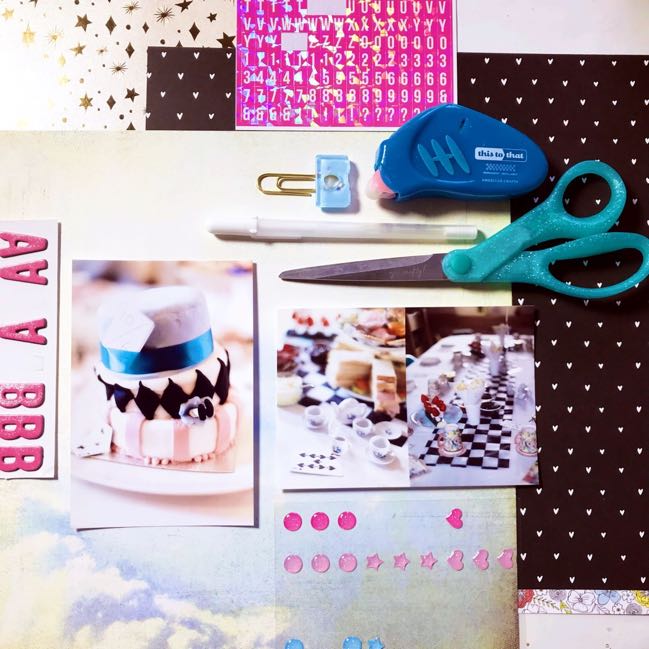 With all the fun of Creativation just finished, thousands of beautiful new papers, stamps, and embellishments are on their way to shops and then to your hands. But if I'm honest, I still have a few things from last year's new releases sitting on my shelf, just sitting and looking pretty. It's time for them to do something! And the time is now, so they can have their moment of glory on a beautiful new scrapbook page before brand new products arrive and eclipse my older favourites.
Clear the Desk is a short online class to help with just this. Through a series of eight videos, we'll gather our supplies and create new pages with a focus on using patterned paper, stamps, and embellishments. (If you are not a stamper, you can opt for more stickers and other embellishments; likewise you can stamp more and use fewer premade items if that's your style.) The example layouts feature a variety of photos sizes, including mini prints, 4×6 prints, and A4 enlargements. Most of the examples are 12×12 single page layouts but there is one two page spread and one pocket page as well.
You are welcome to use any supplies you have to hand and the aim is to not do any shopping for this class – that way you'll be making room to welcome your new supplies! If you are a kit club subscriber, you're welcome to use one or more kits to follow along. If you buy all your supplies individually, the very first video will walk you through the gathering stage of this process so you can choose what you want to move from your stash into your albums!
Class begins Tuesday the 20th of February 2018 and runs two weeks until the 6th of March. You can, however, sign up at any time to access the class materials. If you would like to participate at the same time as others, then join in now for the live run!
Clear the Desk is just £10 or $15, but for the first time I'm also offering a year-long class membership should you wish to automatically join in all the classes I teach throughout 2018. The 2018 class pass is £100 or $150, which is less than the total of all my new classes for the coming year. Should you not already be signed up for the annual classes Learn Something New and Journal your Christmas, these would also be included for further savings, but they are not including in that total of 'new' classes – just an extra bonus if you haven't already sign up for those. I realise the annual class pass is not the right option for everyone and I will always offer every class individually, but I've had some of you request this option for several years and it seems the best time to give it a try! This offer will only be available until the end of February 2018, and then will close and classes will be available individually. If it helps with your decision, classes on the schedule for this year include layering, choosing colour combinations, journaling, page composition, and photography. Some classes are longer and more in-depth and others are a shorter two week format like Clear the Desk.
No matter how you sign up for any of my classes, you have permanent access to all the class materials. There are no deadlines and you can work on any schedule that suits you.
Do be careful to choose the option you want, of course!
Access to all shimelle.com classes for the whole of 2018: £100 or $150.

Or sign up for just Clear the Desk on its own: £10 or $15.

I'll talk more about Clear the Desk between now and the 20th, when we get started, and of course you can email me any time with any questions and I'll help in any way I can!
Have a great day and see what's still sitting on your desk! I hope to see you in class soon.

Read more about: classes
29 January 2018

Next post: Early Bird Info!
Previous post: Introducing Box of Crayons :: My newest collection with American Crafts