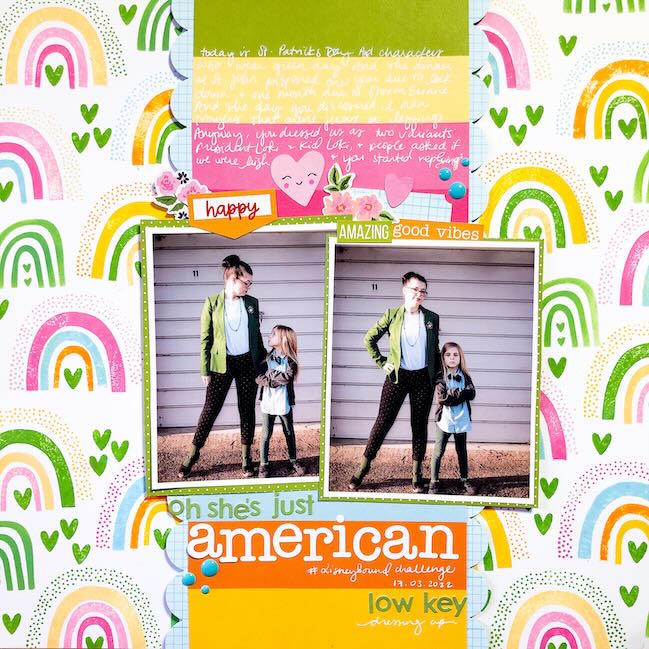 This scrapbooking class about colour – it's a concept I have worked on so long, on and off, because I knew I wanted to say so much and I felt like every angle I chose left me with all these other elements I wanted to include. Fast forward through a lot of scribbled notebooks and I've come to my very happy conclusion: it's not just one class.
Today I'm opening registration for We Can Scrap a Rainbow, which is what I'm calling the first class in my colour-based curriculum. There are at least two more classes to follow, each with their own angle, and the series will build one class to the next, so joining in now will make it easy to follow along as we move through an entire spectrum of colour conundrums, possibilities, and tangents.
I know you'll be tempted to look at the layouts I've made over the last two years and assume 'scrap a rainbow' means pages with a literal rainbow of colours and literal rainbow motifs. But I'm keeping you on your toes: IT IS NOT THAT. Instead, this is a dive into each colour, one at a time. So we'll look at red, then orange, then yellow and so on. I'm adding pink even though it's not in the rainbow. There is a balance in each colour, so we'll look at the colour on its own and then in several combinations, all with scrapbook page examples and process videos.
What you get:
*As soon as your registration is processed (which can take up to 48 hours after payment – it is not automated) you can watch a class I originally taught for Scrap Smarter. It's all about making page kits and looking at the ways those colours work together.
*From Friday 25th of March to Friday 1st of April, we'll work through a series of edited video lessons about quadrant page design and different ways to use colour in this set up. If you have taken Half and Half, you also get access to this on the same dates. This week of lessons bridges the last class, all about composition, to the new class focus on colour!
*From Monday 4th of April, we work our way through the rainbow! Each colour in the rainbow will include a brief prep session so you can gather your materials, an edited lesson video, and a live video session. These live sessions are not like my casual YouTube livestreams, but instead start and end with a brief Q&A session and have a structured lesson in the middle so you can scrap along with me in real time. I'll save all the random rubbish chat for outside class! Each colour also includes printable lesson notes and a Pinterest board of resources.
Your access to all the class materials is permanent and all live videos can also be watched on replay. The quick prep session for each colour means you can post any questions you would like answered in the Q&A without needing to be there live, and then you can watch it back when it suits your schedule.
You can choose US Dollars or UK Pounds to purchase the class, and if your currency is neither of those, you can just choose the one your prefer and it will automatically convert when you purchase. You can check currency exchange rates at xe.com if you need to translate it into number that will make sense for you! Once you click through, you'll be given the option to pay by card or from your Paypal account – either option is fine. No transactions are done on my actual site – you can check the URL when it goes through and you'll see the secure processing is done through Paypal's servers and not here on my blog. I never see your payment details.
If you pay by Paypal account and your account there has a different email address than where you'd like to receive your class materials, please email me at shimelle@gmail.com and just let me know the two email addresses so I can sort that for you! You can use that email address to ask any questions as well!
If you are a pass holder, you don't need to do anything – you receive this class automatically. If you purchased a class during the flash sale to get a discount on this class, do not purchase here at full price – you'll get an email with your discount instructions. Thanks!
If you prefer to wait hear more than just what's here, that's fine! I'll be talking more about the class on both my YouTube videos and Instagram posts in the time between now and the start of class!

Read more about:
18 March 2022

Next post: Use What You Buy: Let's Scrapbook with those Stamp Sets!
Previous post: Start with a Sketch :: A new online scrapbooking class