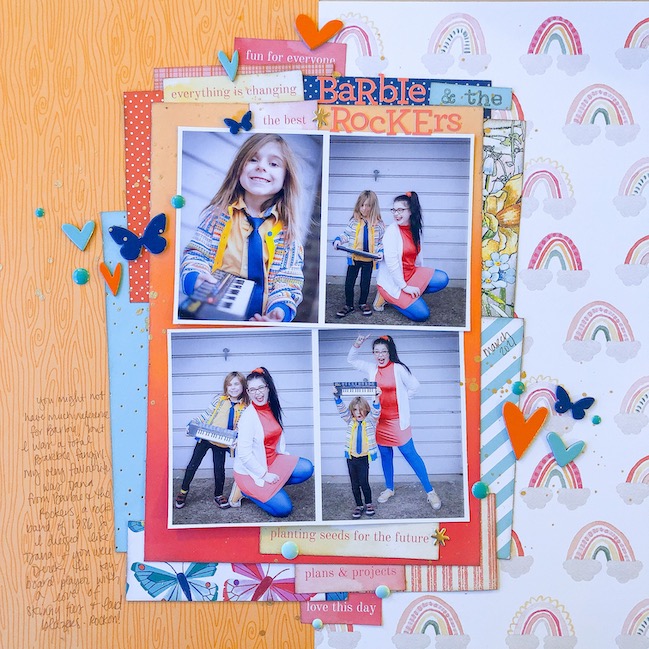 How often do you cut into a piece of patterned paper and save the rest for later, and even with the best of intentions you find you've saved it… indefinitely?
Would you like to feel more confident mixing patterned papers while still keeping your photos as the focus of your scrapbook pages?
Are you up for a crafting adventure that is light-hearted and fits your own schedule, but still has a very clear set of things to try and ways you can take them forward in your own crafting style?
If so, then my new class is right up your street! Half and Half is a class all about making pages that start with two 6×12 boxes of patterned paper: half the page is one pattern, and half the page is another pattern! Perfect for using your saved scraps, great for building your pattern mixing skills, and taught in a way that makes it easy to use your own stash, your own photo themes, and your own embellishing style.
Half and Half includes 12 new full length videos, and a few shorter segments:
10 12×12 single page layouts, each broken down in its own extended video plus a simple summary PDF.
2 12×12 double page layouts, again each in their own video + summary sheet.
A selection of short videos that adapt some of the ideas to 4×6 and 3×4 cards to create coordinated pocket pages.
As with all my classes, it includes permanent membership so you can come back as many times as you like or work at your own pace, plus a private class forum to chat with other participants, and you're always welcome to email me to chat about the class materials while the class is live or long after. This class is suitable for all levels, so you're welcome to invite a friend to sign up as well, even if they are new to the hobby.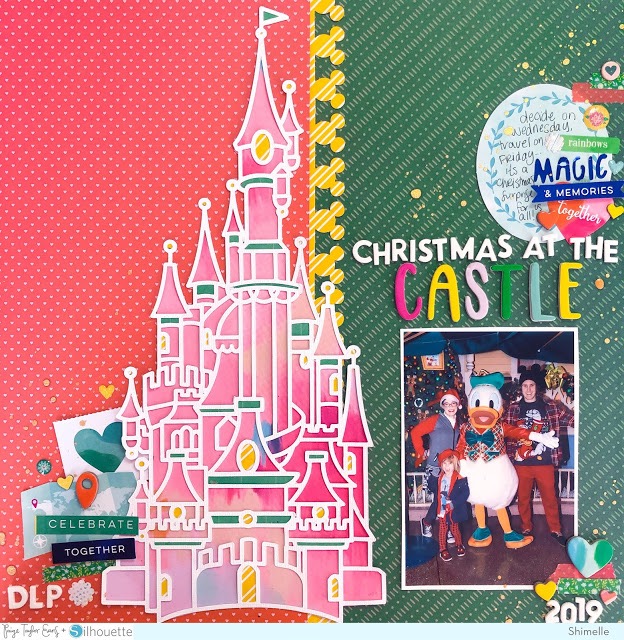 Two of the class videos feature cut files, and both include ideas on what to use instead of a cut file if you don't own a cutting machine!
If you're new to my classes and know the videos I post on Facebook or YouTube, it's worth knowing that I share three types of videos in those three places. My Facebook Live videos are the most chatty and least formal – I answer scrappy questions as we go and share why I'm making something, but we also talk about any old random rubbish! On YouTube, I don't do off-topic chat, and you'll find videos where I walk through a project but they are generally a single page at a time. In my classes, everything is focused on a planned curriculum – my goals I hope for you to achieve so you can leave the class being able to take what you learned and apply it on your own projects! So these videos are not only very focused, but also build on and relate to each other. While everything is on topic, I'm still open to your questions and tangents on the forum, and there is absolutely no pressure for you to finish anything by any certain time or date. You're welcome whether you want to scrap all day or you're watching because your supplies are packed away for a few months and you'll get to the crafting later!
Half and Half starts Tuesday 20th April and can be purchased for $15 US Dollars or £11 British Pounds.
For regular participants who would prefer to pay in a lump sum and not worry about signing up individually for every new class, you're welcome to sign up for the new Class Pass. This allows you to prepay $150 or £110 in one go, and you'll receive every class I teach until the value of the individual classes has surpassed that total. That means you'll get a discount off that last class, but it is largely just an option for convenience, as it's hard to keep track of everything and easy to miss something like a new class announcement! You're also welcome to receive the prompts for Journal your Christmas and Learn Something New Every Day, should you not already have those classes on your account. They are not included in running total value, just a bonus! A while back, I called this the 'annual pass' but it ended up lasting… significantly longer than a year. So let's call it the Class Pass now, and if you want to go for that option, you can sign up for a new one starting now, with Half and Half. (To give you an idea of class prices, Half and Half is the low end of my price range, with classes varying from $15/£10 to about $40/£30.)
PLEASE NOTE: my class registration system is not automated – I am old school and add you to the class myself! You'll receive a payment receipt email straight away, then your registration will be processed within 48 hours (usually quicker, but I don't work Sundays). If you don't receive a welcome email, check your spam (and your forum account, if you're an existing student!), and if it's not there, just send me an email so I can chase up anything that has gone astray! If you pay from a different email address than you would like to use for receiving class emails, that would also be something to let me know in an email please.
If you'd like to gift the class to a friend, use the sign up button as normal, then email me and let me know your friend's name and email address. Thanks for being such an awesome friend!
Here's an example of a half and half page I've shared in the past. Not to worry if you cringe when I cover half a sheet of background paper in this video. We're going to cover your options for building those half and half backgrounds, including taping them together instead of layering over the top, if that's what you prefer!
All the layouts in this post are half and half style pages I have made and shared recently. They give you an idea of my style, but everything in the class will be new and unseen.
Comments are turned off purely because they get targeted by spammers, but please do not hesitate to drop me an email if you have any questions at all! Thanks so much! I can't wait to see you in class so soon!

Read more about: classes scrapbooking-videos
30 March 2021


Previous post: The layering is strong with this one...