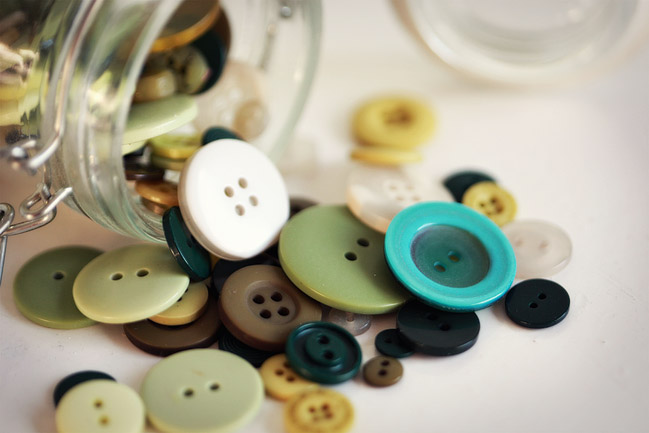 Sometimes I am not so sure how I amassed quite so much scrapbooking stuff. When did I go from A few buttons would be useful to I can never have too many? When did the singular ribbon jar become the plural ribbon jars, sorted by colours of the rainbow? And patterned paper? Just possibly, I have quite a bit of that indeed.
The truth is that having a great deal of supplies isn't something to get me down. Having them and not using them is an entirely different matter. So I invite you to join me for an online class in March: Something from Almost Nothing.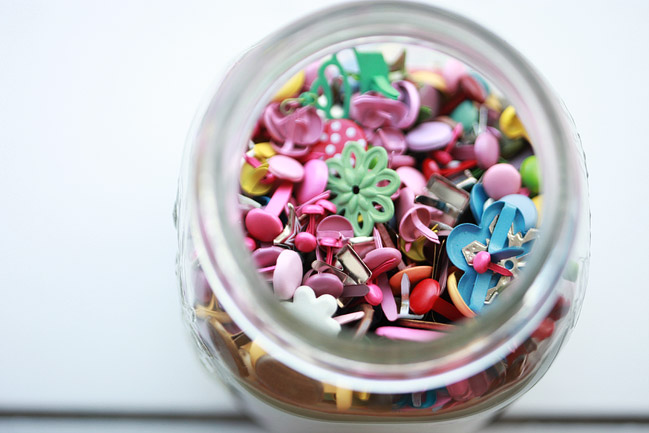 Throughout this class we'll be focusing on getting more from the stash we have already acquired, no matter what your personal product of choice may be. We'll go through a range of products you already have on hand and put them to use in new ways. We'll step away from just gluing or stitching on a button and build something new. Plus it's not just buttons we'll be moving from stash to completed pages; we'll also put stickers, ribbons, transparencies, papers, page protectors, chipboard and other supplies to work too. You won't need to have specific supplies to follow along: we'll focus on what you do have and offer plenty of alternatives along the way.
During the three weeks of class prompts, you're invited to follow along and build an album entitled Celebrate Life. You can create this book in any page size you like with supplies you have on hand, and each prompt includes a page sketch and technique to help build the page as well as photography and journaling pointers to help with the complete album. But the class doesn't end with just this album: each prompt includes a range of other techniques to try and projects to make. You can take inspiration from these at any time, just like a book or magazine.
I'm very excited that more than a dozen of my favourite scrapbookers will be joining me as guest artists for this class, and I'll tell you a little more about them as we get closer to the first day of class.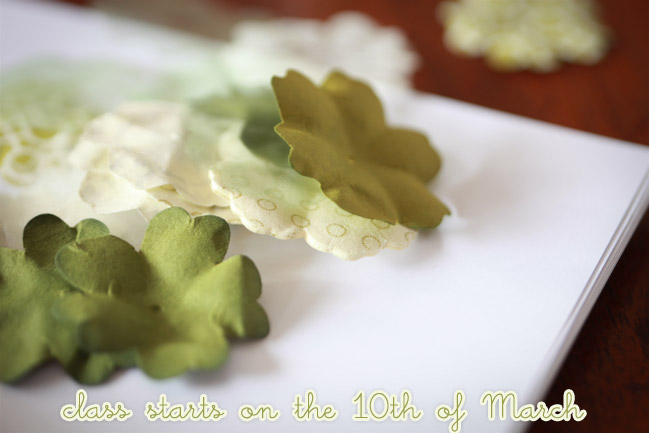 Something from Almost Nothing includes:
…more than 60 pages of full-colour class materials, including work from guest artists and illustrated steps for more complex techniques
…3 video tutorials
…a live chat session
…printable accents for album project (purchased separately, these come to $9.90)
…bonus journaling and photography prompts for your Celebrate Life album.
Like all online scrapbooking classes at shimelle.com, this class includes
…permanent access to all class materials
…private forum for discussion and sharing your work
…prompts delivered straight to your inbox.
Class begins Wednesday, the 10th of March, with prompts delivered by email on Mondays, Wednesdays and Fridays until the end of the month. You can sign up at any time. Registration may take up to 24 hours – usually much less.
To sign up, just click! You can pay by in your choice of currency: £10 pounds sterling or $15 US dollars.

You'll find additional class information and sneak peeks posted here on shimelle.com between now and the 10th of March, so don't be a stranger!
I hope to see you in class!
xlovesx

Read more about:
24 February 2010

Next post: A Sneak Peak at Something from Almost Nothing
Previous post: Christmas Journals I am loving this year