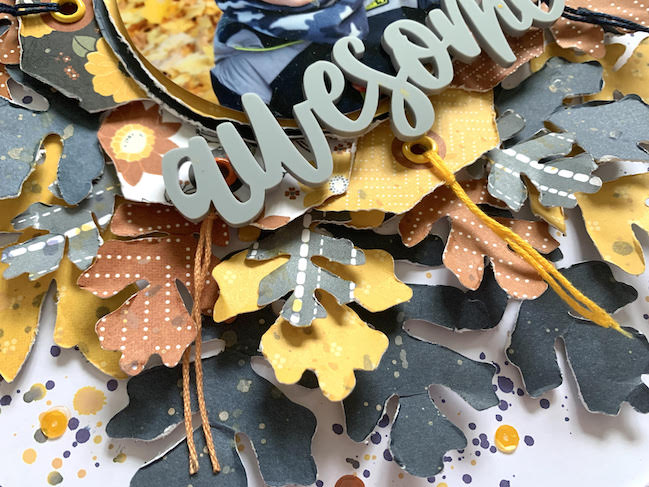 Leafy scrapbooking is an entire genre I could happily look through for days and days, so I hope you'll enjoy all the autumnal and leafy goodness of today's guest post from the lovely Rebecca Moore! -Shimelle
I love scrapbooking – it's my 'me time'. I have a busy life with a five year old, so scrapbooking is something I do in the evenings when things are a bit quieter. I love to have lots of dimension and layering on my scrapbook pages. It means I can't always get as many layouts in an album as I'd like – but it's my style and it's what makes me happy so I don't let that stop me! I recently took my little boy on a walk around a local lake, and we came across an area covered in fallen leaves. They were all dried out and crumpled and I really wanted to replicate this on my layout. I've used Simple Stories 'Hearth and Home' collection as the colours match my photo really well. I also wanted to draw on the navy in my photo so I've pulled in a navy paper from P13's 'Soulmate' collection. I ran these papers through my Silhouette Cameo 4 and cut lots of leaf shapes in various sizes.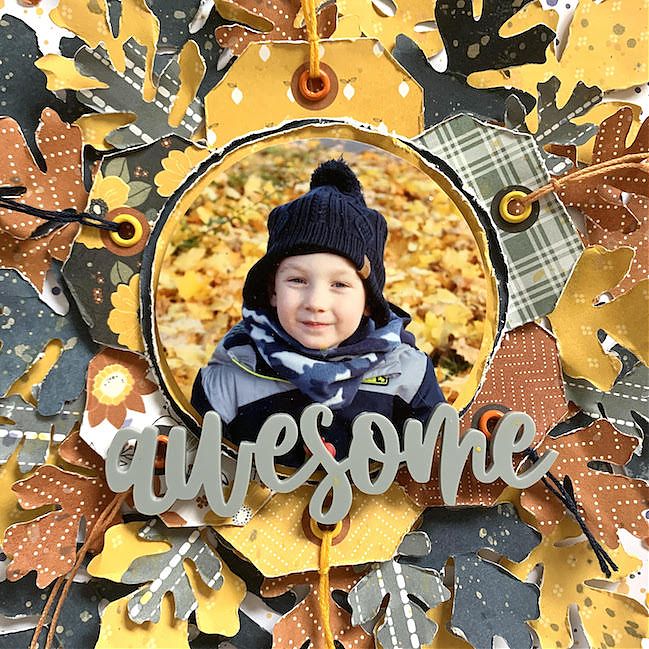 I began with a circular photo in the centre of my layout. I added a couple of layers of patterned papers behind it, distressing the edges to bring some texture to the page. I introduced some dimension by adding foam in between these layers. I then layered six tags under my photo in a circluar fashion. I raised the tops of the tags up using foam pads, but I didn't stick the top tag down – I wanted this tag to include my journalling so I needed it to be moveable. I used my Crop-A-Dile to add some metal eyelets to the tags, and threaded some embroidery floss through in coordinating colours.
Next came the fun part of layering up the leaves. I tried to distribute the sizes and colours evenly and have used foam to bring more dimension to the layout. I've also distressed the leaf edges and curled them up slightly to appear more realistic. I really do love how these leaves look arranged around my circular photo. For my title, I've used an acrylic perspextive from Bramble Fox because the colour coordinated nicely with my photo. I placed this central on the page, underneath my photo.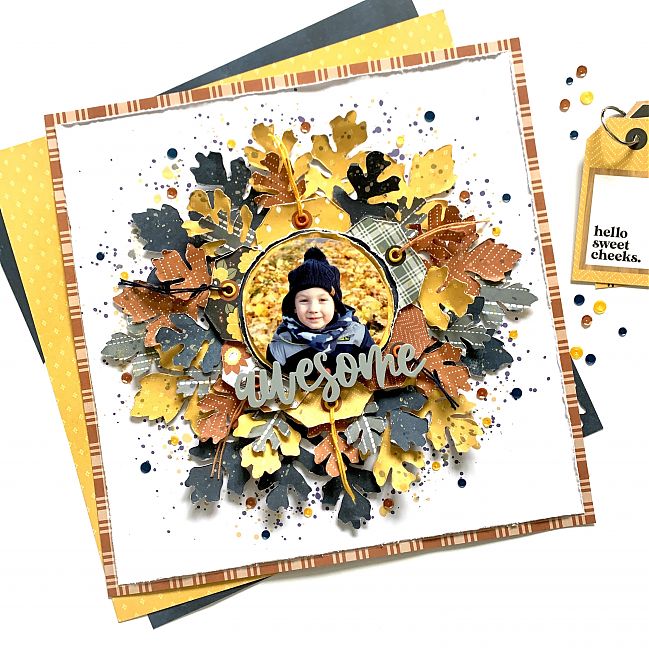 I finished the page off by adding a patterned paper border, some ink splatters and a few sequins to bring in a bit of sparkle. I really love how this layout turned out. The leaves are so dimensional and realistic and really do remind me of our walk every time I look at the layout – which makes me happy and brings a smile to my face. And this design could work with any shapes – you don't have to use leaves – snowflakes or flowers would work just as well.
Rebecca lives in Buckinghamshire, UK, with her husband and five year old son. Scrapbooking since 2017, she mostly scrapbooks photos of her son and shares her work on Instagram and YouTube. She also works on several design teams and enjoys crafting with a wide range of collections.

Read more about: tutorials
14 November 2022

Next post: Online Scrapbooking Classes - Sign up any time!
Previous post: Countdown Discounts: Making Albums a Magical Way