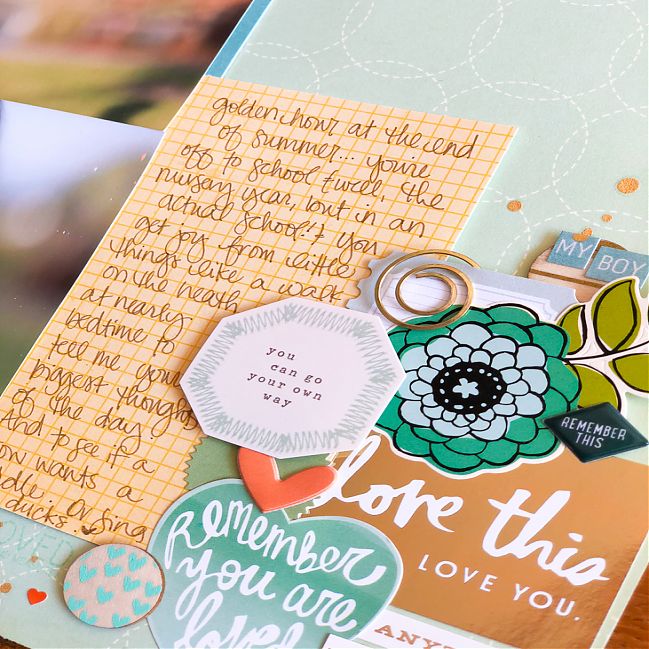 I love the story involved in scrapbooking – as you may have noticed – but it's not just a single page story that truly has my heart. It's that 'book' element of 'scrapbook': telling a detailed story, page by page, all contained in an album. That is what brings me my biggest scrapbooking joy! And yet I create just one page at a time, and you might see one of those layouts on Facebook Live and another on YouTube and a few more in a class demonstrating a composition technique and a few more posted on Instagram. So how do they all come together to create that book I love? With a bit of planning behind the scenes.
My next class will show you this specific process in real time: I start with all the photos from Summer 2018, and I go through what has always been a more 'behind the scenes' process for me. That includes choosing which photos, how many pages each event will get, editing the photos, ordering the prints, gathering the supplies for each page, and working out how they will flow in a chronological album. I've offered two classes before that focus on my album process (Cover to Cover and Most Magical Scrapbook), but I've never covered my current photo editing process, how I cover my dining table in supplies for a day just to see what works together, or how much drafting I do for journaling. You'll find all that and more in this Behind the Scenes workshop.
Here's the real twist though: six of the class videos will be presented live, so you can watch and participate if you would like. You can also watch a recorded replay if you can't make the live times and you'll be able to post in advance with any questions you know you want to ask if you will be waiting until the replay. While I will be answering questions throughout the live videos, this won't be the off-topic discussion we often have on Facebook Live – each of the live videos has a specific topic to cover and we'll discuss it in depth.
After watching the Behind the Scenes class videos, you'll have a whole new understanding of what I'm working on when I create pages for any other format – you'll see those exact planned pages come to fruition on Facebook Live, in YouTube videos, and other pages posted here. Though not to worry – you'll see several pages made in the class videos themselves, so you're getting a mix of the planning and the page creation through the class as a whole.
The six live scrapping videos will take place at three different times of day to accommodate the most time zones. (It works out to two that will be morning in my time zone, two in the afternoon, and two in the evening.) The live videos are planned for Tuesday, Wednesday, and Thursday: 30th and 31st of October, 1st, 6th, 7th, and 8th of November. There are also two prerecorded videos included in the class. (If you're new to my videos, these class lessons are extended video sessions and not a 10 minute presentation.)
$25 US Dollars
£20 UK Pounds
Class begins on the 30th of October, so you can sign up any time before then to get the best potential for interaction, including discussions during the live scrapbooking videos. Class registrations are not instant and are processed by hand. If your PayPal email address doesn't match the email you'd like to use for class or more than two days goes by without receiving access to the class, please drop me an email.
If you are a 2018 annual pass scrapbooker, this class will automatically be added to your account once the forum opens.
I hope to see you soon, so we can go behind the scenes and put a plan in action for scrapping whatever might be on your to-scrap list!

Read more about: classes
15 October 2018

Next post: Booking Open: A Day of Creativity at Disneyland
Previous post: Pre-order your 2018 Christmas in a Box kit and stamps!