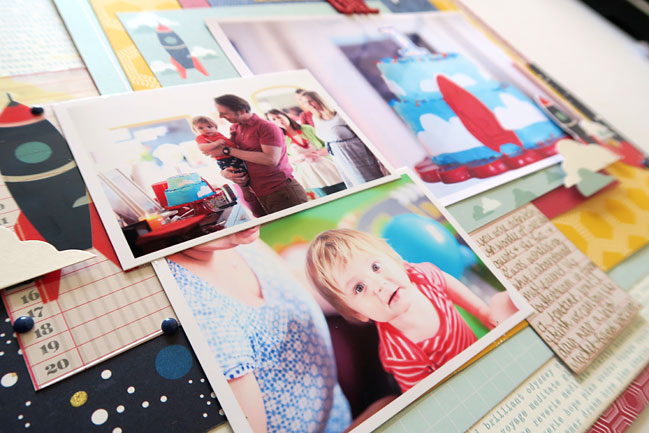 This week, Glitter Girl is on a quest to help with those situations where you have lots of photos and quite like the idea of using more than one size of photo, but that's where the stumbling block hits. I've She's chosen Wonder Boy's first birthday party as the plentifully-photographed event, and a year on, there is just one page in my scrapbook from that day. There are about fifty photos in a folder on my computer so perhaps it's time to make some progress with that!
I won't scrapbook all fifty, but I do think I'll make about four 12×12 pages on this, and I know two of them will be single photo layouts – the one I already made and one I have in my mind with a photo that doesn't really match the look of the other pictures I have from that day. That leaves me with two pages left and forty-eight photos to choose from!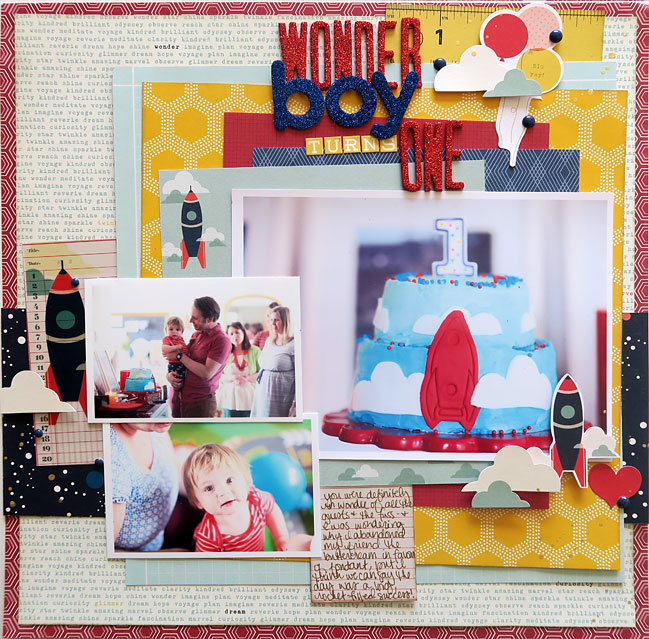 Going through that folder and thinking about the day helped immensely: I knew I wanted a big picture of the cake, then I have a bunch of other snapshots from various moments of the day that aren't really stunners in the same way as those two that will get their own layouts, but they capture the way I remember that day now and that's exactly why I want to get them in my book. I knew it would be way too many to include all those on just one page, so combining two with the cake worked for me.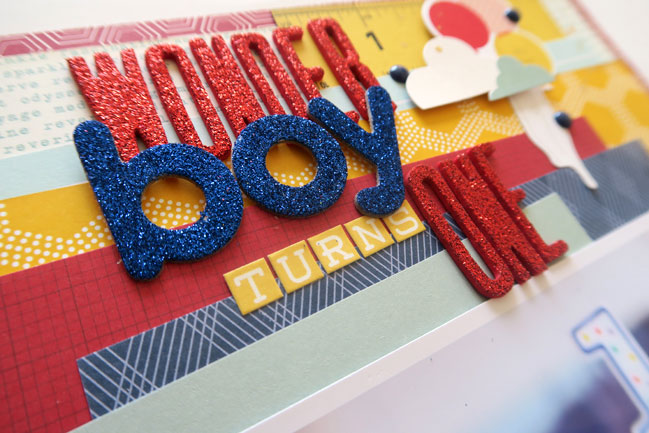 There's lots of True Stories supplies on this page, though in the complete layout there is actually at least something from all four of my collections with American Crafts, since the red letters are from Christmas Magic! But definitely plenty of True Stories rockets, as that was the big design feature of the party. Is using a particular paper line for the party decor and then using it again to scrapbook those photos venturing into the territory of buying patterned paper or die-cuts first then going out to buy clothes to match? It just might be. I think I'm okay with that.

Read more about: adventures-of-glitter-girl american-crafts
13 April 2016

Next post: Scrapbooking with even more photos
Previous post: The Scrapbook Process - A New Online Scrapbooking Class!