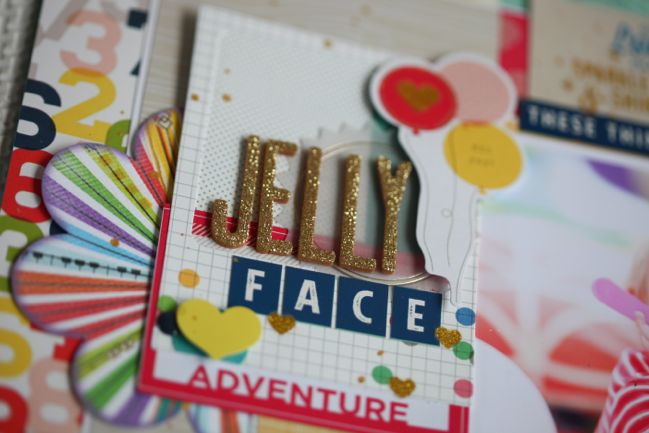 Following on from those stages of grief, one thing that has helped me grapple with the acceptance stage has been the freedom to use absolutely anything on a page without thinking about whether it would be in stock or on sale or anything like that. Admittedly, one of the reasons I liked designing for Two Peas was that we didn't have strict rules on what we needed to use. I think I would really struggle to hold a long-term commitment to design with the same kit or anything like that really. I've not done it, so maybe I am wrong. But while we had the freedom to use whatever we liked, it's hard to earn a commission on an item that isn't available, of course. So there were times when companies closed or collections phased out and I would put them aside and not pass them to my sparkly alter-ego.
But now? Anything goes. Which means vintage Sassafras is basically my new black. It's been liberating, really! Bring on the colour.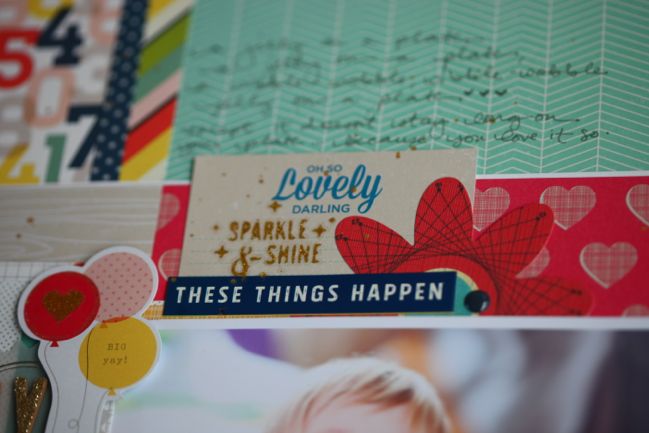 Of course, the collections I've done with American Crafts are not shy when it comes to colour either. The Sassa fits right in with both the original Shimelle collection and True Stories. And there are ways those two collections fit together so you don't have to phase anything out! Those glittery gold rub-ons from the first collection? We made the balloon die-cut piece just the right size so that glittery heart and circle layer right over the top. The teal in True Stories is also a more saturated version of the aqua in the first collection, so the papers work together easily too. (The numbers, dots, and stripes to the left are True Stories; the aqua to the right is the older paper.)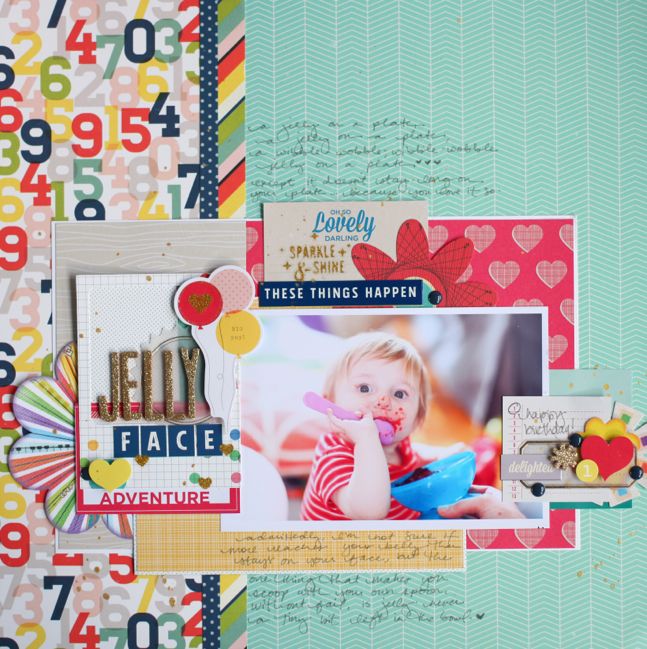 I haven't added this to the journaling here but I should probably document it somewhere, so here is as good a place as any: I grew up so enamoured with the idea of England that most of the spellings and phrases that are different here didn't come as a surprise. (There may have been one very awkward moment when I realised I missed a key bit of knowledge and had no idea why 10 Downing Street was such an important address, but that was quickly resolved with minimal fallout.) Colour and favourite and the importance of not reverting to the American 'pants' when you mean the British 'trousers' was all fine. Jelly on the other hand, totally threw me. Obviously I've had a few years to adjust to the idea, but if this is all new to you, gelatine – the wobbly, fruit-flavoured, and brightly coloured dessert – is basically known by the brand name Jell-O in the states, but in the UK, that brand only exists as a fancy-schmancy import (at a truly ridiculous price, I tell you) and is instead called jelly and sold under a few brand names. Which is mostly just confusing because jelly in America is more like jam, and jam is a word used in both countries for the same thing, so we finally get to something that makes sense to everyone. (I grew up thinking the difference between jelly and jam was that jam had actual pieces of fruit in it while jelly was smooth. It was only as an adult that I learned that jam was made with the whole fruit while jelly was made with just the juice.) To add more confusion to the jelly mystique, the packet size is roughly the same in both countries, but if you open a box of Jell-O, it's a powder. All the jelly I've purchased in the UK is already gel – like a super concentrated version of the final dessert that you dissolve and then reset. I have absolutely no idea why on this entire earth I find this entire situation so compelling. I know it's not, and yet my mind continues to wander through the mysterious etymology of jelly.
Meanwhile, Wonder Boy just really likes it when birthday parties have jelly and spoons, and the more jelly he eats, the less accurate his spoon aim. The first time he ate jelly was at a friend's birthday, where he didn't have a spoon. He tried it with his hands and decided it was too sticky for his liking, but he still wanted to eat more. When all the other party-goers were distracted by cake and blueberries and other such things, he crawled over to the plate and purposely planted his face in the jelly in a stealthy move that even ninjas have not mastered. He really does not care what it is called. Win some, lose some.
Oh. Yes. Scrapbooking, that thing I'm meant to be discussing. Ahem.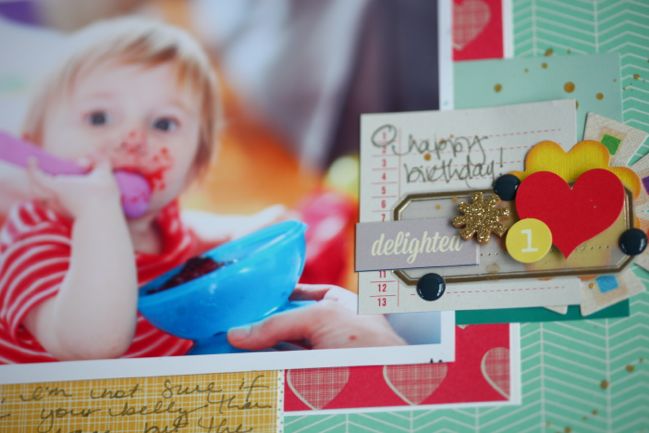 I always reach for 12×12 papers and I'm trying to remind myself that I have a bit of a 6×6 stash now too. The cut-aparts scaled down to that smaller size really have my heart, and they layer well with stickers. In this little grouping, from the back there is a True Stories sticker with the navy blue strip cut away, a rainbow starburst Sassa die-cut, a journaling cut-apart from the 6×6 size, a yellow Sassa flower, a vellum and gold foil label from Crate Paper, a True Stories word sticker, an asterisk from the gold Fitzgerald Thickers, three navy enamel dots, and the red heart and yellow number from the True Stories sticker book. Plus some gold Color Shine mist! Bringing those Sassa layers back to my table has made me smile so much. Sometimes you just love a product and you could use it for years… or at least I seem to be doing that at any rate!
Blue Moon Scrapbooking has quite a bit of both collections, including big discounts on some of the items. Sassafras, on the other hand, may require some searching. Unless you are like me and have it all saved in a special drawer that may or may not sing a little song when you open it.

Read more about: american-crafts
29 June 2015

Next post: As it Happens scrapbooking video :: A Collage of Embellishments for Father's Day
Previous post: The scrapbook page that took me a year to finish