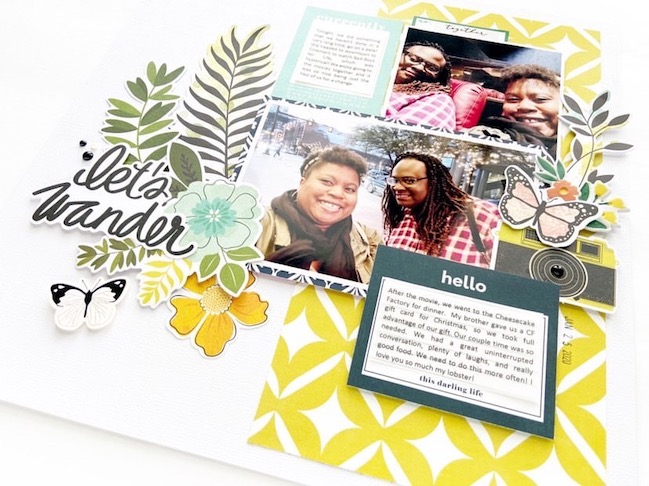 Scrapbook page by Victoria Calvin of Victoria Marie Scraps
I've been curious about how scrapbookers would take to Patreon, an online platform that processes subscriptions for creators to offer perks to those extra special followers. I've followed Victoria Calvin on both Instagram and YouTube for a long while now, so I suddenly had to ask myself why I hadn't joined her Patreon community, so I made my pledge and signed right up. It turns out there is a wealth of content included in the membership and all my quarantine insomnia need not fear, because I can just sit here and watch Victoria scrapbook 24/7 if I need to, and actually, that doesn't sound like a bad idea at all.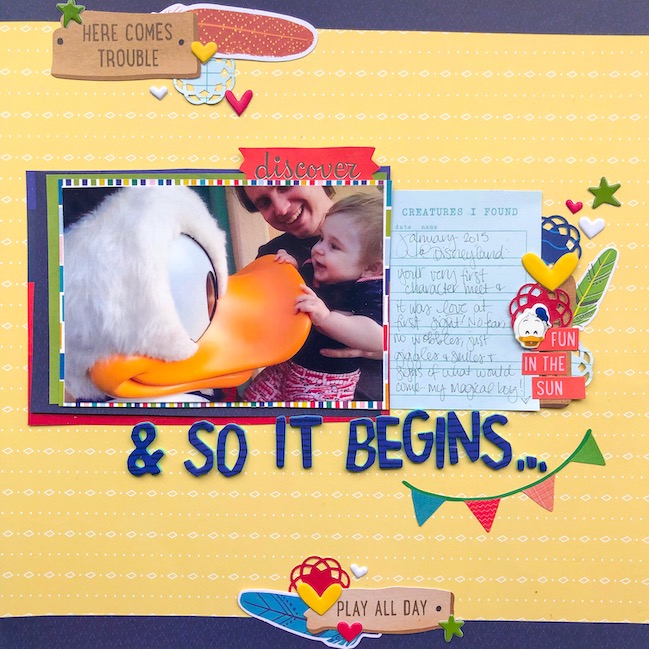 This page is one I made recently on Facebook Live, but it was entirely inspired by a sketch and accompanying process video Victoria posted in her Patreon community. And yes, that photo is most definitely a throw back – that's Wonder Boy's first EVER character meet! I've scrapbooked this photo years ago, but I just love this image and working with that memory was exactly the creative pick me up I needed for the day!

(I scrapbook live on Facebook twice a week – Mondays at 1:30pm and Fridays at 9:30am, UK time – almost every week of the year. You can find more info here.)
Although Victoria and I definitely have differences in our creative styles and our video delivery, we also have a lot in common, and if you like the sorts of videos I upload to YouTube and include in my classes, I would bet you will also enjoy Victoria's videos. They are straight forward and her education background is clear, and the pages she makes are layered and lovely! I love Victoria's enthusiasm for the craft and also for telling stories. I always want to read the journaling on her pages.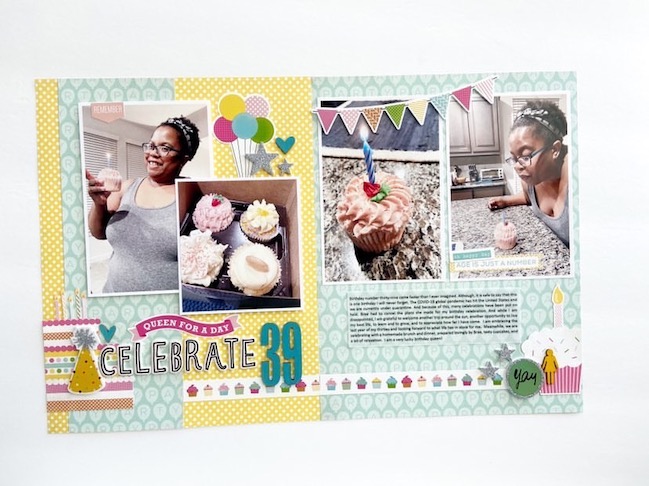 Scrapbook page by Victoria Calvin of Victoria Marie Scraps
You can find Victoria on YouTube and Instagram as well as her Patreon community. Her Patreon membership tiers range from $5 to $10 USD per month, which includes a great deal of video content, and when you join you can access everything from the past too, so that's a serious amount of videos to watch. There are sketch videos but also other themes, and there are some live lessons, like a recent session covering ideas for what to do with a surplus of 3×4 and 4×6 cards when you create more traditional full-sized pages than pocket pages. Patreon memberships don't have a set time frame, so you're not tied down if one day you realise you don't have the spare cash or the spare time to scrapbook!