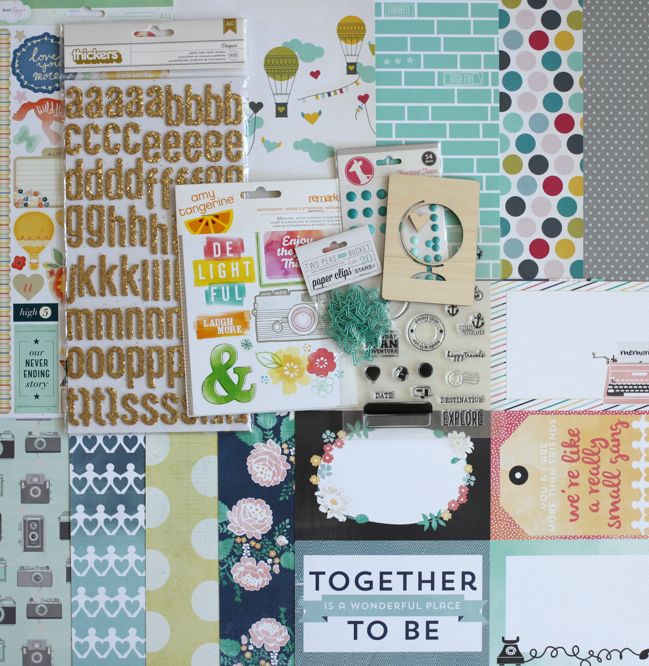 Welcome to August! I think this month just may explode on my calendar – there is a crazy amount of stuff happening here this month. Some of you who have been reading for a while know that when I go a bit on the quiet side, it means there are big projects afoot. One of those I can share with you today, as part of the Best of Both Worlds product picks for August: this is the first month that the kit includes something actually designed by me! I thought we might have to wait till next month, but it arrived at Two Peas yesterday, so I've included it this month, which explains why it makes its debut at the very end of this video, after it seems like the kit is complete! Can it be a debut if I don't even have a set to show you? Well, at any rate, it doesn't get mentioned until the very end.

Yes, that means there are two stamp sets on the shopping list. I'll show examples from both, and the Travel/Everyday Adventure set is on sale right now, so if that takes your fancy, this is a great time to pick it up, but I realise that means the kit is now a crazy price if you add one of each item to your shopping cart. Just know that the price comes back into line if you drop one set of stamps, and of course, if you're not a stamper at all then leave both out and you're down to a very affordable kit.
Click here to shop for the August 2013 Best of Both Worlds Scrapbooking Kit
The Nailed It stamps are my response to the six different stamps (I counted!) and countless papers and die-cuts (so not counting) that say Best Day Ever! or something along those lines. I actually love stamps like that and I love scrapping the happy things so it's no wonder that I am drawn to them, but my days are definitely not all in the 'best ever' category and I wanted something with a bit more bite because sometimes those stories are still fabulous to record. So this set has lots of simple, short phrases to sum up plenty of those days that don't deserve the 'best ever' label. And they've all been designed with the size of 3×4 and 4×6 cards in mind, so you can use them with Project Life and other divided page protector systems as well as traditional 12×12 pages and cards.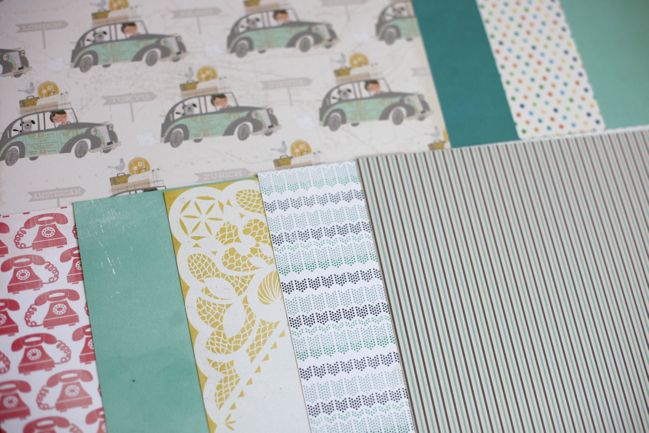 In regard to the rest of the kit, this month I've gone full-out on the aqua. Perfect for the beach, perfect for travel, perfect for sunny skies, and it works equally well for both girls and boys. So there is just aqua all over this kit and I love it like that.
If you are looking to change it up or add more to this month's kit, think about what other colour you like best with aqua. There is a tiny bit of pink, orange, and yellow in this kit as accent colours – if one or more of those speaks to you, then add more of that! I'm also quite fond of red with aqua, so that might be another option. The star clips and the enamel dots are available in colours other than aqua if you want a bit more variety. There are other designs of the wood veneer cards if the globe is not your style. (If it is your style, it's also available in this new stamp set).
Gold accents look beautiful with these colours, so I've pulled out Heidi Swapp colour shine mist in gold and gold embossing powder. On at least one page I'm going to add in some metallic gold rub-ons by Jenni Bowlin (her rub-ons are such fabulous quality, if you've never tried them. They are a class above the rest.) and I'm thinking gold sequins here and there too.
I went with gold glitter Thickers for the alphabet, and there is also this gold glitter in a smaller font or this swirly font if you prefer. If you hate the idea of actual glitter on your page (shock! horror!) then try this metallic gold foil alphabet instead. Same colour effect; no loose glitter.
If you're thinking more in collections than single sheets, then the three you'll want to check out this month are Hello Again by Carta Bella, What a Wonderful Day by Fancy Pants, and Travel Girl by October Afternoon.
As always, there is no subscription to this kit and everything is first come, first served. Items are not reserved in your shopping cart – if you decide to come back in a few days, they may be sold out, I'm afraid. But there is a good stock of all the items on the kit list right now. If the items you want are sold out by the time you click, you can click the 'request and notify me' button, which will register that more people want that item and send you an email as soon as it returns to the shop so you have the first chance to get it. International orders, if the shipping on your box is different to the amount you paid at check out, open a customer service ticket within thirty days and the excess will be refunded. All of the links in this post are affiliate links to Two Peas in a Bucket, which support this blog and allow for prizes, guest artists, and all that sort of stuff. I just ask that if you want to share this kit with others, please direct them to this post rather than directly to the store. (Any questions about any of this? Just let me know!)
Click here to shop for the August 2013 Best of Both Worlds Scrapbooking Kit


I told you August's calendar had lots in store! If you have any spare time this weekend, you are cordially invited to an online scrapbooking weekend right here. I've called this one the 'Best of Both Worlds' weekend because all the projects involve the eight kits from 2013 in some way, but kits are not a requirement to participate. You're welcome to jump right in with any supplies you like! But if you have one or many of the kits waiting to go from just paper to finished projects, then this is your chance to blitz through with plenty of ideas and examples. Call it a catch-up weekend if you like! Posts start Friday evening and go through Sunday evening, and the challenges will remain open until the end of the following weekend, so there is more time to participate if you can't join in during this particular weekend.
I look forward to sharing all those layouts and other ideas with you starting tomorrow night!

Read more about: best-of-both-worlds-kit
01 August 2013

Next post: Five Ways to Recycle Items from Daily Life on your Projects by Jessica Lohof
Previous post: The Patterned Paper Effect:: A Scrapbooking Tutorial by Tomomi Hiramaru