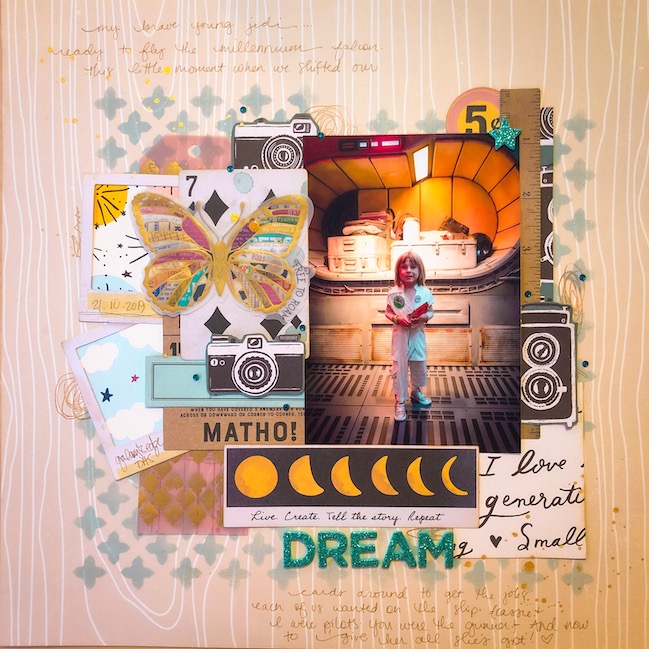 My last live video for January's kit features a Jedi photo several of you have been challenging me to use all month. Again I needed to add a background, and I chose a neutral from my first collection with American Crafts. I also added a Heidi Swapp stencil to create the background with a Distress Oxide ink from a previous kit. I love the tiny detail that the Crafty Jen Schow stamps add to the layering as well. That's something that obviously optional, but I think little tiny things like this make a big difference to my love of layers.
I know I say this in so many videos, but I really do believe you can layer and layer and layer as long as you keep most of your angles square. The only really angled piece here is that double frame die-cut over on the left edge. Everything else is either horizontal or vertical, and that means you don't tilt your head as you look at different elements. If layering is something that always leaves you a bit frustrated, this is definitely something to keep in mind. Keep everything or almost everything at right angles.
I do have some leftovers from the January kit. Not a huge amount, and no big pieces of paper. A little less than half of each set of stickers and a decent number of die-cuts. More washi flower petals. More words on the Thickers sheet, and heaps more tiny gems. I'm going to roll over the gems to work with my February kit, and I know I want to work more with the rainbow die. I will keep these extras together though, and usually after I have had a little break from these supplies, I'll have a few more ideas in how to bring them together. Lately I've been approaching these after-the-month-ends pages without filming them. It's quite a therapeutic process to work on alongside homework or homeschool, where I can scrap without needing my full undivided attention like in a video!
At any rate, our next live we move to the February kit and the March kit goes live for shopping (from a shop or from your stash). I scrap live on Facebook around 1:30pm Monday and 9:30am Friday, UK time. But everything stays available for you to watch at any time that suits your schedule.
For the supplies in the January 2021 Best of Both Worlds kit, see the second half of this post. You can create a similar kit from your own stash or add things to your shopping cart – all angles welcome!
To see the current kit, whenever you see this post, you can always find it on this affiliate link.
If you create something inspired by this scrapbook page or the kit, please tag me and add the hashtag #shimellebobw. I would love to see what you make!