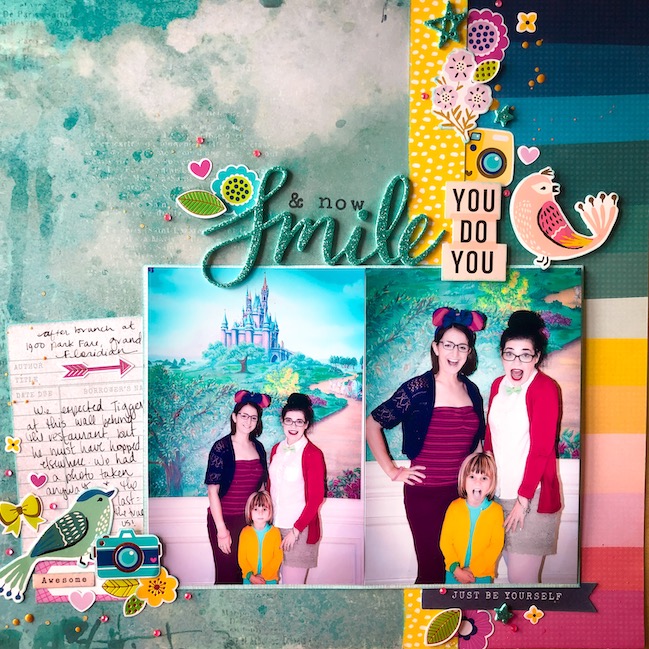 Kicking off a new month with my first video unpacking the January Best of Both Worlds kit and putting it to use to make a colourful scrapbook page! These photos always make me giggle, because the photographer posed us quite seriously and we weren't expecting that, so eventually we made sure to get an image that captures our true selves!
If you're new to the Best of Both Worlds concept, every month I share a shopping list to create a scrapbooking kit. You can follow the list in a few different ways: you can add one of everything to your cart, check out, and have the same set of supplies that I will use throughout the following month. Or you can take the list to your local scrapbooking store. If you have a local store, support them, for sure! Or you can use the list to gather similar items from your existing collection of supplies and work with your own stash without the need to shop at all. Or you can combine anything there to make it work for you – if I have a stamp in the kit and you don't enjoy stamping, for example, you just leave that out and save the cash for something you will love!
The current list is always on this affiliate link, and updates for the first live scrapping session of the month, so that's either Monday around 1:30pm UK time or Friday at 9:30am UK time, whichever falls first in the calendar! That gives about a month for my kit to arrive (I order it just before the list updates!) and a month for you to gather your supplies, and then we scrap with it when the month rolls over!
Here's what was in the January 2021 kit:


If you create a page inspired by this or using your own Best of Both Worlds kit, please tag me and add the hashtag #shimellebobw! I would always love to see what you make.

Read more about: friday-live best-of-both-worlds-kit
04 January 2021

Next post: Scrapbooking with a Mondrian Influence
Previous post: A Tale of Two Christmas Classes