I may have an unhealthy obsession with butterflies as craft embellishments. I know I use them when they are not really needed or thematically linked to the page at hand. I punch them and stamp them and cut them and glue them, and really if all my closest friends staged a butterfly intervention for me, with a big banner and heartfelt words composed in advanced to let me know that I've gone too far down this dangerous butterfly path, the truth is: I would still have a hidden stash of butterflies. They really aren't going away.
Instead, I'm up for the challenge of taking one very favourite butterfly stamp from Jenni Bowlin Studio and using it for five very different projects. So while I may be an addict, at least I value variety.
(Also, if I were a true addict, I wouldn't be able to give away butterflies – and that's just what I'm doing at the end of this post, so don't miss out.)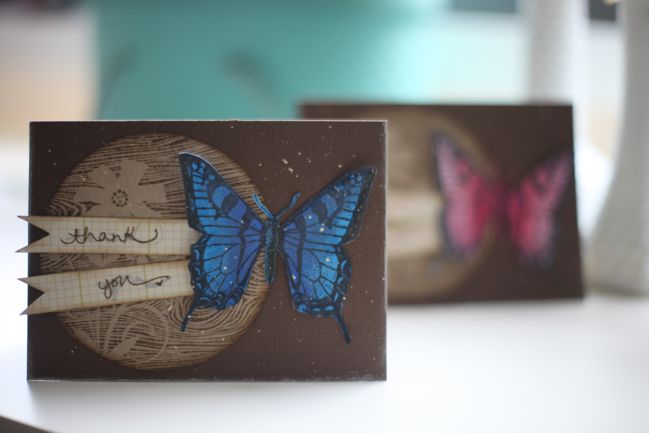 Mix with another stamp for a card
I love how the butterfly stamp is just the right size to make a dramatic flourish for a card, and it's a similar size to the Flower Wood Background stamp by Hero Arts. For these cards, I stamped the butterfly in black ink on smooth white cardstock and coloured them with Copic markers for lots of rich colour, and spritzed them with Chalkboard Glimmer Mists for some shimmer too.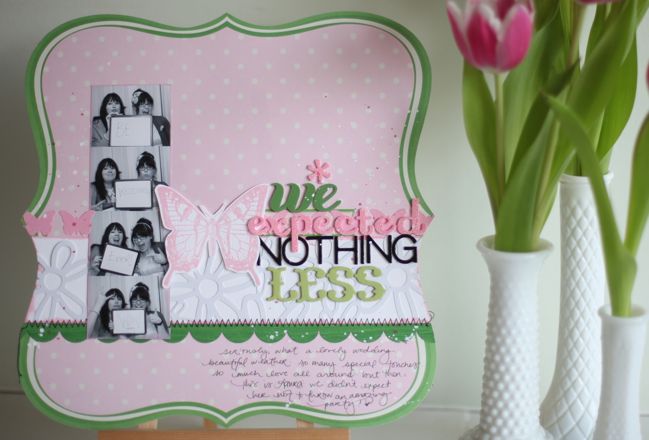 Embellish a scrapbook page
If you like pages where a bit of embellishment goes a long way, this stamp will be your best friend. I love how it looks when stamped in colour on white cardstock, and it's easy to cut out with scissors. I thought it would be a ridiculous mess but really it cuts quite simply.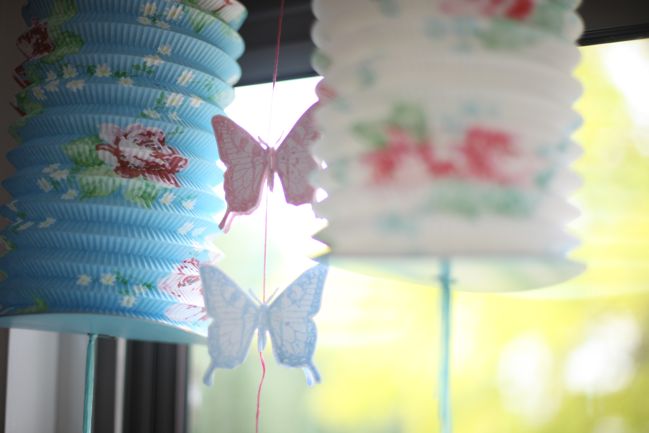 Make a butterfly garland
If you really fancy cutting out butterflies, try stamping and cutting two for each butterfly in a garland. You only need antennae on one in each pair. Then cut a slit halfway through the body – from the top to the middle on one and from the bottom up to the middle on the other. Then you can slot the two together for a butterfly garland that is both dimensional and delicate. Make several and hang them in a circle if you prefer a mobile to a garland, or make just one and attach it to a card or parcel with some pop dots to hold it in place.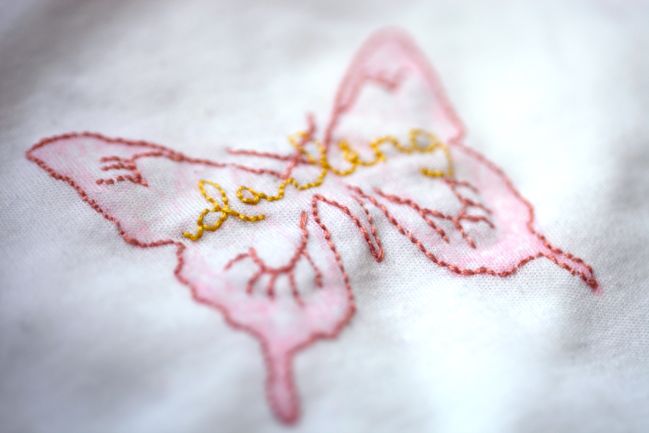 Stamp and embroider
Stamps make perfect embroidery patterns, and it's easy to customise any bit of fabric by stamping the design then stitching the outline of the design. For this design, I stitched the outline plus a little bit of detail from the butterfly, then filled the centre by pencilling in a word and stitching over that.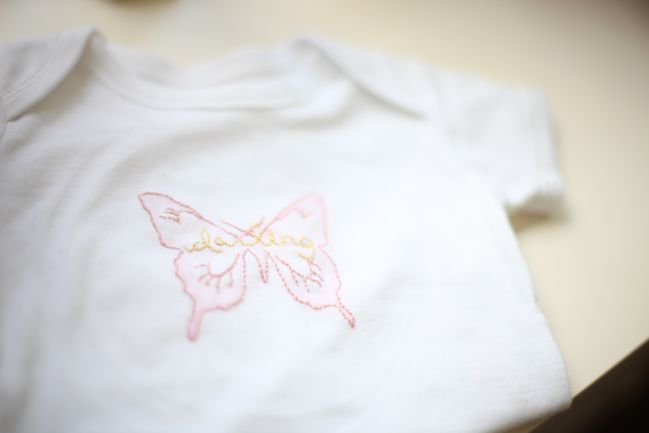 You can see more notes on this embroidery project here on the Jenni Bowlin blog and you may also want to check out this different take on embroidering another stamp by Kerry Lynn Yeary. It's lush, even if it's not a butterfly.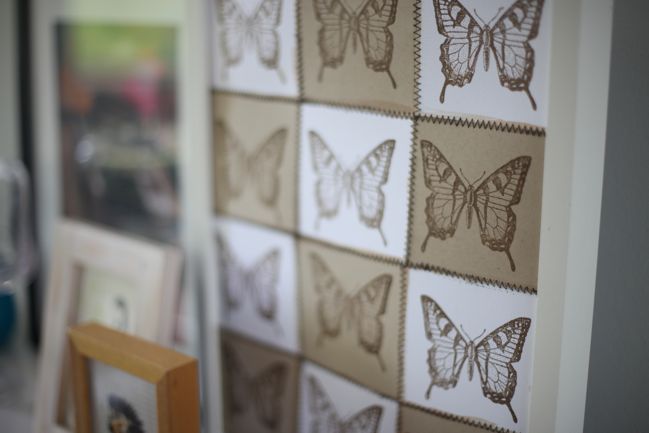 Stamp, repeat and quilt
I love stamps that are interesting even when they are stamped simply and even when they are repeated. This project is super simple but makes a great gift. Cut twelve squares of cardstock and stamp a butterfly on each. Ink or paint the edges if you like. Then sew it all together with a zig-zag stitch and pop it in a frame. You can create it in any colour scheme, so it's a lovely housewarming or new baby gift.
Okay… so here's the deal: to prove I can let the odd butterfly go, I have a butterfly giveaway today! Just comment on this post to be entered to win a gift pack from Jenni Bowlin Studio that includes this butterfly stamp, butterfly chipboard and some other butterfly goodness that can wing its way to you! (And I'd really appreciate it if you wanted to share this post with anyone you know who is also bordering on butterfly intervention. We need a group, right? Thanks.)
And this isn't even the regular weekend giveaway – there's one of those coming tonight too. Goodness gracious, giveaways!
xlovesx

Read more about: jenni-bowlin-studio
27 May 2011

Next post: Scrapbooking Giveaway Day
Previous post: Scrapbooking sketch of the week