Not that long ago, Wendy Sue Anderson shared a tutorial here for a washi tape frame, so this picture might look familiar. It was this image that flashed into my head when I found the new washi tapes by Jenni Bowlin Studios in my hands: how lovely all the different coloured prints would work for the patchworked layer, topped by the elegant whitewashed woodgrain tape that is my favourite in the entire collection.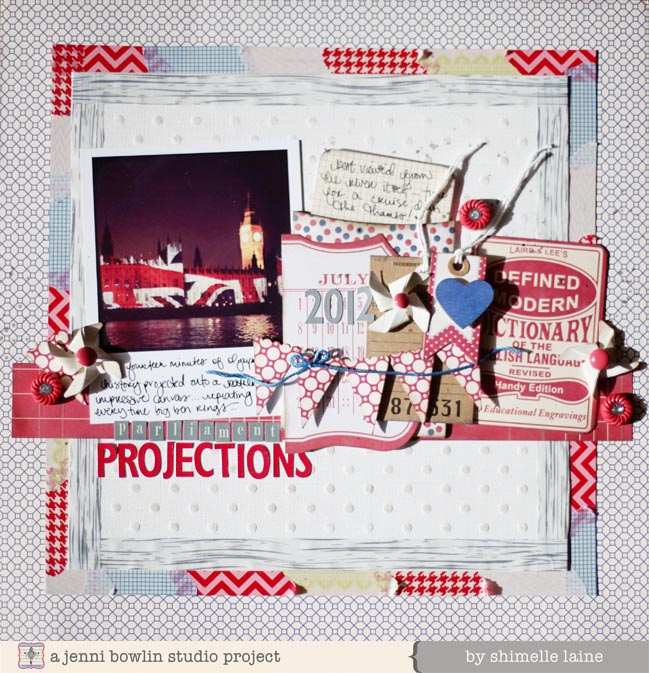 This was the result, and it's a look I can see myself repeating now and then for a colourful twist on the square page design I like to use when I need a creative kickstart. It includes all six designs from Jenni's tape collection, then I started digging through all my JBS supplies pulling out anything that caught my eye in red, blue, or grey. Two of Jenni's punches went into the embellishment too: the pinwheel and the banner flag. There's a heart punch in there too, to make it coordinate with the page that sits opposite this in my album.
(Oh, and do excuse my excitement over those harsh shadows on this page. While they aren't the loveliest thing in photography ever, they are evidence of the fact that we have experienced some bright sunshine in London lately! That's reason enough to pitch up a flag and pack a picnic, I do believe.)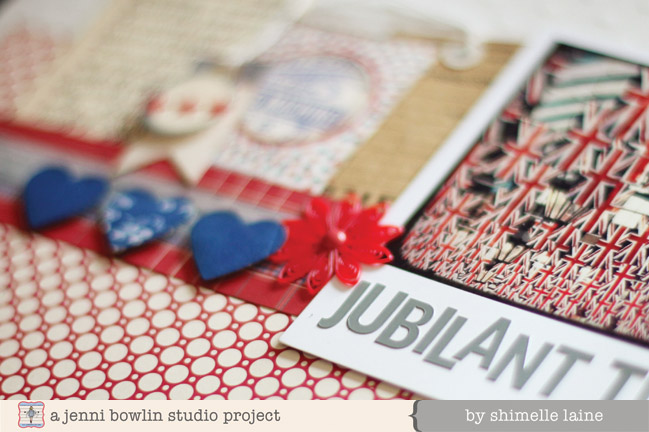 Here's a little look at that facing page, with all the blueprint hearts in the design. You can see the full project and pick up another quick tip for using your washi collection on the JBS inspiration blog.
If you have tried Wendy's washi tape frame idea, do share your results with us! If you're thinking about it, you can find that tutorial here, ready to be customised to any colour and style of page you so desire.
Happy scrapping!

Comment [10]