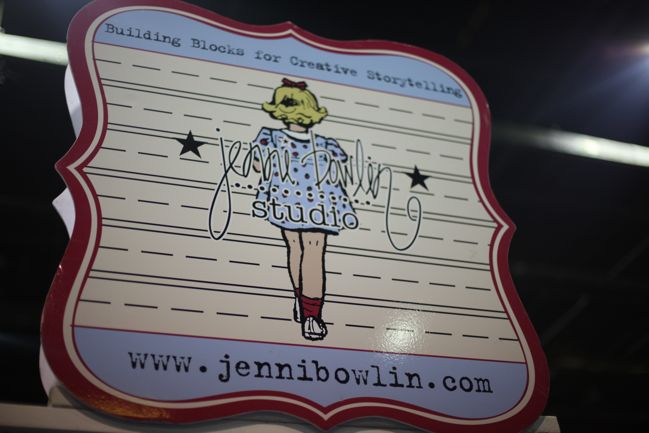 CHA Summer 2012 is officially open for business, so I'm going to jump right in with booth-by-booth coverage for the next couple days, starting with my favourite in the scrapbooking world: Jenni Bowlin Studio.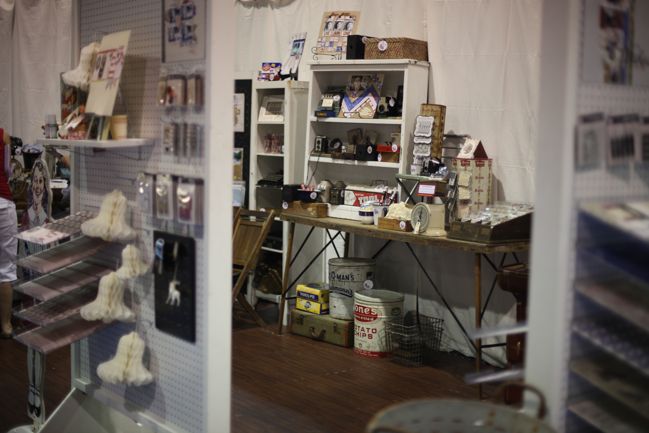 I always love how Jenni displays all the supplies and samples with her beautiful vintage finds. It's like a little treasure trove and no one else has this kind of vintage detail to their styling. But let's look at the products, shall we?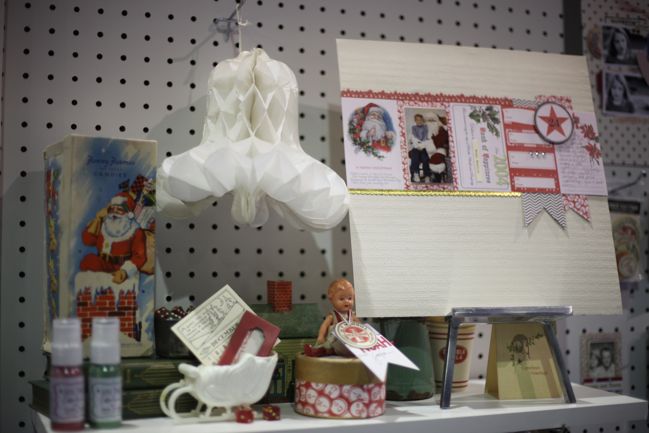 Some Christmas gorgeousness to start! If you haven't created a page with a row of JBS journaling cards, put it on your to-do list now. It always looks so delicate and perfect!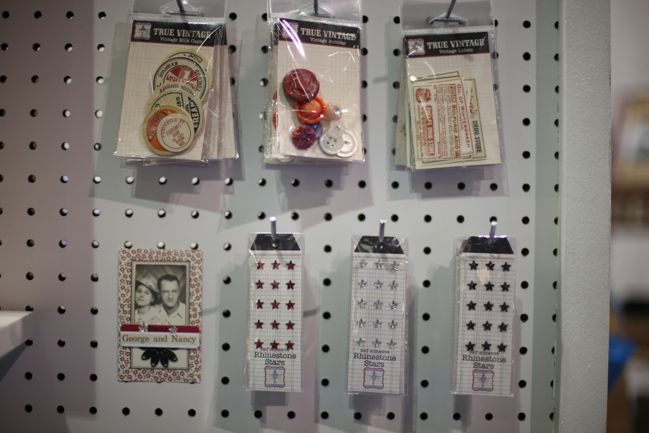 Two groups of tiny things that I love: the True Vintage collection at the top – small packs of actual vintage goods including milk caps, buttons and labels. Then in the non-vintage side, tiny adhesive rhinestone stars in three colours. Definitely need these for my Christmas journal this year, and probably for everything else too.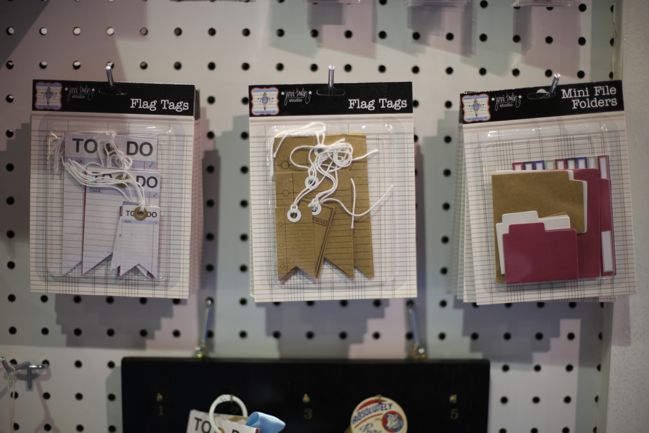 New paper embellishments include the flag tags in white and kraft (to coordinate with the tags and pockets released earlier this year) and mini file folders, complete with tiny coordinating labels.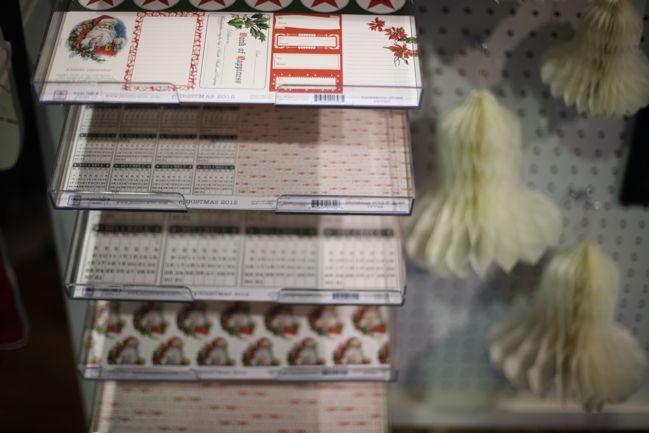 The Christmas 2012 papers include a cut-apart sheet with journaling cards, a sheet with 6×6 patterns on a 12×12 sheet, a page of December 2012 calendars (perfect for journal accents or for cardmaking), and full-page 12×12 designs.

The top of the journaling card sheet has countdown numbers for Advent. Love these bold stars!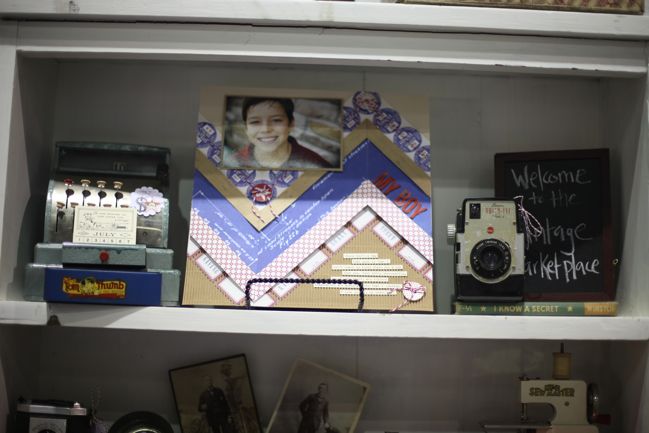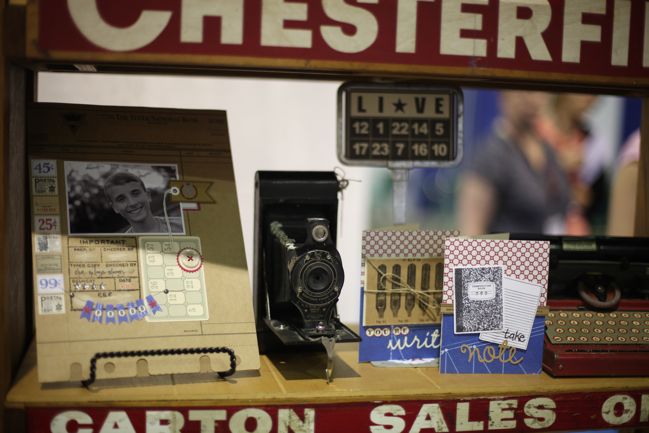 See what I mean about the detail in Jenni's styling? Gorgeous pages from the design team, gorgeous scenes for the display. Sigh.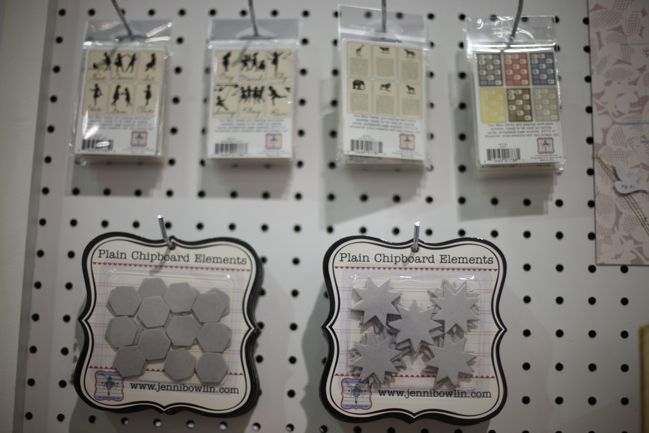 Four new mini card packs and two new chipboard shapes: hexagons (to match the stickers released earlier this year) and eight-pointed stars.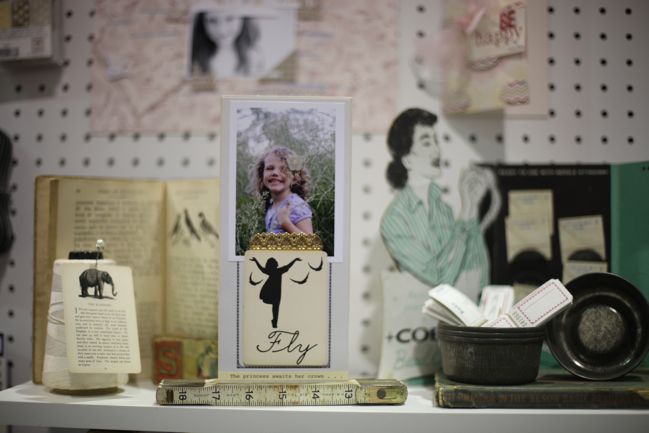 Here are the mini card designs actually in focus!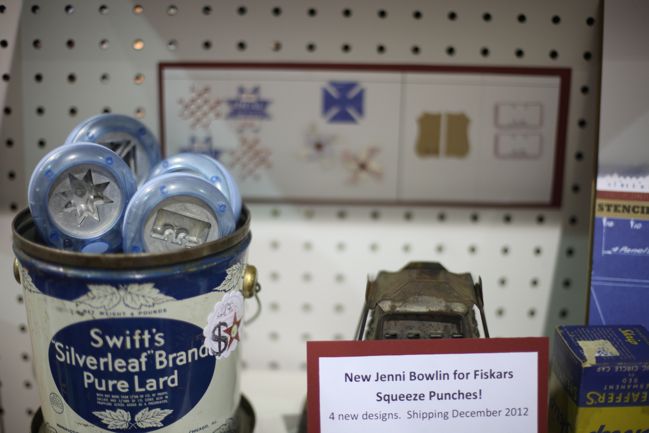 Jenni has also added four new Fiskars punches to the line-up, all in the squeeze variety this time around.

The designs include that same star in the chipboard, a split square that makes perfect pinwheels, an artisan label and an index card. Keep in mind these are small designs – perfect for tiny details.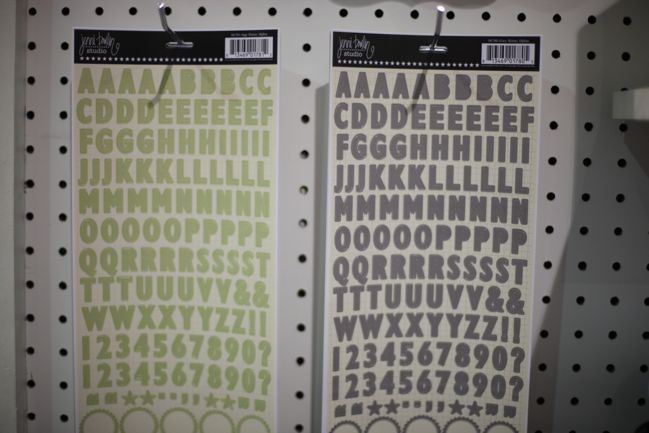 But you know it is sometimes the simplest things that make me the happiest, which is why I gasped in delight at this: grey JBS letter stickers!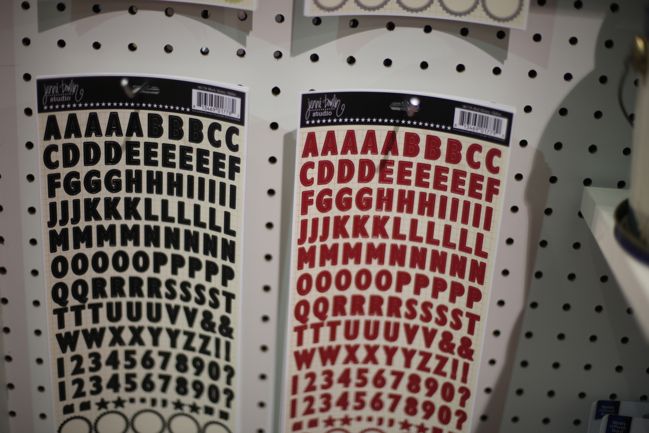 Also in red and black, of course. Love these. Great size, they include numbers and they have cute labels at the bottom of the sheet. Sold.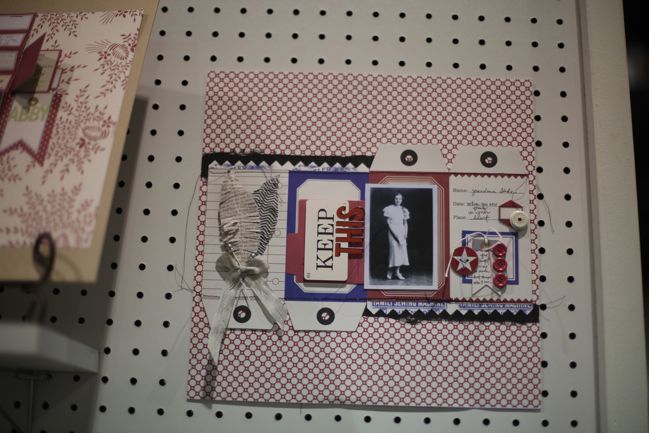 I can't add commentary to this. It's just so very pretty.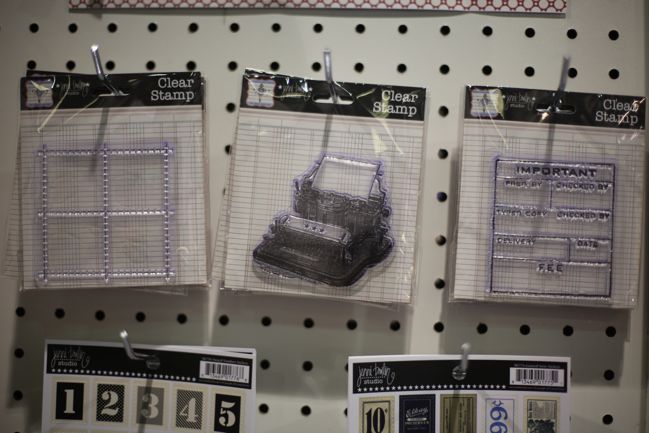 New stamps include this stitched grid (amazing for adding your own tiny embellishments inside), a typewriter and an important memo.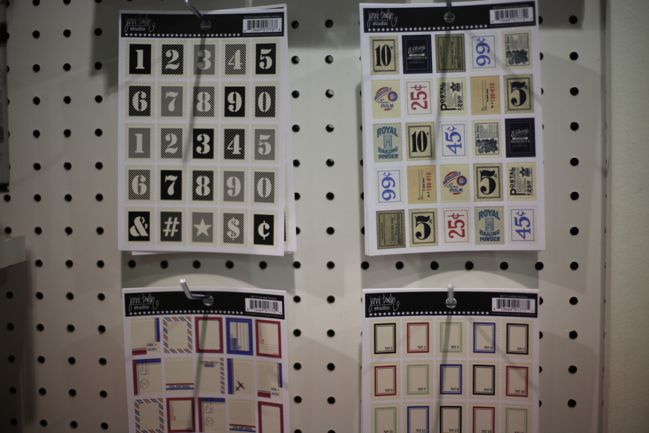 A new shape to Jenni's sticker line-up: postage stamps! In four designs. Love the airmail look of the red and blue.

Here's the paper from that pretty page above. It's a red and blue print in the die-cut paper line. Cut it apart or keep it together and fold it up to create a mini project. Can't really go wrong with this – very classic and clean in design.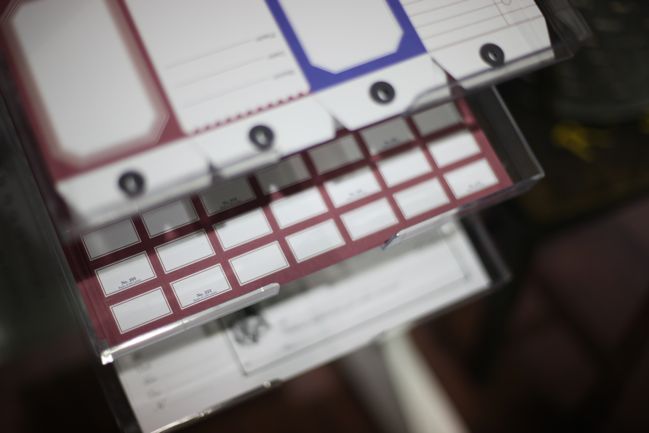 Love the red label sheet in the die-cut paper line too. An entire sheet of labels to embellish anything that will sit still. Sounds good to me!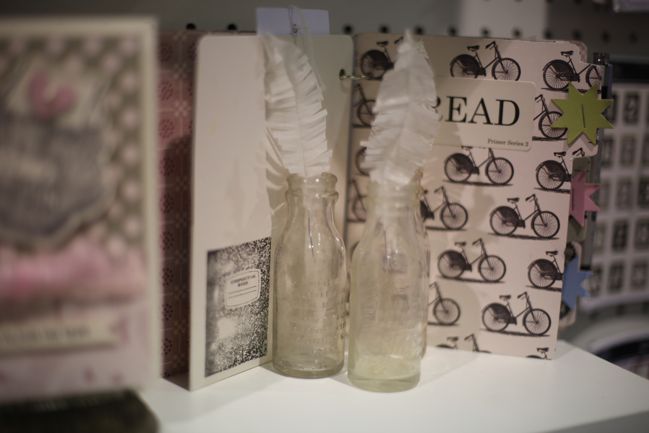 Pretty paper feathers!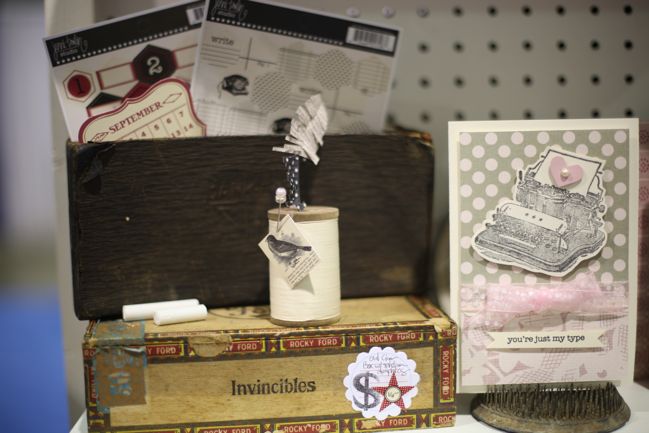 Love that typewriter stamped – doesn't take much to go from that stamped image to a perfectly finished card.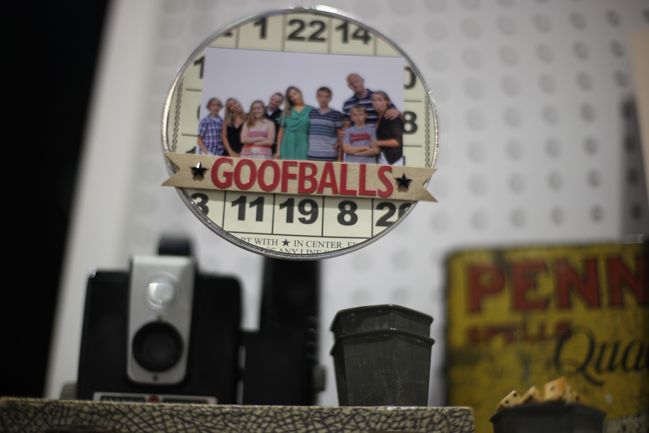 This made me giggle in its fabulousness: a photo displayed in the flashbulb of an old camera! Love it.

A look at those red perforated labels in use, with plenty of pop dots.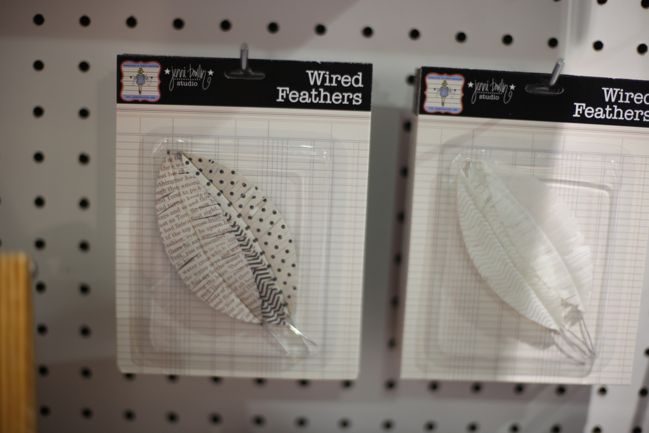 The paper feathers look like this up close – in prints or plain.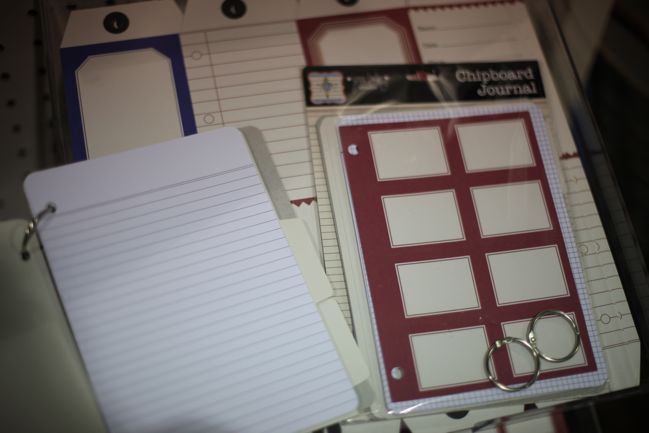 There are lots of new journal products on the show floor, and Jenni has one too: the chipboard journal comes as a pack with chipboard covers, tabbed index pages and paper pages in a variety of lines, ledgers and grids. Plus the two rings to hold it all together.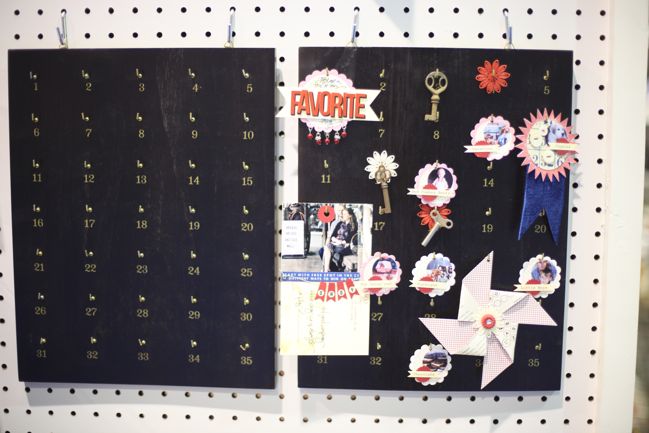 This hotel key holder was released at the winter show but just started appearing in stores and it's so pretty, I figured I could show you again!
One stand down, a bunch more to go… what's your favourite item from Jenni's new release?
Click here to shop for Jenni Bowlin Studio products or here to join Jenni's monthly kit club, JBS Mercantile.
xlovesx

Read more about: jenni-bowlin-studio
17 July 2012

Next post: CHA Summer 2012 :: October Afternoon
Previous post: CHA Winter :: Simple Stories