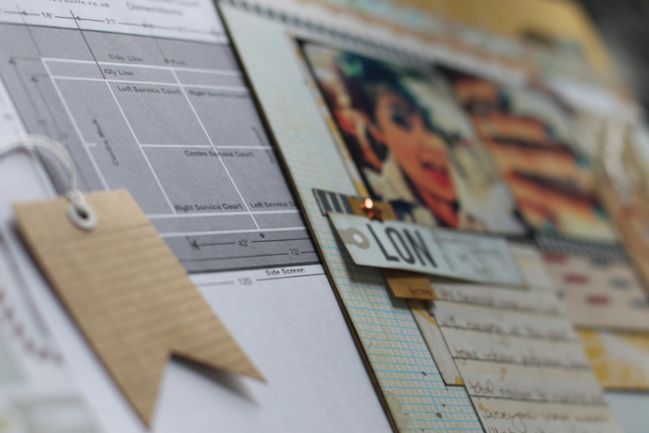 Just as I'm trying to get back to my real post-Olympic life, here comes an interesting challenge: make a page from a sketch, she says. It's really simple and geometric, she says. It's a diagram of a tennis court, she says. A TENNIS COURT? Yes. And there you have a new sketch to scrapbook page project with a twist, for the JBS Summer Games – something that is still ongoing and still has time to win some amazing prizes.
So yes: this page starts with a tennis court diagram as the design sketch, and by the end it looks… pretty much nothing like that. But have a look anyway!

For this project, I used pieces from the JBS Mercantile August kit plus a few other JBS supplies – some label stickers, a butterfly rub-on and one of the new flag tag embellishments in kraft.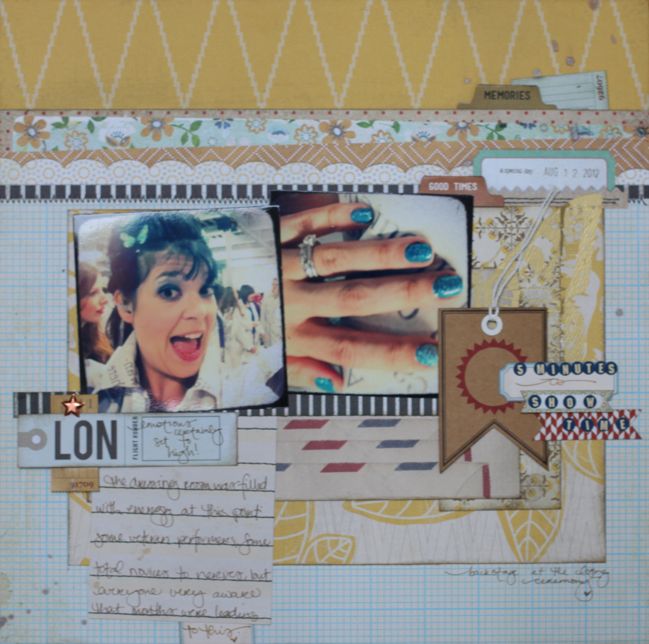 I know that photo is ridiculously cheesy, but it was so perfect for all the crazy energy of that moment so I make no apologies for the cheese. In fact, I'm planning to scrapbook it more than once, as I'm thinking this page will go in my regular yearly album and I'll also include it in my upgrade album all about my experience with London 2012. (Upgrade album? I promise it's not mumbo-jumbo: it's what I call any album on a specific topic that deserves its own book in a whole and thought-out way. It's something I talk about at a ridiculous length in Cover to Cover, if you find it intriguing!)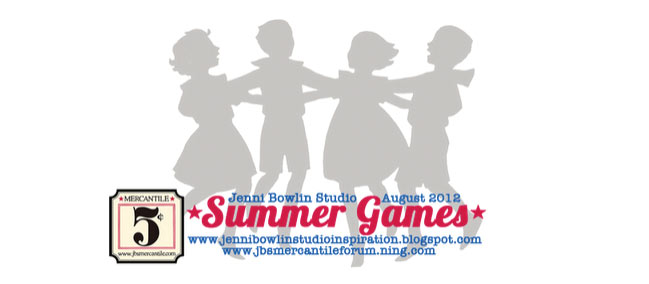 Several JBS designers took on this tennis court challenge, so do check out the projects by Megan Klauer, Waleska Neris, Doris Sander, Leah Farquharson, Jill Sprott, Louise Nelson and Betsy Sammarco. There are three amazing prize packages up for grabs in the JBS Summer Games, and entries are open until the 2nd of September (details here), so grab a bit more summer inspiration and a picture of a tennis court and get crafting! (To enter, use either a JBS Mercantile kit or at least three Jenni Bowlin Studio products on your project.) I'd love to see what you create!
By the way, if you love Jenni Bowlin Studio products, there is a rare opportunity right now to apply for the brand's design team, the JBS Ambassadors. Find all the details here. The call ends on the 16th of September. Good luck!
xlovesx

Read more about: jenni-bowlin-studio jenni-bowlin-studio
28 August 2012

Next post: Glitter Girl and scrapbooking with ombre techniques
Previous post: Gardeners' Digest scrapbooking blog hop (August 2012)