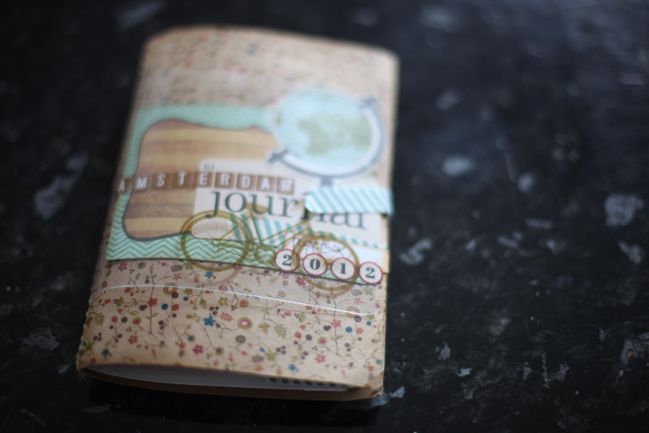 Last month I had so much fun shopping for supplies to design the minibook crafting kit for Jenni Bowlin at JBS Mercantile. And apparently the Mercantile subscribers thought it was pretty fun too, as it sold out before I even had a chance to blog about it! (Thank you!) But today seems like pretty good timing to share my finished mini, considering most of this was created outdoors or at the very least on the road… and that's exactly what we're discussing on the latest episode of the Paperclipping Roundtable!

You can listen here by pressing play or you can listen via streaming or download on iTunes (it's free to subscribe on iTunes and get each new episode as soon as it's available). Check this post for post-show discussion in the comments.
This week Amy Tan and I were the guests of the regular crew of Noell, Izzy and Nancy to chat about scrapbooking and crafting outdoors, and there is some humour in how all of them live in much warmer climes but I will take any chance to scrapbook outside that I can! But I think that is part of living somewhere that isn't always sunny – we all head straight out the door as soon as it's a lovely day, just in case there isn't another for weeks! I definitely see that attitude in our local park… it's just that most people take a picnic or a football out for their sunny day, while I tend to bring a scrapbook page! (For the record, this still works even if The Boy and I head out together – he takes something to read and I cut and paste It works.)
In the episode, we talk about what we scrapbook outdoors, and I'll certainly work on 12×12 pages without any trouble, but in this case it was a travel journal, filled in as we went, sitting outside in parks, at cafes, on the train and so forth. I started with this kit but if you wanted to assemble something similar, you can find almost all of those items here so you could pick and choose if you already have some elements in your stash. (By the way – I also made a few 12×12 pages from the kit in addition to the minibook.)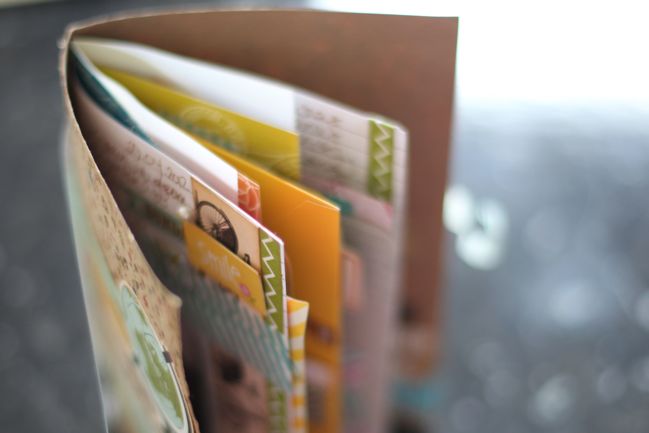 The base for the book is one of Amy's Daybooks – my pick of the week on the Roundtable. (There are several styles available here.) It comes prebound with a variety of pages inside – different shapes and patterns and colours, plus an envelope and sticker sheets. The bicycle cover is my favourite because the sticker sheet is a tiny alphabet, perfect for adding titles and captions as you go.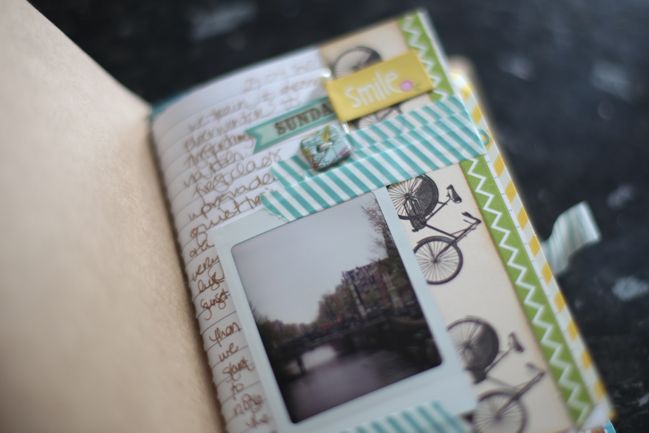 I used my DSLR to take photos throughout this trip, and printed them on the road with a Pivi printer – a tiny little gadget that attaches by cable to a digital camera, then prints the digital image as an instant photo, like a mini Instax. (I love the Pivi but it is a real treat – they are only widely available in Japan. I bought mine from an international seller on Ebay and stock up on the film packs the same way. The film packs are different from what you would put in an Instax camera, so importing is the way to go. But it is fantastically fun!)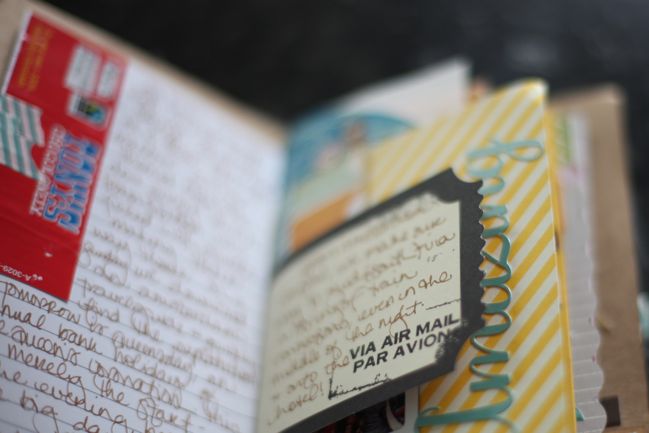 I love that the Daybooks are small enough to pop in my handbag or the pocket of my backpack but they can work with that same philosophy of a Smash book – just sticking in bits and pieces from daily adventures then surrounding them with writing. The wrapper at the top left was from the chocolate in our hotel room.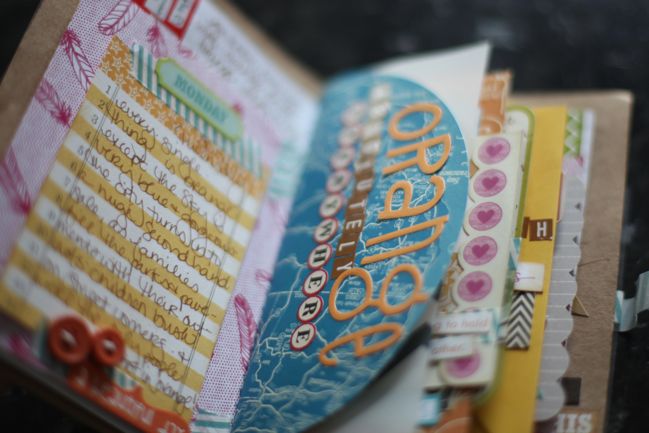 A sheet or pack of small journaling cards goes perfectly for writing along the way… and if you're really crammed for space you can just keep some journaling cards with you all the time and add them to a book when you get home.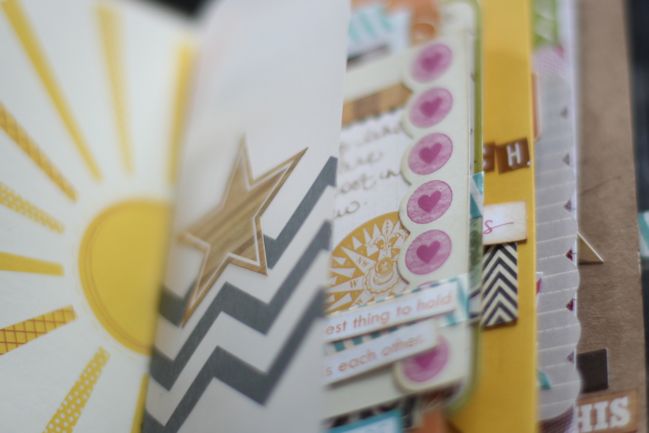 I like keeping some of the more designed pages as accents – like just adding a woodgrain sticker to the vellum page.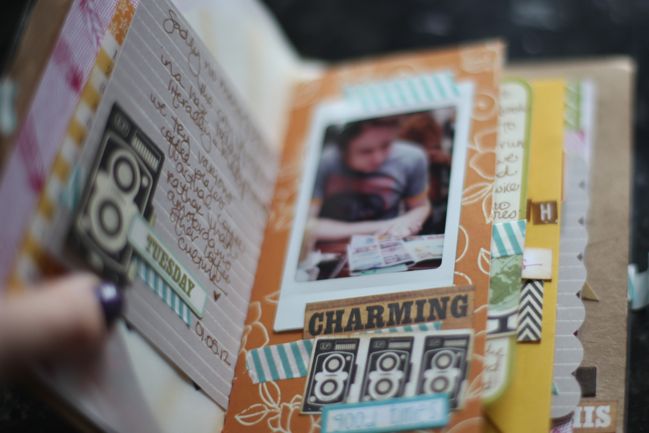 Page design concepts from traditional 12×12 scrapping can still come in useful on tiny little pages… like repeating a motif from one side to the other. The large camera here comes from the sticker sheet while the smaller cameras are part of a border strip. It makes it more obvious that the writing on the left corresponds to the photo on the right.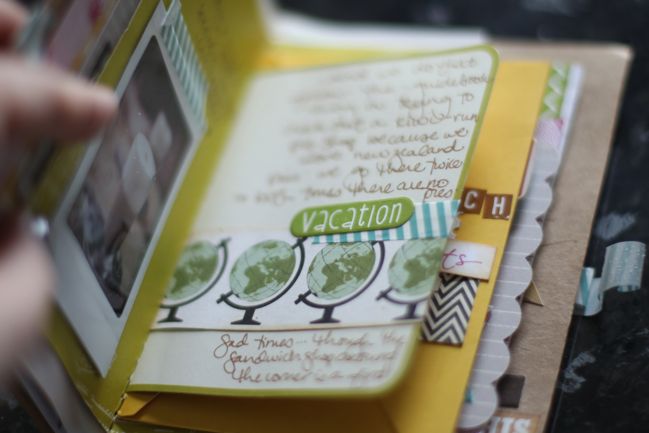 Washi tape is a great component to any travel journal kit because you can just stick anything in the book but still have the freedom to move it around later… plus it's cute enough to use as an accent layer too. So you'll see a lot of that turquoise striped tape showing up throughout this book, but I love how it's both practical and a design element with continuity.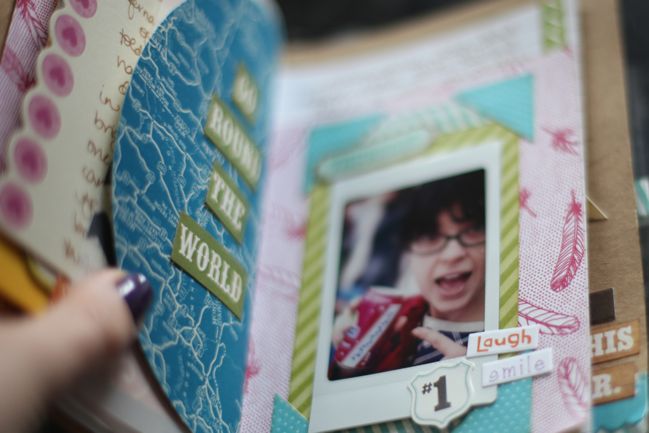 Cutting up border strips with printed phrases can create something new. For the map at the left, I cut out the words from the phrase 'you make my world go round' and rearranged to say 'go round the world'. Because believe it or not, ridiculously super sweet Surinamese/Dutch soda does not make my world go round. (But it does make for a funny story I wanted to include in the book!)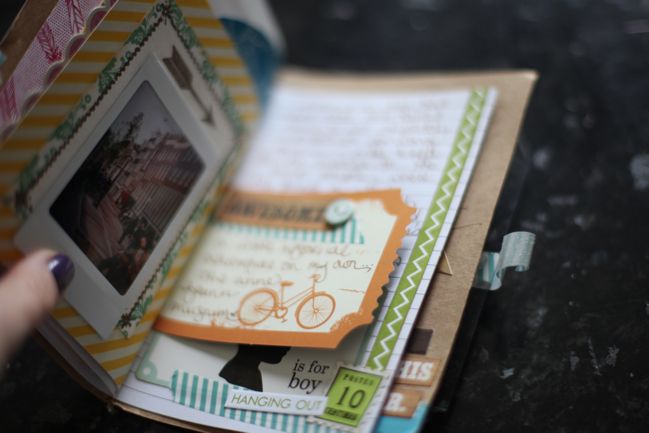 The balance of page sizes and types in this book is just right, so there are pages that look great with just a photo or a phrase, but there are others that include plenty of room to write about the adventure.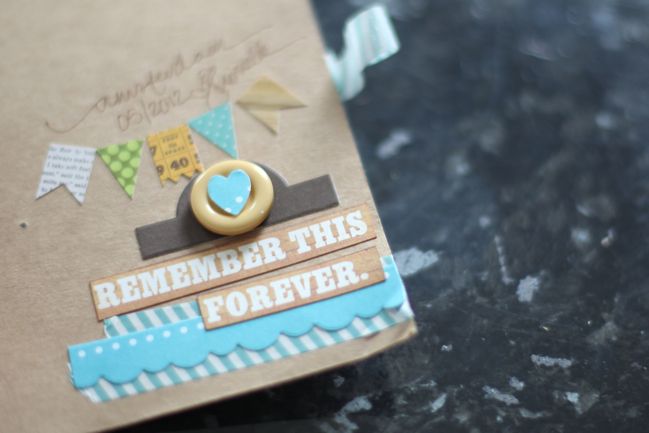 And that's that!
By the way, you can still grab one of the other kits from Mercantile for May – the main kit is here and there are a few left. I'll be back soon with a video to show you what I've been making with that!
Have a fabulous weekend!
xlovesx
PS: for those of you who have listened to the episode – would you like to see what I keep in my lunchbox for outdoor crafting? I don't always use this because I tend to just take my basics if I take page kits, but it's what I carried for years before I committed to packing ultra light!

Comment [16]