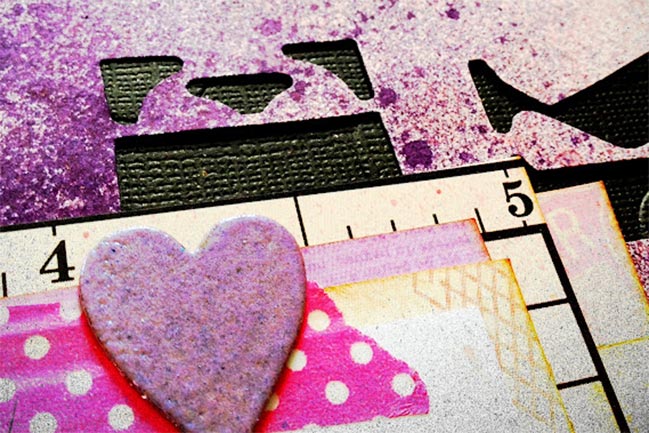 This next challenge was so much fun for me – permission to try something new and just not worry about whether it worked or went wrong. Think you can give that a try? I promise you don't need to be this inky necessarily – in fact what you decide to try is up to you!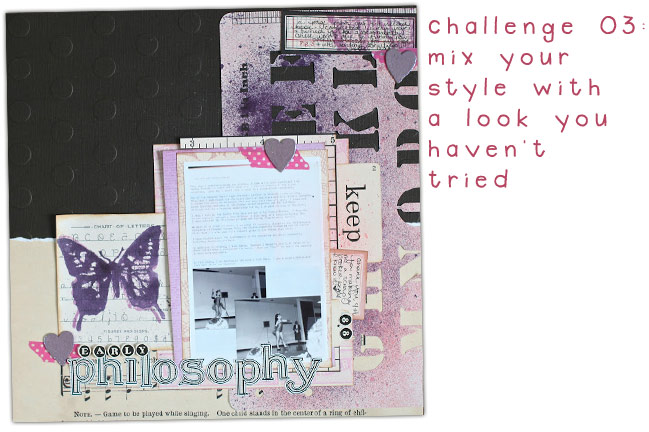 One thing I absolutely love about scrapbooking is how there is room for so very much. If you like simple, you got it. If you want to be layered, no problem. If you want to spend hours, if you want to be messy and inky, if you want to stamp or sew or write or type, if you want to use a dozen photos or just one: every single style is completely welcome here. As a result, there are plenty of scrapbookers out there with very different styles to my own, but I still love what they make.
For this challenge, it's time to choose one of them – either a specific person or a style – and mix it with your own.
For my page, I took inspiration from Dina Wakley and mixed her inky, artsy style with my own love of layers and butterflies and such. See this post for more details on my creative process learning from Dina and applying her look while remaining true to my favourite things in my own scrapbooking routine.
Now it's your turn! Choose a style or a scrapper you admire but with a different look to your own pages. Mix something from that with your own style to create something new. Upload it to a page gallery (like Two Peas or UKScrappers) or your own blog and link to it here to enter to win this challenge. Entries should be new projects created in response to this specific challenge and entries close at the end of next weekend!

Read more about: online-scrapbooking-weekend jenni-bowlin-studio
13 April 2012

Next post: How do you use washi tape in scrapbooking?
Previous post: Where do you find inspiration?