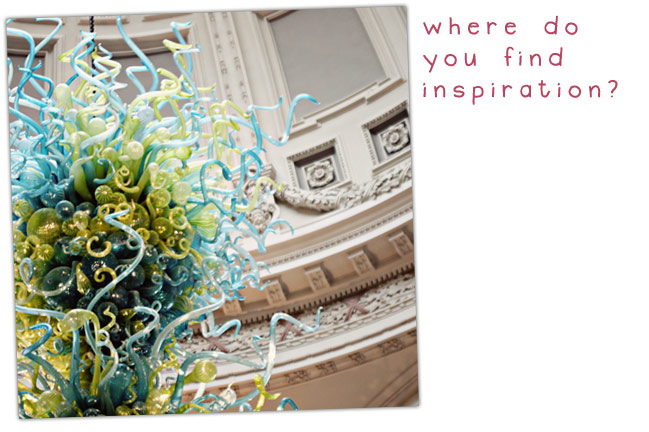 This question came up in the list earlier this week during the 10 Things Q&A, but it was too far down the list to make it into the ten answers. That's okay, because this is a question that would benefit from all of your input too!
The question: Where do you go to find inspiration?
But we don't mean taking classes or reading a magazine or browsing a gallery in this case. Those are great ways to find scrapbooking inspiration, but let's focus on something bigger than that. The kind of inspiration that makes you feel right again, from the tips of your toes to the top of your head. The kind of place that can be your own personal reset button, and when all of life seems to go topsy-turvy, that place will always be there for you.
Here in London, that place for me is often the V&A. There are many museums and galleries I love here, but the V&A is a vast treasure trove of amazement. I have been dozens of times and there are rooms I have not yet entered – something entirely purposeful as I like to ration them so I haven't worn out the place. I almost always go there alone, though I have been known to meet friends there for coffee or lunch. I start with my favourite rooms and the pieces I've seen so many times, like paying a visit to an old friend who can't leave her house. Then I wander without looking at the signs and just find my way to something I haven't noticed before and get lost in all the details. I turn my phone off when I'm here. I don't write or sketch (though I admire the work of many who do). Sometimes I feel like I don't breathe. It is a beautiful place to be still and imagine all that has been there and what will be there in the future.
And yes, I know I am over the top and it seems cheesy to say I don't breathe. Clearly I do. In case you haven't noticed: I am over the top in life. It's just who I am. Bring me the big, the crazy, the emotional, and I will say yes, yes and yes. So when it comes to finding creative inspiration, I say yes to the V&A.
(Also the Natural History Museum is on the same street and it has something even more over the top than me: DINOSAURS. I love it there. But the V&A wins out because it has never tried to become falsely modern. The Natural History Museum has swapped dioramas for computer screens and modern techno stuff and I prefer my museums to feel a bit… old.)
Other favourites: listening to anything at St Martin in the Fields, sitting at the quiet end of Brighton Beach, walking the South Bank and going into anything that seems lovely that day – like the Tate Modern, the Haywood Gallery or window shopping at the Oxo Tower, and for my little daily boosts, Greenwich Park. It's right on my doorstep so I go there more days than not, and it's at the top of a big hill with a view of so much of the entire city, with lots of old and new all there together. And there are deer. And I'm quite worried about what my soul will do while the park is closed to the public for six months this year (it's hosting the Olympic equestrian events) as I really do find it a place important to my sanity.
So that's enough of me: share your answer. Where do you find particularly inspiring?

Read more about: online-scrapbooking-weekend
13 April 2012

Next post: Scrapbooking Challenge :: Mixing Styles
Previous post: Scrapbooking Challenge :: Mix Three or more paper collections