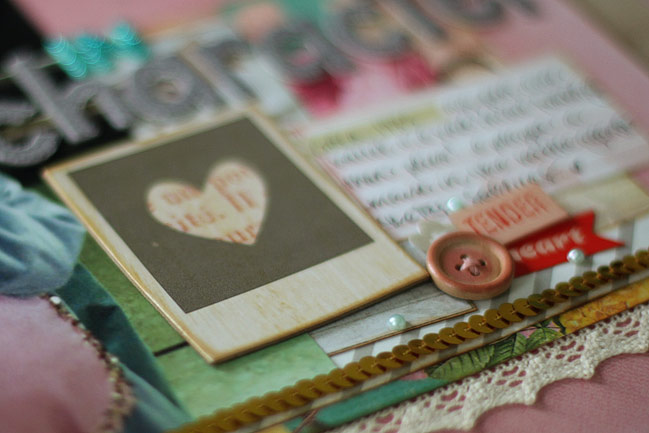 Did you catch the theme in the most recent Glitter Girl Adventure that I may have a habit of mixing manufacturers to create the page kits I like the best? Now it's your turn to create a project doing just that: mixing it up.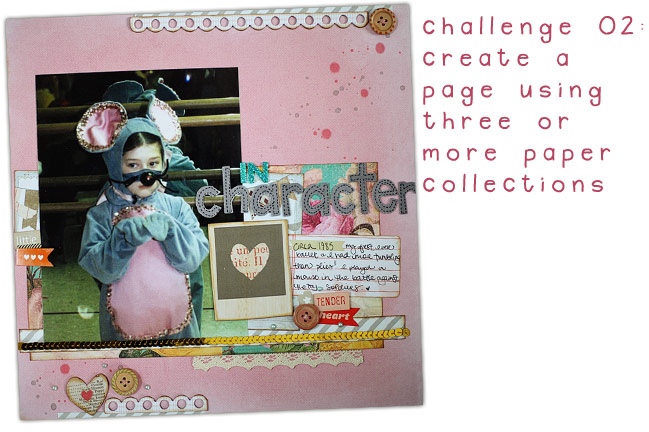 For this page, I started with a background paper from the new Heidi Swapp collection, and the bold floral across the middle is also Heidi paper, so it's not that I have anything against using more than one thing per collection. But if I break down the rest of what's there, the grey stripe, the polaroid paper with the bunting and the chipboard border are all from Rhonna Farrer's Follow your Heart collection for My Mind's Eye, the buttons, chipboard shapes, journaling sticker, sequins and word stickers are all from Dear Lizzy Neapolitan and the letter stickers are from the two different Amy Tangerine collections. Each of those collections has a signature look and they aren't an obvious matching, but when I started mixing them on my desk, I came up with a combination I liked and just started cutting and pasting!
By the way: notice how this page really only has a tiny bit of journaling? Two sentences that pretty much tell what is relatively obvious from the photo, given a little bit of context. It's a start – but I'll come back to this before the weekend has finished.
For your project, you can scraplift if you like or you can create any design you want! Totally up to you. But you must use products from at least three different collections on your page. Upload it to a page gallery (like Two Peas or UKScrappers) or your own blog and link to it here to enter to win this challenge. Entries should be new projects created in response to this specific challenge and entries close at the end of next weekend!

Read more about: online-scrapbooking-weekend
13 April 2012

Next post: Where do you find inspiration?
Previous post: How do you store your Thickers and letter stickers?