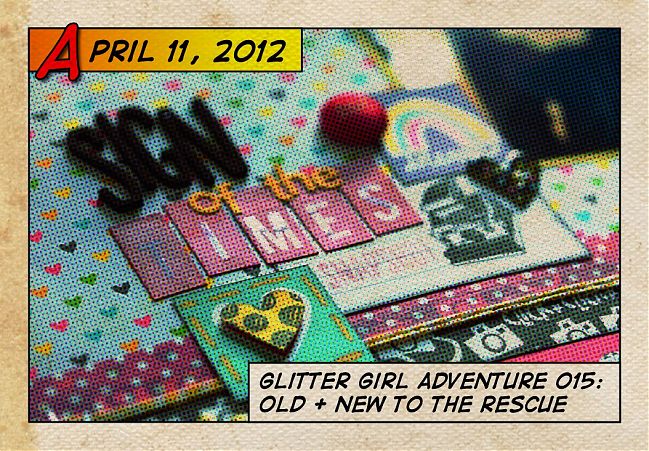 Class content ©twopeasinabucket.com.
This week Glitter Girl is on a mission to help you get more pages from the older supplies you've saved for a rainy day, by finding current collections that complement some of your old favourites. This all started with this message board thread about Love, Elsie papers, but Glitter Girl threw in a few other favourites too, like Narratives and Scenic Route.
In this adventure, Glitter Girl put together several page kits mixing old and new supplies, but she only made one layout in the video. Don't worry: she let me take the page kits when she was done, and those layouts will all be shown as part of this weekend's online crop! Plus you can view all the product selections mentioned in the video here – just scroll down below the video. (You can also find the video she mentioned on creating a loose line of embellishments on that page.)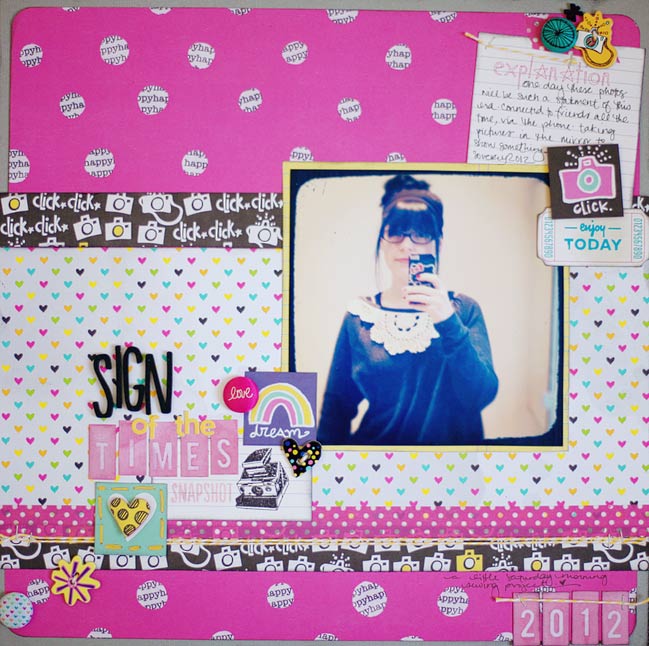 For this page, I mixed older papers from two different Love, Elsie collections with brand new collections like Amy Tangerine Sketchbook, the latest Studio Calico stamps and some new Heidi Swapp letter stickers. The layout itself is an idea that has been brewing in my mind for a few weeks – the idea that someday people will see photos from this era and see certain things that just suddenly were normal in pictures – like holding your phone in front of a mirror. In this case it was to share a sewing project I'd just made, although the writing on this page is about how that will seem a bit funny that all of the sudden pictures taken in mirrors with a visible phone or camera would be quite normal, it was the link between the project in the photo (this tutorial featured on Elsie Larson's blog) that made me think of the Elsie shelf on my paper rack. Of course, no one other than scrappers themselves could ever make that connection, but that's okay: it's just how I got from A to B.
(For the record, that sewing project is even easier than it looks. I ended up using a fine-gauge, light-weight knit sweater, so I couldn't leave the neckline as unstructured as the tutorial. I cut off the neckline then stitched it back on, with some pink satin piping between the two. I just used one doily – I stitched it once while whole, trimmed of the third that was over the edge and stitched that piece into place, then reattached the collar with the piping in between. The starting and ending spot for the piping wasn't completely tidy, so I stitched a button over the top to hide it. And people always comment on the button being so cute, which cracks me up. It is only there because I messed up, really. Please keep my secret.)
Looking for more examples of pages that mix old and new collections? You can find a list of links here.
Now it's your turn! What older collections have you been keeping for something special? This week Glitter Girl challenges you to mix your older supplies with something more current. Take a photo of your project and upload it to Two Peas and check the box for the Glitter Girl challenge in step four of the upload process to share it with us all – and you're also welcome to share a link in the comments here if you fancy!
Onward, covered in glitter, my dear scrapbookers!

The Adventures of Glitter Girl is a weekly series on Two Peas in a Bucket, and goes live every Wednesday. I'll share each adventure here shortly after that. I hope you enjoy her quests for crafting happiness, and if you ever have a scrapbooking dilemma yourself, you can always call her to action on the message board.

Read more about: adventures-of-glitter-girl two-peas-in-a-bucket
11 April 2012

Next post: Welcome to the online scrapbooking weekend!
Previous post: 10 Things :: April 2012