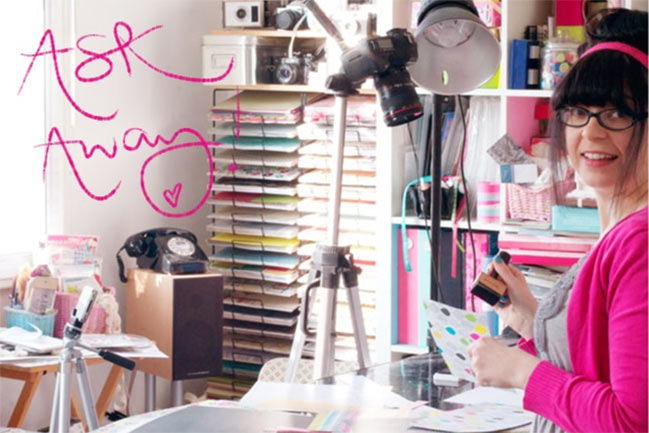 Shaking it up a little for my 10 Things post this month!
You ask the questions. I'll answer ten of them. Simple.
(My plan is to go with the first ten, but I reserve the right to deviate if there is a more interesting question shortly thereafter!)
Now of course… this could fall on its face entirely as you might not ask me anything at all. That will just be awesome, right? So please go ahead and leave a comment with a good question.
Ooooh, first question in! It came from the lovely Nat Williams, via Twitter:
I've got a Q for you! What's your favourite paper/crafty-type shop in London? I know they're few & far between.
This is one of the most common questions I get by email – scrapbookers coming here on holiday and wondering where they should shop to get some British scrapbook wonderment. Sadly, we don't really have any scrapbooking shops here in London! And most of the scrapbooking supplies sold at stores throughout the UK are from US-based manufacturers, with a few exceptions. But there are still a few places I will go when I need a fix. Top of that list is the flagship Paperchase near Tottenham Court Road station. We have nearly as many Paperchase stores in London as we do Starbucks stores (and if you've never been here, trust me that means A REALLY BIG NUMBER), but most of them are small little card and gift shops. The big store is several floors of fun, with so much stationery but also craft and art supplies, stuff for your house. This place is so big it has its own coffee shop inside, okay? Go there. And for anyone who really wants something specifically London crafty, you're in the same neighbourhood to pop to the British Museum then keep going to Bury Place for Blade Rubber, which is a stamp store. They have all sorts of things but they do their own line of stamps that have various British themes. My favourites look like old Royal Mail cancellations and such, and their own brand are usually right inside the window (turn left as you go through the door) but if they have moved things around, just ask and they will point them out, I'm sure.
2. From Melissa in the comments: What time will all the fun start on Friday for the online scrapbooking weekend?
I can't say just yet, as I'm still confirming things and I don't want to get it wrong and have you waiting. But it will be during the day – UK time – on Friday.
3. From Kerry in the comments: My question is how do you keep your nails looking so neat? Do you have any secret products you use on them?
I never feel they look that neat – I am really messy when I paint them! So my 'secrets' would be that I tend to paint them in the evening so they can set up, then in the shower the next morning the messiness tends to come off the skin around the edges without smudging the polish itself. I use the Avon Gel Cuticle Remover (and in fact I've lost it somewhere in my house right now and it's driving me crazy), a strengthening base coat by Rimmel and Seche Vite top coat, plus whatever polish. If you've never used Seche, it's unlike any other top coat I've tried, but it does have its strengths and annoyances. It dries ridiculously fast, even over varnish that is still tacky. It's ultra high gloss and sets up almost like a gel nail, so your nails feel really strong even if they aren't (mine are dry and peel, which isn't made better by constantly wearing and removing nail varnish, I promise) and it is very chip resistant for several days. It also works really well over nail art as it doesn't smudge all the colours together. However… it doesn't wear like a normal nail varnish: it peels like a whole sheet. All of the sudden you'll see a tiny gap where the layers of polish have come apart from the top of your nail and then it's just a matter of time until the whole thing comes off. It is a little spendy (though way cheaper online than in a shop) and it doesn't have a great shelf life. A bottle lasts me about 4 months and then it's still one-third full but it has a yellow tone over pale colours and chips much faster. A bit like mascara: it's amazing when it's brand new, it's pretty darn fabulous for a while and then all of the sudden: blech.
4. From Soozee in the comments: Which are your absolutely favourite can't live without lenses? When are you doing another online class?
Cheeky with the two questions there! I'll count it as one.
I cannot live without my 50mm. I keep my 50mm/1.4 lens on my camera for everyday use. I use a wide-angle for filming (the 17-40L you can see in the photo), a 100mm macro for detail shots and an 85mmL for extra special stuff, like portraits. But the 50mm is what I use if I can only take one. I really only use those four these days – they serve me very well. And the new class will be announced this weekend – it starts on the 7th of May. (I've told that much on Twitter and Facebook but no more info until the weekend.)
5. From Sarah B via Twitter: Who/when do you consider your style/fashion icon?
Oh goodness. I never read fashion magazines because they make me feel so unfashionable, so I am usually unable to pick any current faces out of a line-up. (A few years ago during London Fashion Week a model sorta tripped over me and a few other people in a big crowd at a street crossing and to this day I have no idea if she was someone famous or one of those runway models that would only be known to those seriously into that sort of stuff. But I promise she got up and walked away intact!) But my personal fashion icons are people like Mary Tyler Moore (as much as I love the clothes on Mad Men, I like how she makes those sorts of lines look effortless, and I love how her I'm-a-grown-up-but-I'm-still-playful attitude comes through in the clothes she wore) and Lisa Loeb (for making me embrace my glasses as something that could be me rather than an embarrassment). Of course it is impossible to not thing Audrey Hepburn's fashion statements were the most fabulous, but I seem to have noticed something in the last ten years: Audrey and I do not share a body type. Sigh. Other things that zone in on my radar – street fashion, especially from Japan and Scandinavia. And dance-inspired clothing. I love the crazy look of the original Fame film and while Black Swan officially freaked me out more than any film I have ever seen, the rehearsal scene at the very beginning before the director comes in, when they are still layered up with their sweaters and tights and skirts? That part is my favourite. I love ballet skirts over slip dresses as normal daywear.
6. From So.Creative in the comments: My question is: are you comfortable in your new scrapbook area, with you high table (that helps you to flex your legs like a ballet dancer)? I had to ask you because I love to know that you are able to scrap AND to dance in a same time! You rock!
This question cracked me up! And I hadn't read it before the previous answer, so that was extra funny. But anyway, an answer! I love my table – I've had the high table we built from kitchen units for nearly five years now, I think. When we built the legs, we measured it to be perfect for my height by figuring out what felt best for writing, stamping, etc. But I am totally a standing-up scrapper, so even though I am really short, I have a tall table. (If you look closely to any of the videos where I'm talking to the camera, you can tell as the table is taller than my waist. Getting that camera angle to not look completely stupid is always interesting. Sometimes I have stood on something just to do that introduction bit!) As to whether I am comfortable in the new area yet – not really. That picture above is where I work now – and it's in our living room. And that picture makes it look really bright, but it is really bright for approximately five minutes on only the sunniest of days, just as the sun hits one certain spot, and then it goes back to dark again. This isn't a permanent home for us and we are in general not completely happy with it yet. I am mostly over the temper tantrum stage. I cope and make it work, and I love our neighbourhood so I glad we could stay here, but it is far from perfect.
As for dancing while I scrapbook, I often can't stand still and when I'm on a deadline I have a ridiculously upbeat playlist to jam to while I work, but I don't think I'll be winning any prizes for my ability to step-touch while layering paper!
7. From Joanne in the comments: If you had to take 5 scrapbooking essentials to a desert island what would they be?
Oh that wouldn't be any fun at all! First and foremost a pen. Then I guess I would need paper, scissors and adhesive. That's four already! Do I have to count my camera? And the camera wouldn't be much good unless I could print things, so that would take me up to six already. So let's forget the camera and I'll take a roll of cute washi tape instead!
(I'm going to skip the 10 commandments of scrapbooking question – because I haven't the slightest clue! Maybe 'thou shalt not make a page without writing something down' but I know many who disagree. Really I'm a play-by-your-own-rules kind of scrapper.)
8. From Julia in the comments: Where are you going on your travels next? I have loved reading and seeing you scrap about your trips – #envious!
At the end of this month I'm teaching a workshop in Germany (my third year doing this event and I love it!) and this year The Boy is coming along with me so we can head to Amsterdam for tulip season! I am really ridiculously wanting to travel right now but I can't do any big trips until after the games, as I have a pretty crazy schedule to stick to for that super secret Olympic thing.
9. From Ali in the comments: Looking enviously at your scrap room, how do you remember what stash you have, or do you just collect a bunch of stuff and not worry about the wider possibilities?
When I had more space, I did more collecting. I don't know: I have purged and purged and I now have nothing that is not either current (and therefore things I can use for work) or something older that I honestly 100% love. That means I now have more supplies than someone who is only a very casual scrapper but significantly fewer things than all those big scrap rooms on youtube and so forth! I have a lot but I also use a lot, as I'm averaging around fifty layouts a month at the moment. Yes, I know that's crazy.
As far as remembering what I have, I have identified the types of supplies that work for me and I'm going through them constantly, so it's rare that I stumble on something I didn't remember. My key is that more has to be going into my albums than into storage. Nothing is precious, nothing is saved for something special. If I ever flip through and realise there is something I don't love in my stash, it's out – instantly. I did that this morning actually. I was going through some new papers that arrived just today to put them away and there was one in the mix that I didn't like in person, and it went straight in my donation box without a second glance because I just know I won't use it. That's really rare that I would do that straight away, but I just wanted to share it as an example. I really try to be brutal. (And I have a great group that takes my extras so I have zero guilt about anything that winds up in the donate box.)
and 10! From Anne in the comments: How did you get into scrap booking? Did you always do some kind of craft?
I started scrapbooking in 1998, while I was at university. I was in a play about a set of sisters who have a family scrapbook, except it contains all the horrible things in life because that's what has ended up in the newspaper: the house burning down, a cousin going to prison, that sort of thing. It was a really small cast and we had a great director and it was just a fabulous experience (and I have performed in shows that don't ever have that sort of camaraderie, so I am extra grateful for that time) and we wanted to make a scrapbook as a gift for the director. I found a silly kit at Big Lots and I was elected in charge of the scrapbook because I didn't mind writing things with Crayola markers in every colour of the rainbow. That scrapbook looks nothing like what we do now, but the sort of book where we wrote notes, pasted in lemonade packets and so forth. By the end of the process, I had discovered the scrapbooking aisle at the craft store and Creating Keepsakes magazine. And I've scrapped ever since!
Before scrapping, I have always done some bit of crafty this and that, but I flitted a lot and didn't stick with the same thing all the time. It is the writing and photography aspects that make this my constant.
Thanks so much for all the questions!
And… you can also join in the 10 Things on the Tenth fun by sharing your own post on your blog or making a scrapbook page that includes 10 things and sharing it via a page gallery! The idea is oh-so-simple: on the tenth of the month, we create a list of 10 Things. Any sort of things, as long as there are ten. And we share them!
Now… leave a question – I'm sat here at my keyboard just waiting to answer! (And wondering if this is a very dangerous idea indeed!)

Read more about: 10-things
10 April 2012

Next post: Glitter Girl and scrapbooking with old supply favourites (scrapbooking video)
Previous post: Scrapbooking Starting Point :: Just Girls