Lo and behold, I have finally come out the other side of a giant stack of deadlines that meant I could return to something I've been wanting to do so much: Sketch to Scrapbook Page. I'm going to see if I can make this a weekly event but that's not a guarantee – just an aim at this point. If you're relatively new around here, you can work your way back through plenty of sketches and videos here, by the way.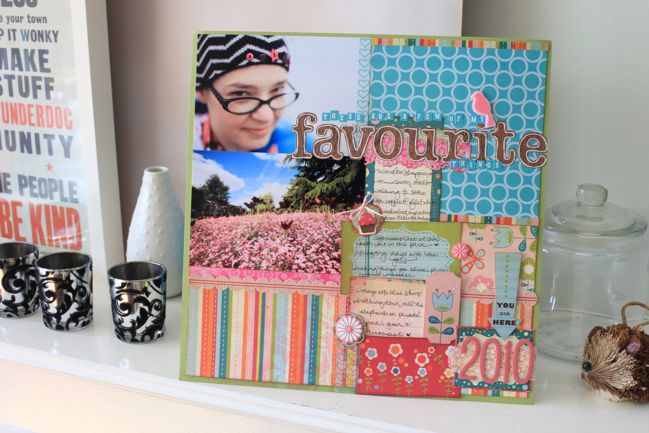 I don't always work with a sketch, but I find I scrap more quickly when I do. This week I wanted to create a sketch from an existing layout – one of my favourites from my 2010 album. From this page, I took the idea of the two landscape 4×6 photos in the top left corner, plus three blocks of cardstock and a bunch of journaling cards and came up with this as the page sketch: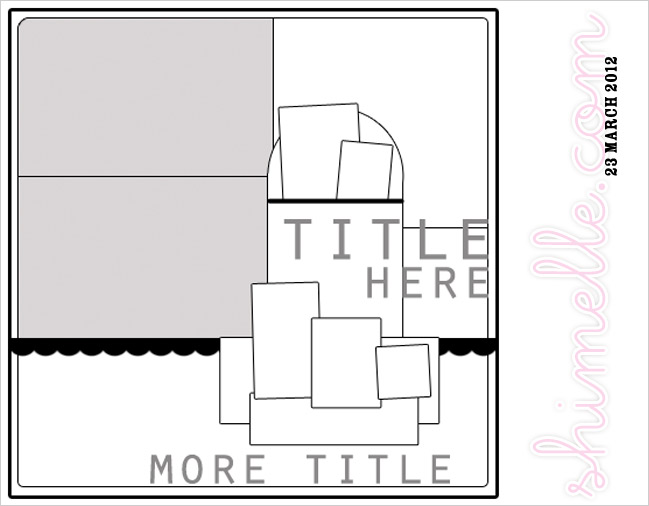 I combined that sketch with a stack of various American Crafts products to make a new page. And you can watch that entire process if you like:

I'm not quite sure why I'm drawn to so much orange lately, but I loved this mix of papers even though every single paper was from a different collection. And I have to admit Gardenia is a lot more fun in person than I first thought. For some reason it struck me as a line that would be a bit tough to use (maybe because it has some gardening themes and we don't have so much as a potted plant?) but once I had it on the desk and started chopping it up, my opinion changed. I love the richness of the colours and I have a few more Gardenia projects coming up soon.
You can find all the supplies for this page here, at the bottom of the page.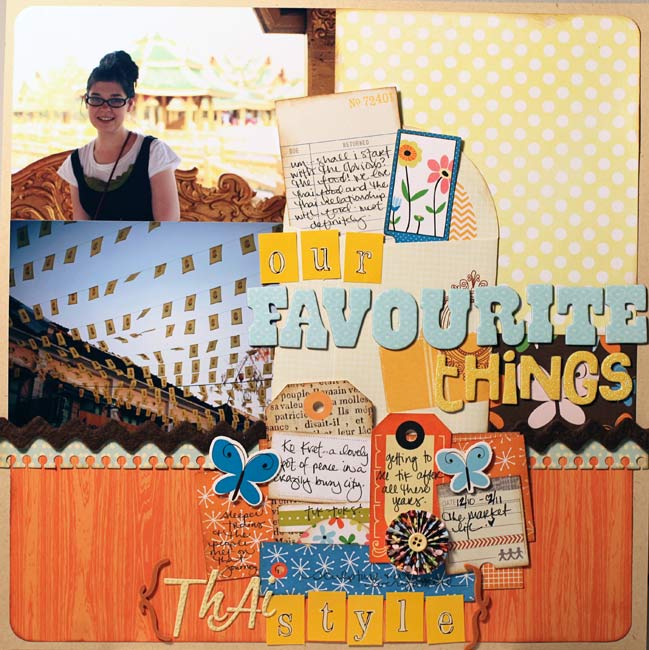 Here's a closer look at that finished page. My only wish was that we would have had a photo of the two of us together for the top left corner, but we don't, so that's how it is! I do have a picture of The Boy in that same spot, so I'm going to scrap that on the facing page in the album. Hoping that will work to emphasise that's an 'our favourites' rather than just my favourites! It's a plan. (And also, we're working on our self-portraits.)
In other news, this layout was featured here on the American Crafts blog, and their blog includes plenty of inspiring projects made with all sorts of American Crafts products. Worth checking out if you're not already a reader there!
Why not grab this sketch and two of your own 4×6 pictures? Give it a go and share your page with us!




Read more about: american-crafts sketch-of-the-week
23 March 2012

Next post: Scrapbooking Giveaway Day
Previous post: Gardeners' Digest :: Scrapbooking News from the Garden Girls