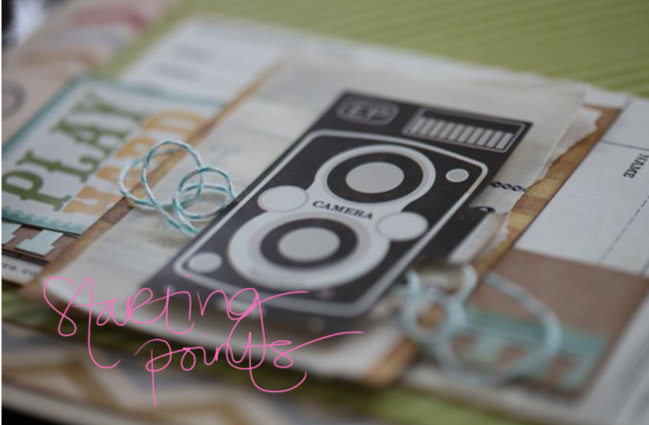 Good morning! Kicking off the new week with a new scrapbook starting point, and something a little different this time – one area of the page already more embellished than the rest. This is my final layout to finish from this JBS Mercantile kit, mixed with the minibook kit. But of course you can select any supplies you fancy!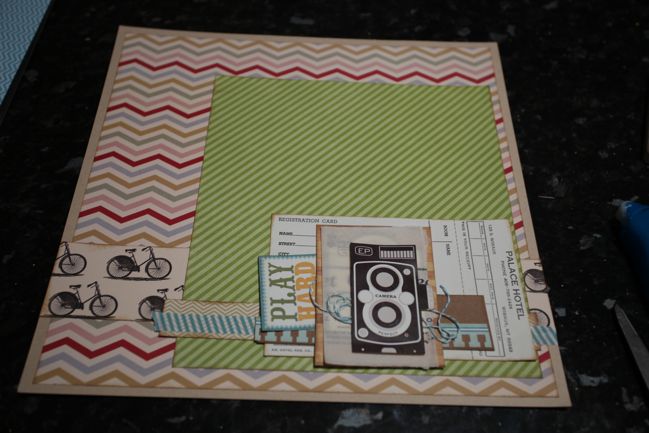 I started by trimming a half inch from two sides of the chevron patterned paper and attaching that to the middle of a sheet of kraft cardstock. Then a patterned border across the whole page, about three inches from the bottom, topped with an 8×10 portrait piece of patterned paper. Then to start this area of embellishment! Working from the bottom layer to the top, it is: a strip of patterned paper, washi tape, a vintage hotel registration card, some dark kraft cardstock, part of a border sticker with a notebook paper edge, a sticker, a journaling card, a few layers of vellum, some baker's twine and a big sticker right on the top!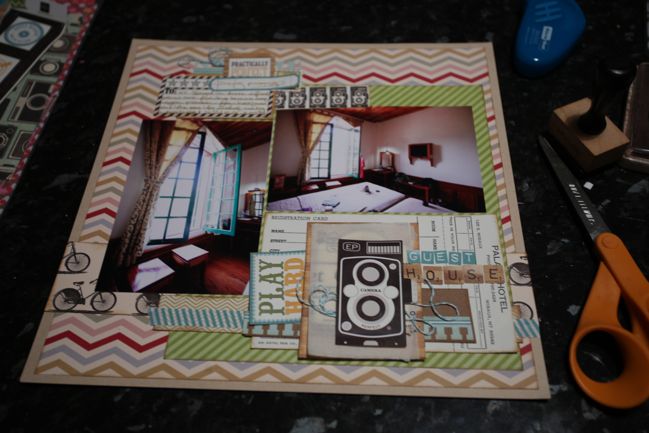 I finished this scrapbook page with two 4×6 photos – one portrait, one landscape – and a smaller area of layered embellishment with the writing at the top left. Most of the pieces included there are repetition from the starting layers – the large camera repeated with a few smaller cameras in the same style, the rest of a border sticker first used at the bottom right, and so on. So although there are plenty of layers, it's actually pretty kind on the supplies as most things can work as a little here, a little there. And I liked that there was still enough room for a title in some smallish letter stickers.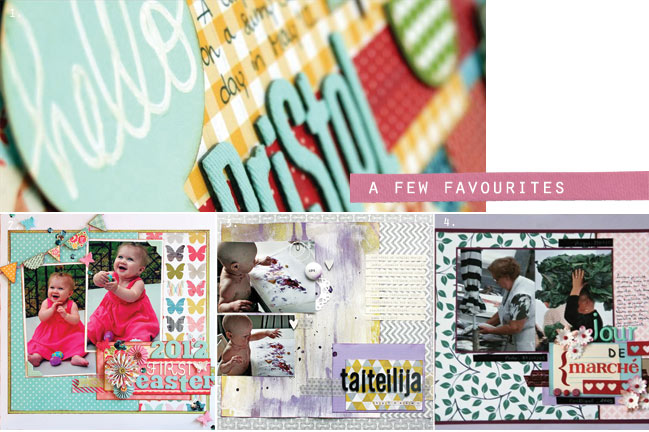 So many lovely pages were shared from the last starting point. Here are a few favourites. Click the corresponding link to take a closer look and get to know the scrappers behind these pages: one, two, three and four.
If you use this week's starting point to create a scrapbook page of your own, I'd love for you to share it here! (By the way, I'm always looking for a nice detail shot for the round-up!)

Read more about: scrapbook-starting-points jenni-bowlin-studio
10 June 2012

Next post: My Scrapbooking Lunchbox
Previous post: 10 Things :: June 2012 (how to pack for a scrapbooking crop)